Brie Larson went to startling lengths to prepare for the role of a lifetime in Lenny Abrahamson's Room, as she reveals to Jeremy Kay.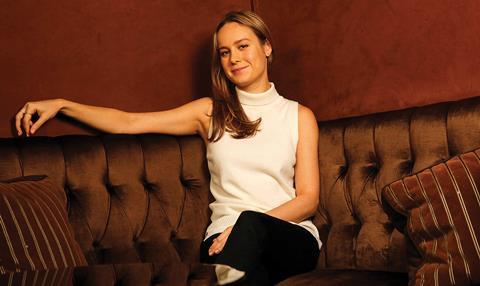 In the pantheon of suffering for art, one might deem hiding indoors, away from the blistering Los Angeles sun, unworthy of a lofty perch. Yet the manner in which Brie Larson prepared to play Ma in Room ranks alongside the more flamboyant Oscar-bait accounts of thespian weight loss and martial-arts boot camp.
Larson, however, would never dream of putting it that way. She has no time for affectation, although her eyes widen a bit when she describes her research, almost as if she is taking herself by surprise. To play a kidnap victim in Lenny Abrahamson's acclaimed drama, the California native acquired a pallid complexion and immersed herself in often distressing research into the physical and emotional pathology of incarceration.
"I had to stay out of the sun for three months and I didn't leave the house for one month just to see what that would feel like," says Larson. "Big sun hat [when I went out] because it was summertime in Los Angeles. Very, very hot so luckily I had a ton of stuff from when I was in India that worked perfectly; breathable material that covered you."
"We haven't yet got to the point where there's an over-saturation of strong female characters. There's only a couple of them that happen every year."
As readers of Emma Donoghue's 2010 bestseller on which the film is based will know, there is much more to the story. Larson had to dig deeper to play a kidnap victim who is impregnated by her abductor, gives birth in captivity and spends five years raising her son to believe life inside a fortified garden shed is perfectly normal (all the while plotting their escape). She read widely on trauma and the workings of the brain and researched real-life examples of unusually long kidnapping cases.
"Basically I would work out, read more about trauma," she says of her self-imposed house arrest leading up to the Toronto shoot at the end of 2014. "I was having pretty intense dreams and had to take little baby steps with that because it's really not anything you want to fill your brain with."
One might think the same of Room, yet Abrahamson delivers a richly gratifying, if difficult, paean to motherly love.
Larson had read the book a year before Donoghue finished adapting the screenplay but never spoke about the role with the author before production. For the actor, Ma felt like the role of a lifetime. "I don't think there's that many of them," Larson says with a slight snort. "We haven't yet got to the point where there's an over-saturation of strong female characters that are also complicated with many layers. There's only a couple of them that happen every year, so I just try my best to jump on those trains."
The physical side of her preparation became fairly detail-oriented. "I spoke with a trauma specialist. I spoke with doctors and nutritionists as to what [would happen to] hair, nails, skin, even the mind — what the lack of vitamin D and poor nutrition would do being in that space.
"I had to stay out of the sun for three months and I didn't leave the house for one month."
"I worked with a trainer too because I wanted to put on muscle, because I didn't have any muscle on my body and I felt like between going through a pregnancy on her own and constantly carrying a kid and [trying to stay fit] she'd have more muscle than I did. So I put on 13lb of muscle."
What was of particular interest to her was how Ma reacts when they finally escape the clutches of their captor, Old Nick, and reconnect with her parents.
"That was what I always knew, for me, would be the more emotional side of the movie," says Larson. "The coming home and the coming to terms with the difference between who she was before she was kidnapped and the person she now is."
As of mid November, US distributor A24 has begun a successful limited release, capitalising on the Toronto International Film Festival audience award and the strong word of mouth that began after Room's world premiere in Telluride.
Acclaimed performances
Larson's star has been rising for a while, following acclaimed turns in TV hit United States Of Tara and Short Term 12, for which she memorably beat Cate Blanchett in the 2013 Gotham Awards best actress race. Blanchett went on to win the Oscar that season for Blue Jasmine. Following Blanchett's performance in Carol, the two are again in the running for awards and both are nominated for Gothams.
Abrahamson describes Larson as a "stunning actress" and indeed the actor channels an elemental force in Room: blowing fierce and strong one minute and retreating into herself, succumbing to despair the next.
"The movie is a great opportunity to see mothers as humans and not as saintly creatures," says Larson. "The book portrays Ma as this ethereal essence, which is what a five-year-old boy would think of this mother who's the only person he has ever seen before. But the movie became a great opportunity to show how, on the one hand, she's really making something amazing out of this life and, on the other, we see a glimmer of the cracks in it, to see what it is she's dealing with and that she's not handling it well — and how could you?"
"[Director Lenny Abrahamson] wanted to tell a story of liberation and of love, and not a story that's about torture and confinement."
Larson believes Ma would have been more psychologically accepting of her incarceration if, like her son, she had never seen the outside world. But she has seen it — in the book she is kidnapped around the age of 19 — and that creates interesting personality contours. It also makes Ma resolve to keep the boy safe. She does this by dint of imagination and extraordinary focus. The youngster is sent to bed in a closet each night so he is asleep by the time Old Nick pays his weekly food-for-sex visits.
Abrahamson, whom Larson describes as "a dad and a husband and a loving one at that", took care to protect Jacob Tremblay, the remarkable young Canadian actor who plays Jack. Larson and Tremblay first met at a pizza parlour three weeks before cameras rolled and bonded over Lego.
"He never knew anything more than what his character would know so he was naturally protected," she explains. "There were a couple of scenes we wouldn't want him to see but he can't work a full day so we'd do a lot of this stuff after hours."
For her part, Larson felt enabled by Abrahamson to tell a story of such horror and transcend it, transforming the events into something life-affirming. "Lenny is a lover of humanity so I felt in good hands quite quickly," says Larson of her director. "This was a person who wanted to tell a story of liberation and of love, and not a story that's about torture and confinement."