Making Beasts Of No Nation was a long-held ambition for True Detective director Cary Joji Fukunaga. He talks to Jeremy Kay about overcoming the perilous shoot and the Netflix pay-off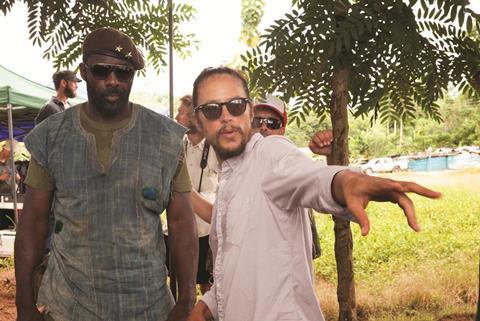 Cary Joji Fukunaga had wanted to make a film of Beasts Of No Nation for close to a decade and once the cameras rolled, not even a malaria outbreak, untrained child actors or Ghanaian infrastructure could stop him.
It began in early February 2006 when Fukunaga was a nobody about to become a somebody. He had just taken Sin Nombre through the Sundance Screenwriters Lab and was talking to Focus Features about optioning the screenplay.
"I had the Beasts Of No Nation novel in my hands going into a meeting and an executive there saw it and said, 'I love that book. I want to make that into a movie,' and I was like, 'I like this book too and I want to make it into a movie,'" he says.
Focus optioned Uzodinma Iweala's novel and by the end of the year Fukunaga had written the first draft. The plan was to shoot Beasts after Sin Nombre but when Johnny Mad Dog, which had a similar storyline, premiered at Cannes in 2008 the immediate allure of making another project about child soldiers in Africa lost its appeal.
Focus put it into turnaround but Fukunaga and his Sin Nombre producer, Amy Kaufman of Primary Productions, would not be deterred and used their own money to option the book on which the screenplay was based. Screenplay rights remained at Focus.
"For many, many years we didn't have a clue how to get it made," says Kaufman, who notes the director¹s growing reputation made it difficult to move forward when other temptations kept coming his way.
Around 2011, just as Fukunaga was preparing to direct and executive produce the first series of HBO's crime series True Detective, they received a call from Los Angeles-based Red Crown, which wanted to invest in Beasts. Red Crown then bought the screenplay rights from Focus.
Once True Detective was in the can, the parties moved fast. Idris Elba was on board as the fearsome Commandant and Red Crown brought in several private investors. Participant Media would also put in money once production was under way and became a key investor alongside executive producer Donna Gigliotti of Levantine Films.
Fukunaga had done a page-one rewrite in 2014 and they were ready to film in Ghana. Or so they thought. The director contracted malaria in pre-production and had to take over cinematography duties on the first day of shooting when the camera operator pulled a hamstring.
The logistics behind working in places without much of a film infrastructure — such as Koforidua, about two-and-a-half hours north of Accra — were taxing. Costs mounted and it was hard to get what they needed.
"Everyone got sick," says Fukunaga, who feared his investors would not recoup. "Our property master got dysentery. Everyone was working sick. Everyone was working on three or four hours of sleep and after a 35-day shoot, it felt like we¹d shot for 100 days."
Enter the knight in shining armour. Shortly after the $6m production locked, WME Global screened the film in Los Angeles and it emerged in March 2015 that Netflix had prevailed over several rival bidders with a $12m worldwide rights play.
"When Netflix came in with that offer," says Fukunaga, "it was so far beyond our wildest dreams and not an easy decision either because I believe in the theatrical experience. So it was definitely a conversation and some negotiations getting to the point where the film would be distributed actually in cinemas."
As Kaufman notes, the intervention by the streaming giant meant a difficult film would be seen around the world. While the day-and-date theatrical launch via Bleecker Street grossed a meagre $90,000 from 31 sites, Netflix spent heavily on p&a, to raise awareness for streaming viewers. According to Netflix, more than 3 million people watched the film on their devices in the first 10 days in North America. That's compared to a possible admissions count that could range from anywhere between 6,400 and 11,250 for the theatrical run based on a sliding scale of average nationwide and metropolitan ticket prices.
The theatrical release qualified the film for awards consideration. To date, Beasts Of No Nation has earned five Indie Spirit nominations, including best director and cinematographer for Fukunaga, best feature and nominations for Elba and newcomer Abraham Attah, who picked up the Marcello Mastroianni award for an emerging actor in Venice where the film premiered in late summer.
Belly of the beast
As an exploration of what war does to a young recruit under the charge of Elba's battalion commander, Beasts delivers a feral ride through an unspecified location and slides into trippy passages that evoke Francis Ford Coppola's seminal Apocalypse Now.
"You can't make a story about a unit on its own without referencing Heart Of Darkness or Apocalypse Now," agrees Fukunaga. "We're talking about the power vacuum, the choices that are made without a normal societal context to keep you grounded. Society just means you agree on rules and Commandant is operating in a place where there's no-one to provide rules and moral bearings. There¹s a sense of surrealism [when that happens], I think."
Fukunaga was eager to sidestep the "falsely local soundtracks" as he calls them and Dan Romer's electronic score drags Beasts into exotic places.
"I didn't want it to have a sweeping string score because that felt too Hollywood, too colonial," says the director. "The electronic score felt like the right, appropriate choice."
Yet Beasts' mind-altering tone stems mostly from Fukunaga¹s ability to bottle the mayhem, futility and absurdity of a dehumanising situation and the performance of its stars. In his first draft Fukunaga followed the book and killed Commandant. He changed this in the 2014 rewrite and allows the dog of war to live on after he is deserted by his prized recruit Agu (Attah) and the other boys.
"In the end I felt having Agu kill Commandant was too convenient and the redemption of it was somehow too pedestrian [and a] Christian sort of redemption, like, 'Oh it's complete, he killed the evil force in his life,'" Fukunaga muses. "It's frightening that the Commandant continues to exist and actually it¹s more realistic."
Accra-born Attah was cast having been spotted playing football and then asked to audition two weeks before the start of production (see box, below). Once the director was cutting scenes together three weeks into the shoot, he knew he made the right choice. "He's fantastic."
As for Elba's role as the Commandant, part of the reason Fukunaga rewrote the script was to entice the UK actor to the part. "I found leadership such an interesting topic. Charisma is something we cannot explain — it's intangible," he says. "There's a theatre to leadership as well and you can become lost in your own role."
New talent: Abraham Attah
Discovering the 15-year-old star of Beasts
When casting Beasts Of No Nation's protagonist Agu, the young boy who finds himself conscripted as a child soldier into a civil war, director Cary Joji Fukunaga was keen to eschew traditional casting methods and find an actor who could play the part with real edge and experience. "You can only fake so much as an actor," says Fukunaga, bemoaning the multitude of middle-class kids who were put in front of him in the US. "They had no street in their eyes."
Instead, Beasts' casting director Harrison Nesbit was dispatched to Accra, the capital of Ghana on the west coast of Africa. Nesbit saw more than 1,000 children during his time in the country, first coming across Abraham Attah, who was 13 at the time, playing in a school football match. "Harrison was looking for kids with a twinkle in their eye and that street-smart wisdom," says Fukunaga.
Attah fit the bill instantly: he was a confident, charismatic personality. "He told us to come for an audition," remembers Attah of meeting Nesbit with his friends. "We thought it was for a football team at first. We had an audition at a television station in Ghana, we read a script. I was very excited."
The actor has spent several months touring the globe following Beasts' premiere at Venice film festival, where he won the Marcello Mastroianni award, which is presented to an emerging actor (and has been won by the likes of Jennifer Lawrence and Tye Sheridan). He has since been nominated for an Independent Spirit award in the best male lead category. Attah is relaxed and positive about the future. "At first I didn¹t want to be a film star, I wanted to be a rapper and a businessman. Now I want to act and be a movie star — and a rapper and a businessman."