Charlotte Rampling and Tom Courtenay speak to Elbert Wyche about portraying a married couple shocked from their quietude by a ghost from the past, in Andrew Haigh's 45 Years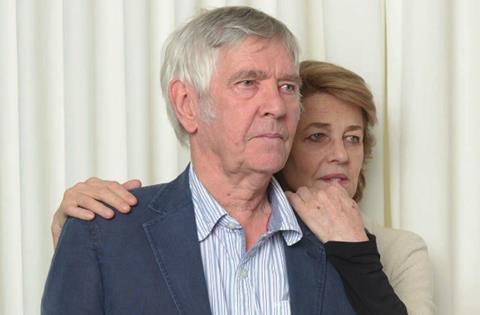 UK film-maker Andrew Haigh's 45 Years received its world premiere in competition at the Berlinale last year. Charlotte Rampling and Tom Courtenay won the first of many awards for their performances as a couple whose relationship begins to unravel on the eve of their 45th anniversary.
How did you get involved with the film?
Charlotte Rampling Very simple. It came through my agent. She sent me Andrew's script with the DVD of his first film Weekend. I read it and I was very impressed.
Tom Courtenay I was completely blown away by it. This was just out of the blue: "Come to Norfolk in six weeks and do this film with Charlotte Rampling." It's just never happened like that. It was something that I found so personal.
What was it about Andrew Haigh's script that made you want to do it?
Rampling For me, it's the whole thing. It's the part in the story, the story and the director. All those boxes were ticked. The story was a very haunting story; a very intimately haunting story.
Courtenay I found it so powerful. It's not the first scene of the film but, very near the beginning, Kate brings in the letter from his past life, his youth comes back to haunt him. All of a sudden he's in a love triangle; this man in his 70s, the love of his youth and the love of his life. He's torn between the two of them and I found that wonderful.
Did the two of you know each other before signing on to this film?
Courtenay Not really. We met very briefly only once. When I read it, I'd already been informed that the wife would be Charlotte. I could see her. Which helped make the thing seem even more powerful. There's this chemistry that you see and sense and feel from the beginning of the film.
Rampling Those things exist before you start, because they've always been there; you have a connection with somebody without even knowing it.
Courtenay There's a word that I use between Albert Finney and myself, our "contemporaneity", that we were contemporaries. Charlotte and I go back all those years, and we're still here.
Rampling We were around at the same time, we were actors at the same time, we're English, we're part of that. We're both rather highly sensitive creatures, so we've done our journeys in our particular ways. We haven't needed to have known or met each other; we've gone on our parallel journey quite closely. Tom feels like someone I've always known.
Courtenay And then people ask if there was a lot of rehearsal.
Rampling No, there was nothing.
Courtenay We met for a day and we read our scenes together, had a drink…
Rampling But it wasn't really that which made the difference. What made the difference was when we found ourselves in our house together, as husband and wife. And then it happened.
There aren't many close-ups or over-the-shoulder shots when you share scenes.
Courtenay Two shots. That's very much Andrew. He told us that's how it would be. People say, "My close-up, my close-up," but often it's more difficult in a close-up. It's when you're together in the shot, you respond to one another. When you're together in the shot, you're together.
Rampling That's what makes the audience feel that we are together.
What's striking about the film is that it features older characters but isn't about being old; it's about a relationship.
Courtenay Exactly. The two of them, whatever their age is, they're still at it. They're still at their lives together and that's what it's about. The discovery of the girl in the ice, it stirs them up to question their relationship.
Rampling And question everything that's going on really.
Courtenay It's not about old people.
Is that another element that brought you to the project?
Rampling Yes, and that it didn't portray older people that are caricatures. These are just people who are older, but they're going through the same things that we go through all our lives.
Courtenay Also, if you read something and it really affects you, it's not something you can necessarily analyse. You just know it's affected you.
The ending is intriguingly elliptical
Courtenay It's in Andrew's nature to leave things to other people's imagination.
Rampling And that's what kind of film it is, because things can't be resolved like that. We cannot through film resolve life. So we're just evoking, and then probing, and then sending people into their own thinking world of what these things are about and then leaving them.
You have both received recognition for playing these characters, first in Berlin and now the EFAs. What does the recognition mean to you?
Rampling I love it. It makes me feel like a child again. There's nothing more special than actually being singled out, that you've been thought about. It's not being better than the others, but just about being singled out, "Oh, it's you this year."
Courtenay Also, with it being such a modest little film. To be so thought of.
Rampling It's just the people that have found this film. People watching it, and the buzz it's created. The buzz in Berlin was amazing, they talked about it and then voted for it, then gave us the prize and it's been going on since then.