David Oyelowo tells Ian Sandwell about how being British helped his portrayal of an icon and the need for it not to be an impersonation.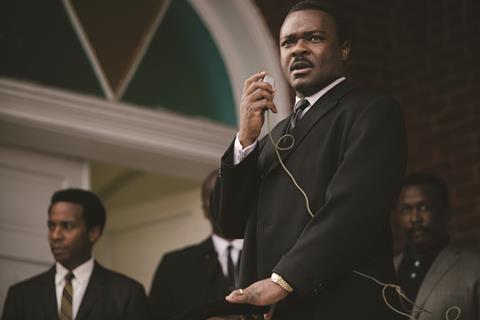 Production delays can often be frustrating, but they proved to be a boon for British actor David Oyelowo as he prepared for the potentially daunting task of playing Dr. Martin Luther King, Jr. in Ava DuVernay's Selma, which focuses on the three Selma to Montgomery marches that led to the passage of the 1965 Voting Rights Act.
"I first read the script seven years ago and had a deep knowing that this was going to be part of my life. The preparation, both consciously and sub-consciously, began then," recalls Oyelowo. "It [the delays] did not have the effect of making the nerves worse; I was in a state of chomping at the bit really."
Oyelowo was cast by then-director Lee Daniels in 2010 and even went through the process of weight gain for the part before the plug was pulled. By the time the film officially went into production in May 2014, Oyelowo was both closer to Dr. King's age and had the added experience of being in films which touched on "what it was to be black in America over the last 150 years" like Lincoln and Lee Daniels' The Butler.
There was also an additional benefit for Oyelowo that meant he wasn't as trepidatious at playing an icon. "Being British was hugely beneficial to me. I didn't carry a lot of the burden I think I would have done if I were American in terms of playing this role. It wasn't the equivalent of playing Jesus as a Christian for me. For better of worse, I approached him as a man as opposed to an icon," states Oyelowo.
This particular approach was honed when DuVernay came on board the film as the script - written by Paul Webb - was originally more focused on the politicking between Dr. King and President Lyndon B. Johnson (played in the film by Tom Wilkinson). Selma marks the second time Oyelowo has worked with DuVernay after Middle of Nowhere, which saw her win Best Director at Sundance in 2012.
"The thing that really arrested me with Ava was that it was like what I had experienced in the UK doing theatre. When you're doing theatre, it's very immersive and you're spending a lot of time not thinking just how to play the character, but how to get inside the character and project their spirit," notes Oyelowo.
"A lot of the time, the film-making experience is the antithesis of that, but she does this organic, far-reaching and deep work innately. I knew that if I was going to have a remote chance of playing this guy well, I needed someone who was interested in the emotional topography of the character."
By seeing this more human side of Dr. King, the speeches are given more power within the film and it also aided Oyelowo to craft his portrayal. "I didn't want at any point for it to feel like an impersonation or to feel like you were basically seeing what you'd already seen in documentaries. I felt that if we are able to see the man away from the pulpit, it would layer up and inform what he was like in the pulpit," says Oyelowo.
"If you see those speeches in isolation, maybe you're just thinking 'oh wow, there he is', but it's a very different thing if you've seen him with his band of brothers and sisters trying to decide what it is they need to lobby for, or when you've seen the orator devoid of words with his wife because he's caught in a situation that's very unenviable."
While he had a lot of footage to draw from the public life of Dr. King, these intimate moments were more of a challenge. Oyelowo spoke to people who knew Dr. King intimately, including Andrew Young (played in the film by André Holland) who introduced him to unseen and little-seen footage.
"He was just a human being like you and I, full of all the ups and downs, weaknesses and flaws that we all have. All you need as an actor is clues really, all you need is the confidence to realise that he did have moments where he wasn't transcendent delivering a speech from a pulpit."
Oyelowo's extraordinary performance is likely to feature heavily in the awards season and has already seen nominations for the Golden Globes and Independent Spirit Awards. However, was there a point once the film was completed when the nerves of portraying Dr. King finally kicked in?
"I would be lying if I said I'm not full of hope that it will be embraced with open arms," admits Oyelowo. "I'm my own worst critic though. If I felt I hadn't given it 100%, then I would be really worried. I know that I put everything that was within me into that role."
Awards praise is one thing, but Oyelowo has also received praise from a more important source. "Bernice King [Dr. King's daughter] said that mine is the best interpretation of her dad that she'd ever seen, and no-one is more concerned with him being portrayed in a truthful way than his children. We didn't shy away from the man's flaws, and yet they have still embraced it."
Once the awards season whirlwind is over, Oyelowo is set to star with Lupita Nyong'o in the adaptation of Chimamanda Ngozi Adichie's novel Americanah, but the process of making Selma has broadened his horizons.
"The lesson I've really learnt is that if you combine tenacity with passion and with people who have a common goal and vision, then you can really do some damage in terms of getting films made that are meaningful. I'm being given a little bit of notoriety and power right now and my hope is to parlay that into getting these kinds of stories told."
Selma is released in US cinemas on Christmas Day through Paramount Pictures and in UK cinemas on Feb 6 through Pathe.