Deniz Gamze Ergüven reveals how the production of her debut feature Mustang is itself a tale of female emancipation.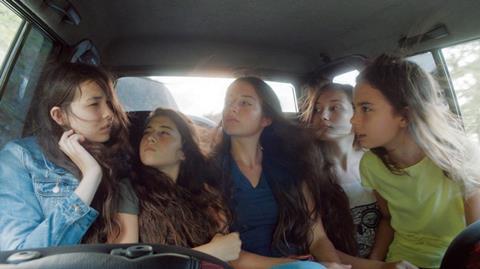 Deniz Gamze Ergüven is sitting on a Paris café terrace, sipping a caffe Americano as waiters dart about preparing tables for the midday rush. A producer passes. He congratulates Ergüven on the selection of her film Mustang as France's entry for the best foreign-language film Oscar, sends his regards to its producer Charles Gillibert and heads on his way. There is nothing obviously out of the ordinary in his pleasantries, but Ergüven does not take them for granted.
Not everyone in the French film world feels so benevolent towards Ergüven's Turkish-language tale of five rebellious sisters battling a suppressive upbringing in a small village on Turkey's Black Sea. Its selection as France's Oscar entry — over other short-listed titles Dheepan, The Measure Of A Man, Marguerite and Summertime — was greeted with consternation by some in the French industry.
But Xavier Lardoux, head of cinema at CNC, which oversees the selection committee — this year featuring Cannes chief Thierry Frémaux, Oscar-winning director Michel Hazanavicius and actor Mélanie Laurent — says the choice made perfect sense. In addition to its desire to give an opportunity to new talent, the committee thought the film stood a good chance of getting nominated. "There was a feeling Dheepan had achieved the highest accolade it could by winning the Palme d'Or," Lardoux reveals. "Mustang has had great reviews in the US and is a story that is fresh and different."
Ergüven, who was born in the Turkish capital of Ankara but has spent most of her life in France, is surprised by the debate. She points out that she is an alumnus of the prestigious French film school La Fémis, and that Mustang was developed, produced and financed in France. "Thankfully people haven't said anything to my face because I'm not sure I could handle it," she admits.
Her dual cultural identity, she adds, is at the heart of Mustang and her desire to explore what it means to be a girl and a woman in Turkish society. "Because I was constantly going back and forth between the two cultures, what hit me was this filter of sexualisation that governs every aspect of women's lives in Turkey," she explains. "It starts at a very early age, as is the case for the characters in the film."
The incidents in Mustang are based either on personal experience or research. An early scene in which the girls are beaten after a neighbour reports them larking about with boys in the sea was inspired by an event in Ergüven's own family.
Another episode, in which one of the sisters is rushed to hospital to see if her hymen is intact after she fails to bloody the sheet on her wedding night, is based on interviews with a Turkish gynaecologist.
"He told me such visits were a regular occurrence, especially during the wedding season in the spring and summer. The hospitals expect it," she says.
Ergüven credits French writer-director Alice Winocour (Augustine) with helping her to get Mustang to script stage. The pair first met at Cannes' Cinefondation L'Atelier co-production initiative in 2011."We were the only two women out of 15 directors that year. We hit it off immediately," says Ergüven.
Corralling Mustang
The next year, Ergüven had been ready to abandon feature film-making when an ambitious first project called Kings, about the 1982 riots in Los Angeles, floundered after three years of work. "I'd told Alice about the treatment for Mustang. I didn't have any key scenes and couldn't face writing another script but she took me by the hand and said, 'Come on,'" says Ergüven. "She helped me turn a corner."
The pair spent the summer of 2012 pulling a first draft together — batting scenes, characters and dialogue back and forth, as if they were "playing ping pong". It would take another two years to raise the finance and shoot the film. Gillibert came on board after a previous producer left the project as it was about to shoot in July 2014. He was introduced to Ergüven by Olivier Assayas, who had been her mentor at La Fémis.
"Charles changed the distributor, got Kinology on board to do the international sales and got us back on track," says Ergüven. This allowed the director to focus on the casting process. Aside from Elit Iscan, who previously appeared in Reha Erdem's Times And Winds, none of the other cast members had acted before.
"I wrote the script with Elit in mind and prayed she wouldn't grow up too much before we got to shoot. I spent months and months trying different combinations of girls, running workshops with a French drama coach," says Ergüven.
Just prior to the first attempted shoot, the director discovered she was pregnant. "When we finally started rolling in August, I was 13 weeks pregnant and 20 weeks when we wrapped. I remember it because shoots and pregnancy are the two things you count in weeks."