Paolo Sorrentino's Youth was among the big winners on an evening of political messages.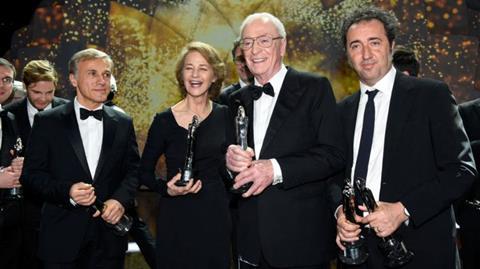 Paolo Sorrentino's Youth was the big winner at this year's 28th European Film Awards on Saturday night in Berlin, taking home the top honour for European Film 2015 as well as the awards for European Director and European Actor.
These awards came only two years after Sorrentino's previous film The Great Beauty bagged the same clutch of awards (plus Best European Editor) at the corresponding event.
Michael Caine was visibly moved when he came on stage to accept the European Actor trophy for his portrayal of an elderly composer and conductor. "It's been 50 years and I've never won an award in Europe, and I've now won two in one evening," the veteran actor quipped.
Earlier in the evening, nerves had almost got the better of EFA President Wim Wenders when he was announcing the Honorary Award in recognition of Caine's "human qualities" as well as his career as an actor.
"You made it as far as one can in the world of cinema, but you have never forgotten where you come from," Wenders said.
Standing ovations greeted the awards to Caine as well as the EFA Lifetime Achievement Award for Charlotte Rampling who described the Berlin ceremony as confirming a dream she had always had of being part of "the melange, diversity, importance of which Europe is."
The EFA membership also voted her as the winner of European Actress 2015 Award for her role in Andrew Haigh's 45 Years which had already earned her a Silver Bear at the Berlinale last February.
Meanwhile, the young Turkish woman director Deniz Gamze Ergüven continued the successful run of awards for her debut Mustang by winning the European Discovery 2015 – Prix FIPRESCI and dedicated her prize to the detained journalists Can Dündar and Erdem Gül of the Turkish daily newspaper Cumhuriyet, adding pointedly in the direction of her homeland that "artists and intellectuals expressing their freedom of thinking and speech is a sign of strength."
Political tone
Speaking to the 900 guests attending the ceremony at Berlin's Haus der Festspiele, EFA Chairwoman Agnieszka Holland observed that several speeches during the evening had a similar content.
"It is not an accident, but reflects our deep concern about Europe," she said. "It is why we have to react to current crises in Europe: democracy, solidarity, human rights, freedom of speech and artistic expression are the values my generation has fought for. They are questioned now by several European governments and political parties. I spent a big part of my life in a totalitarian regime – I don't want it to return."
"We must stand up and remember that nothing good has grown out of fear", EFA President Wim Wenders added.
The Film Academy also used the ceremony as an opportunity to once again highlight the case of the imprisoned Ukrainian filmmaker Oleg Sentsov who was sentence by a Russian military court to 20 years last August.
On the eve of this year's Awards, it was learnt that the Russian authorities were now preventing Sentsov from receiving letters sent to him by his two children.
Meanwhile, the UK's Secretary of State for Culture, Media and Sport, John Whittingdale, declared this week that he was "deeply concerned" that Sentsov remained imprisoned in Russia, stressing that "freedom of media and artistic expression are vital elements of an open, democratic society."
EFA goes political
The awards weekend had already taken on a political tone ahead of the ceremony when EFA Vice Chairman Mike Downey didn't mince his words when describing the challenges facing the future of European film industry from the proposed TTIP free-trade agreement and the European Commission's Digital Single Market strategy.
Downey made "an urgent appeal" to the Commission: "let's study carefully - and together - what this would mean for the national film industries because their death would be the death of the European film industry as well."
EUROPEAN FILM 2015
YOUTH – LA GIOVINEZZA
WRITTEN & DIRECTED BY: Paolo Sorrentino
PRODUCED BY: Nicola Giuliano, Francesca Cima & Carlotta Calori
EUROPEAN COMEDY 2015
A PIGEON SAT ON A BRANCH REFLECTING ON EXISTENCE (EN DUVA SATT PÅ EN GREN OCH FUNDERADE PÅ TILLVARON) by Roy Andersson
EUROPEAN DISCOVERY 2015 – Prix FIPRESCI
MUSTANG by Deniz Gamze Ergüven
EUROPEAN DOCUMENTARY 2015
AMY by Asif Kapadia
EUROPEAN ANIMATED FEATURE FILM 2015
SONG OF THE SEA by Tomm Moore
EUROPEAN SHORT FILM 2015
PICNIC (Piknik) by Jure Pavlović
EUROPEAN DIRECTOR 2015
Paolo Sorrentino for YOUTH (La Giovinezza)
EUROPEAN ACTRESS 2015
Charlotte Rampling in 45 YEARS
EUROPEAN ACTOR 2015
Michael Caine in YOUTH (La Giovinezza)
EUROPEAN SCREENWRITER 2015
Yorgos Lanthimos & Efthimis Filippou for THE LOBSTER
EUROPEAN CINEMATOGRAPHER 2015 – Prix CARLO DI PALMA
Martin Gschlacht for GOODNIGHT MOMMY (Ich Seh Ich Seh)
EUROPEAN EDITOR 2015
Jacek Drosio for BODY (Ciało)
EUROPEAN PRODUCTION DESIGNER 2015
Sylvie Olivé for THE BRAND NEW TESTAMENT (Le Tout nouveau testament)
EUROPEAN COSTUME DESIGNER 2015
Sarah Blenkinsop for THE LOBSTER
EUROPEAN COMPOSER 2015
Cat's Eyes for THE DUKE OF BURGUNDY
EUROPEAN SOUND DESIGNER 2015
Vasco Pimentel & Miguel Martins for ARABIAN NIGHTS – VOL. I-III (As Mil e uma noites – Vol. I-III)
EUROPEAN FILM ACADEMY LIFETIME ACHIEVEMENT AWARD
Charlotte Rampling
EUROPEAN ACHIEVEMENT IN WORLD CINEMA
Christoph Waltz
HONORARY AWARD
Sir Michael Caine
EUROPEAN CO-PRODUCTION AWARD 2015 – Prix EURIMAGES
Andrea Occhipinti
PEOPLE'S CHOICE AWARD 2015 for Best European Film
MARSHLAND (LA ISLA MÍNIMA) by Alberto Rodríguez