Mikael Marcimain drama leads pack; Ruben Ostlund, Roy Andersson films follow.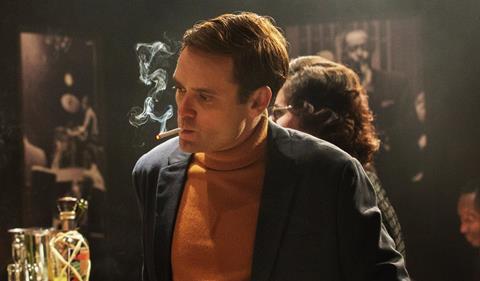 With 13 nominations, Gentlemen, Mikael Marcimain's adaption of the novel by Klas Östergren, has become one of the most nominated films in the history of Sweden's national film awards, the Guldbagges.
Ruben Östlund's Force Majeure (Turist) follows with ten nominations, while there are seven nominations for Venice Golden Lion winner A Pigeon Sat on a Branch Reflecting on Existence (En duva satt på en gren och funderade på tillvaron) by Roy Andersson.
A jury of 45 members voted in a secret ballot for the nominations in the main categories.
The Guldbagge Awards ceremony will be held on 26 January, 2015, in Stockholm.
Guldbagge nominees 2015
Best Film
A Pigeon Sat on a Branch Reflecting on Existence / En duva satt på en gren och funderade på tillvaron
Producer: Pernilla Sandström
Force Majeure / Turist
Producers: Erik Hemmendorff, Marie Kjellson, Philippe Bober
Gentlemen
Producers: Fredrik Heinig, Mattias Nohrborg, Johannes Åhlund
Best Short Film
But You Are a Dog
Director: Malin Erixon
Min vän Lage
Director: Eva Lindström
Still Born
Director: Åsa Sandzén
Best Documentary Film
Apt.+Car+All I Have and Own / Lgh+bil+allt jag har och äger
Director: Clara Bodén
Om våld / Concerning Violence
Director: Göran Hugo Olsson
In the Country / Ute på landet
Director: Anders Jedenfors
Best Director
Roy Andersson
for A Pigeon Sat on a Branch Reflecting on Existence / En duva satt på en gren och funderade på tillvaron
Mikael Marcimain
for Gentlemen
Ruben Östlund
for Force Majeure / Turist
Best Actress in a Leading Role
Saga Becker
for the role as Sebastian/Ellie in Something must break / Nånting måste gå sönder
Lisa Loven Kongsli
for the role as Ebba in Force Majeure / Turist
Vera Vitali
for the role as Malin in My So-Called Father / Min så kallade pappa
Best Actor in a Leading Role
Johannes Bah Kuhnke
for the role as Tomas in Force Majeure / Turist
David Dencik
for the role as Henry Morgan in Gentlemen
Sverrir Gudnason
for the role as Kristian in Blowfly Park / Flugparken
Best Actress in a Supporting Role
Fanni Metelius
for the role as Fanny in Force Majeure / Turist
Ruth Vega Fernandez
for the role as Maud in Gentlemen
Anita Wall
for the role as Frida in Home / Hemma
Best Actor in a Supporting Role
Peter Andersson
for his role as Berndt in Blowfly Park / Flugparken
Sverrir Gudnason
for his role as Sture Åkerberg in Gentlemen
Kristofer Hivju
for his role as Mats in Force Majeure / Turist
Best Screenplay
Ester Martin Bergsmark and Eli Levén
for the manuscript to Something must break / Nånting måste gå sönder
Klas Östergren
for the manuscript to Gentlemen
Ruben Östlund
for the manuscript to Force Majeure / Turist
Best Cinematography
Jallo Faber
for the photography in Gentlemen
Fredrik Wenzel
for the photography in The Quiet Roar
Fredrik Wenzel
for the photography in Force Majeure / Turist
Best Editing
Kristofer Nordin
for the editing of Gentlemen
Jacob Secher Shulsinger and Ruben Östlund
for the editing of Force Majeure / Turist
Alexandra Strauss
for the editing of A Pigeon Sat on a Branch Reflecting on Existence / En duva satt på en gren och funderade på tillvaron
Best Costume
Kicki Ilander
for the costumes in The Wizard's Daughter / Tjuvarnas jul – Trollkarlens dotter
Cilla Rörby
for the costumes in i Gentlemen
Julia Tegström
for the costumes in A Pigeon Sat on a Branch Reflecting on Existence / En duva satt på en gren och funderade på tillvaron
Best Sound
Hugo Ekornes and Per Nyström
for the sound in Gentlemen
Andreas Franck
for the sound in The Quiet Roar
Andreas Franck, Erlend Hostad och Gisle Tveito
for the sound in Force Majeure / Turist
Best Makeup
Susanna Rafstedt
for mask/make-up in The Wizard's Daughter / Tjuvarnas jul – Trollkarlens dotter
Linda Sandberg
for mask/make-up in A Pigeon Sat on a Branch Reflecting on Existence / En duva satt på en gren och funderade på tillvaron
Anna Carin Lock och Anja Dahl
for mask/make-up in Gentlemen
Best Music
Hani Jazzar and Gorm Sundberg
for the music in A Pigeon Sat on a Branch Reflecting on Existence / En duva satt på en gren och funderade på tillvaron
Mattias Bärjed och Jonas Kullhammar
for the music in Gentlemen
Erik Enocksson
for the music in The Quiet Roar
Best Set Design
Ulf Jonsson, Nicklas Nilsson, Sandra Parment, Isabel Sjöstrand and Julia Tegström
for the scenography in A Pigeon Sat on a Branch Reflecting on Existence / En duva satt på en gren och funderade på tillvaron
Pelle Magnestam
for the scenography in The Wizard's Daughter / Tjuvarnas jul – Trollkarlens dotter
Linda Janson
for the scenography in Gentlemen
Best Foreign Language Film
Boyhood
Director: Richard Linklater
Ida
Director: Pawel Pawlikowski
Two Days, One Night / Deux Jours, Une Nuit
Director: Jean-Pierre and Luc Dardenne