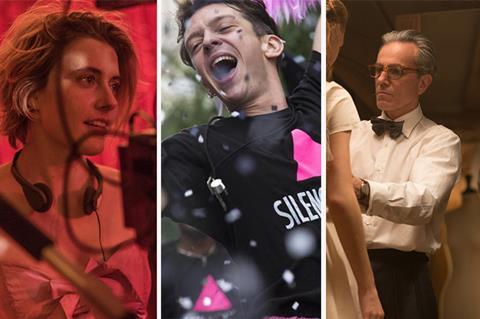 The morning announcement by the Hollywood Foreign Press (HFPA) brought a number of surprises and omissions.
While some of those that missed out may well figure in upcoming critics groups votes and of course the Oscar nominations in January, they will fuel several talking points in the days ahead.
Best drama
Darkest Hour and Phantom Thread will not compete in this year's senior category. Stirring performances by Gary Oldman as Winston Churchill and Daniel Day-Lewis as fictitious fashion designer Reynolds Woodcock aside, there was in fact hardly any love for either film from the HFPA. Oldman earned the sole nod for Darkest Hour, while Day-Lewis and original score fly the flag for Phantom Thread.
Warner Bros may feel aggrieved that Wonder Woman missed out on a nod. The film has been a critical and commercial smash this year and will figure on people's year-end lists.
The best drama nominees are: SPC's Call Me By Your Name; Warner Bros' Dunkirk; Fox-Amblin's The Post; and Searchlight's The Shape Of Water and Three Billboards Outside Ebbing, Missouri.
All The Money In The World
Three nominations – director for Ridley Scott, supporting actor for late arrival Christopher Plummer, and dramatic actress for Michelle Williams – mark a resounding vote of confidence in Scott and his remarkable abilities. Several weeks ago original cast member Kevin Spacey was in the film as John Paul Getty. Now he is out, blighted by sexual misconduct allegations, and replaced by Plummer, after Scott and the film's backers Imperative coaxed Sony to agree to eleventh-hour re-shoots. Scott has said it was no sweat, which is a testament to his legendary speed and control of a set. To steady the ship and maintain course for the December 25 US release has been an extraordinary achievement. Three nominations on Monday speaks to the esteem in which Scott is held.
Best director
Not a single female director made it on to the list. Greta Gerwig has already won the National Board Of Review's directing prize for Lady Bird and earned a nod from the Gothams, yet nothing here. Similarly, Dee Rees is shut out for Mudbound, the Netflix drama that has impressed many. And Patty Jenkins gets nothing for Wonder Woman. Paul Thomas Anderson misses out for Phantom Thread, which arrived fairly late in the day but in time for consideration and has divided critics.
The best director nominees are: Guillermo del Toro for The Shape Of Water; Martin McDonough for Three Billboards Outside Ebbing, Missouri; Christopher Nolan for Dunkirk; Ridley Scott for All The Money In The World; and Steven Spielberg for The Post.
Best foreign-language film
While the inclusion of Palme d'Or winner The Square from Ruben Ostlund is no surprise, another film that wowed audiences in Cannes – Robin Campillo's French contender and AIDS activism drama BPM (Beats Per Minute) – missed out. It just earned six Lumieres Awards nods in France and was one of the critical highlights on the Croisette. There was also a shut-out for Joachim Trier's Thelma representing Norway.
The best foreign-language nominees are: A Fantastic Woman (Chile); First They Killed My Father (Cambodia); In the Fade (Germany-France); Loveless; (Russia); and The Square (Sweden-Germany-France).
Best screenplay
A poor day for Phantom Thread saw it excluded from the screenplay category, even though Paul Thomas Anderson has notably won prizes for it from the National Board Of Review and New York Film Critics Circle. Christopher Nolan lost out too for Dunkirk. No surprise to see recognition for arch wordsmiths Aaron Sorkin (Molly's Game) and Martin McDonough (Three Billboards Outside Ebbing, Missouri). First-timer Liz Hannah will be delighted with her nod for The Post and did well to team up with Spotlight Oscar winner Josh Singer. Greta Gerwig has screenwriting experience and this latest recognition for Lady Bird confirms her remarkable talent.
The original screenplay nominees are: The Shape Of Water; Lady Bird; The Post; Three Billboards Outside Ebbing, Missouri; and Molly's Game.
Transparent
Another awards day to forget for Amazon Studios after no wins at the Emmys brought a shut-out for Transparent. How much of that is down to the allegations of sexual misconduct levelled against Jeffrey Tambor (which he denies) or other factors will be the subject of debate. This time last year Tambor and the show both earned Globe nominations, although they did not convert into wins.
Animation
No surprise to see Pixar's Coco in there, but the story is the power of independents. There is no space for The LEGO Batman Movie or Despicable Me 3 but how wonderful to see a pair of acclaimed films muscle into the mix. Full marks to The Breadwinner and Loving Vincent, the latter already on $23.2m at the worldwide box office, comprising $17.4m through Cinema Management Group's international licencees and the $5.8m balance in North American via Good Deed Entertainment.
The animation nominees are: The Boss Baby; The Breadwinner; Coco; Ferdinand; and Loving Vincent.