Holocaust drama won the Grand Prix at Cannes last month.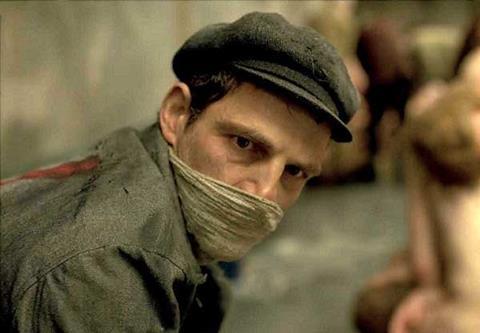 Hungary has selected Laszlo Nemes' Son of Saul (Saul fia) as its official entry in the Foreign-Language Film category of the Academy Awards.
The film, which won the Grand Prix at the Cannes Film Festival last month, is believed to be the first to be selected for next year's foreign category.
The unanimous decision was made at a meeting of the Hungarian Oscar Selection Committee, which comprised director Krisztina Deak, director Kriszta Goda, Agnes Havas, CEO of the Hungarian National Film Fund, university lecturer Andras Balint Kovacs, cinematographer Tibor Mate, film distribution expert Andras Kalman and Andrew G. Vajna, the government film commissioner.
Son Of Saul is set during the Second World War and centres on a Hungarian Jewish prisoner assigned to work in one of the crematoria of Auschwitz who, finding a body he believes is his son, sets out to find a rabbi to bury him.
The Holocaust drama was considered a frontrunner for the Palme d'Or after being named best film in Cannes' Competition by Fipresci, the International Federation of Film Critics.
But Laszlo Nemes directorial debut - the only debut in this year's Competition line-up - instead won the Grand Prix.
Nemes was given a respectful silence at the press conference after collecting his award and said: "Europe is still haunted by the deportation during the Second World War. In Hungary, 450,000 people were deported, 100,000 of those being children. And many went straight to gas chambers. It still haunts us. It is not just a piece of history.
"I wanted to approach this issue in a different way. It was important to talk to this generation. There are less and less survivors who can talk to us."
It was the only film in this year's Cannes Competition to be shot on 35mm. Nemes added: "We believe in film - so to shoot on film was important to us."
Sold by Films Distribution, Son Of Saul was acquired during the festival by Curzon Artificial Eye for the UK, Sony Pictures Classics for the US and several other territories.
It will be released in Hungarian theatres by Mozinet today (June 11).
The film, spoken in Hungarian, Yiddish, German, Russian and Polish, was supported by the Hungarian National Film Fund.
Son Of Saul ranked joint second on Screen's Cannes Jury Grid. Nemes previously worked as assistant director to Bela Tarr on The Man From London (2007).