Despite a disastrous first pitch to Guillermo del Toro, Jorge Gutierrez succeeded in making a unique animated feature inspired by Greek mythology and Mexico's Day of the Dead.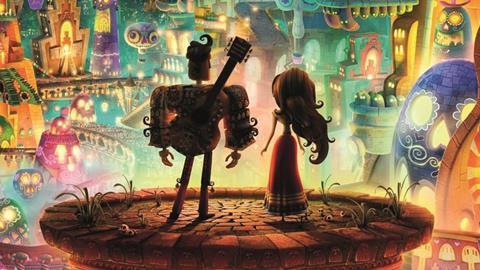 Jorge Gutierrez, co-creator with his wife of the Emmy-winning Nickel-odeon animation series, El Tigre, could not get his first feature going until the Mexican Santa Claus stepped in.
When producer Brad Booker of Texas-based Reel FX Animation Studios Effects asked the Mexican-born artist who would be his ideal producer on The Book Of Life, there could only be one.
"Like all up-and-coming [Mexican] directors, I yelled, 'Guillermo del Toro!'," says Gutierrez. "And like the Mexican Santa Claus, sure enough he appeared."
As everybody knows, the great gift-giver comes at a price. In this case, Gutierrez would have to pitch directly to the dark genius behind Pan's Labyrinth and the Hellboy series.
Gutierrez admits readily the experience was "a disaster" as he contrived to almost fall into del Toro's pool and had to shout over the sound of gardeners with leaf-blowers.
"At the end of it he said, 'You know, Jorge, that's a terrible, terrible, terrible pitch, but there's something here, something magical.'"
Gutierrez says the pair bonded once he learned to fight his corner. "What he always kept telling me was, 'I don't want you to make something you think I want. I want you to make something you believe in.'"
Even with del Toro on board, Hollywood was sceptical until the team eventually struck gold. "Twentieth Century Fox's Jim Gianopulos and [Fox Animation Studios president] Vanessa Morrison heard the pitch and fell in love with the story, and here we are with the finished movie," the director explains.
The Book Of Life is not at all what one might expect. The famous Mexican tradition of honouring the dear departed is an important through-line, although the plot architecture derives from another culture.
"The Book Of Life is very much inspired by Greek mythology, especially Orpheus," says Gutierrez. "In mythology I've always loved stories where the humans teach the gods a lesson. So here we have two mischievous gods making a wager on the heart of mankind and there's a group of three friends — two boys and a girl."
While the flirtatious deities Xibalba and La Muerte — voiced by del Toro regular Ron Perlman and telenovela star Kate del Castillo — do their dance, the story of the youngsters plays out.
"One of the boys becomes this big military hero [Joaquin, voiced by Channing Tatum] and the other boy is sort of a romantic who wants to play the guitar [Manolo, voiced by Diego Luna]," says Gutierrez.
"The third is what we call the anti-princess [Maria, voiced by Zoe Saldana]. She's a very feisty girl. And so the wager [the gods] make is, who will win the heart of the girl?
"It's sort of a wager on mankind — is the heart of man pure, or is it corrupted? And so our hero, Manolo, goes on this amazing journey through three magical lands, not only to win the heart of Maria, but to find himself."
Visual feast
The story inhabits landscapes of arresting beauty, where colours glow and shimmer in dazzling variety. Accompanying all this is an engrossing score and soundtrack overseen by "the father of Latin alternative music", Gustavo Santaolalla.
Song highlights include a "grunge bolero" version of Radiohead's Creep and a "ranchero accordion" take on I Will Wait by Mumford & Sons. "I loved Moulin Rouge!, and I always loved this idea that once a song exists people will take it and make it their own," the director adds.
"That's one of the messages from the movie — you come from a certain place, your parents do a certain thing, but you are who you choose to be and you make yourself out of the things you love."
Naturally the Day of the Dead tradition drips through the story. "It's a way for us to remember [loved ones] and for us to remind ourselves we're alive, enjoy this, make it count and do things, hopefully admirable things, that other generations will talk about.
"As a kid I remember celebrating it and [visiting] the graves of my great-grandparents and my father telling me, 'Jorge, what are you going to do so we remember you? What are you going to do so that we tell your stories?'"
As if that were not enough pressure, del Toro reminded Gutierrez during the shoot: "Just remember you have the whole weight of Mexico on you, don't let us down."
Many who have seen The Book Of Life would agree he has not.