Matthew Heineman reveals why he simply picked up a camera and headed into the dangerous world of Mexico's drug wars.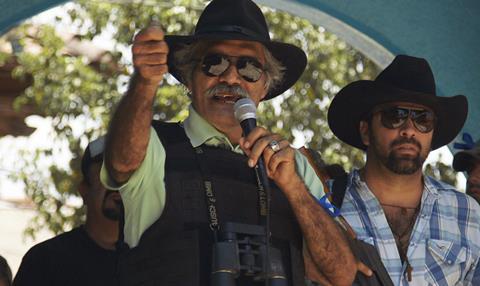 Daily life under the shadow of the drug cartels in Mexican states such as Michoacan can be brutal and frightening. A masked 'chef' cooks meth deep in the forest. A hysterical girl begs men not to abduct her father. Vigilante supporters confront soldiers who try to confiscate their weapons.
Matthew Heineman's documentary Cartel Land, released in the US via The Orchard, places the viewer uncomfortably close to the reality of the situation.
Yet the New York-based film-maker had never previously set foot inside a war zone.
"There's been so much coverage of the drug wars in the media and it's been glamorised on TV shows and in movies. I wanted to put myself right in the middle of the action and see how this narco violence was affecting everyday people and the response of everyday people to fight back," says Heineman, whose only previous directing credit is for Sundance 2012 entry Escape Fire: The Fight To Rescue American Healthcare.
The two figures who stand up to the cartels are the focus of his film. Heineman heard about Tim Foley and his Arizona Border Recon through a Rolling Stone article. It took months to earn Foley's trust but eventually Heineman filmed the armed group's ongoing efforts to stop illegal traffickers from the south crossing the border to the US.
"The cartels continue to cook up tragedy and the citizens endure as best they can" - Matthew Heineman
The other heroic figure is Autodefensas founder Dr Jose Mireles. Heineman's father sent him an article about the Mexican vigilante — at the same time urging his son not to go to Mexico and meet him.
"Two weeks later I was in Mexico filming," admits Heineman. "I was there one or two weeks of every month for nine months, and that's what allowed me to get so much of the footage. It was months and months of trust building and rapport building."
One powerful scene sees Mireles inspire townspeople with his calm talk of empowerment and fortitude in the face of cartel violence. "Mireles is an unbelievably charismatic, complicated guy. If you wrote a Hollywood script, you couldn't script a character any better," says Heineman.
Local journalists who had covered the drug wars gave him leads, and one contact proved indispensable. "I owe a lot to Daniel Fernandez, my fixer, who introduced me to the local characters and was my guardian angel in this whole process."
Heineman visited torture chambers and found himself in the middle of shootouts, and his unfussy chronicle presents a world where loyalty and morality become smudges on a strip of elastic. He says he was often harassed by government officers, the army, police and the Autodefensas themselves, all of whom wanted to take his camera.
After nine months, he had given up on getting his shot of a meth lab. Then he got a call and at 6am the following day masked men were driving him into a forest. Using only a camera and a flashlight, he shot the footage that bookends Cartel Land, while a self-aware 'head chef' talks calmly about how economics led him to do what he does.
"I was nervous and frightened for the whole process," admits Heineman. But he adds this is daily life in Michoacan. "The cartels continue to cook up tragedy and the citizens endure as best they can."
Mireles was arrested in June 2014 on firearms charges and is now imprisoned indefinitely in a Mexican jail. "There are so few heroes, either in America or Mexico," says Heineman. "Here is this guy who everybody believed in — not just in Michoacan but also across Mexico. He provided hope against a government that has failed. That's what a lot of the film is about — the failure of institutions and people trying to take matters into their own hands."