Following a series of charismatic turns, Michael Fassbender finishes 2015 on a high with a suitably meticulous portrayal of Apple saviour Steve Jobs. Tom Grater chats to the actor about method and motivation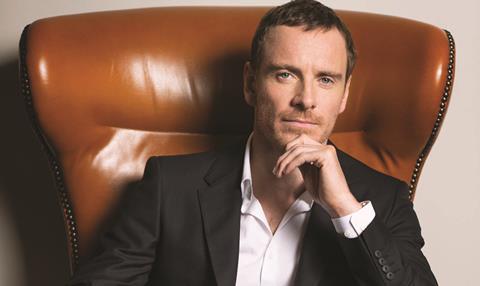 Michael Fassbender is having a vintage year. After drawing plaudits for his star turns in John Maclean's indie western Slow West and Justin Kurzel's adaptation of Macbeth, he is now leading the Oscar race for Danny Boyle's Steve Jobs, in which he plays the titular Apple pioneer.
The film's journey from inception to the big screen was as bumpy as Jobs' own history with Apple.
The man himself died on October 5, 2011, after a long battle with pancreatic cancer, and Sony Pictures moved swiftly to purchase the rights to Walter Isaacson's authorised biography just two days later.
The studio seemed a natural fit for a film about the hugely influential figure, given it already produced David Fincher's Oscar-winning biopic The Social Network. Sony attached that film's writer Aaron Sorkin to develop the screenplay and, once the script was completed in January 2014, Fincher entered negotiations to helm.
Casting Jobs
George Clooney and Noah Wyle (who had played Jobs on TV in a 1999 film) were rumoured for the title role, but Fincher lined up Christian Bale.
When the director exited the project, reportedly due to contract disputes, Bale followed. The studio turned to Danny Boyle and entered discussions with Leonardo DiCaprio for the role.
"As soon as I read the script, I knew it was very special."
In October 2014, Sorkin revealed that Bale had been re-attached, but again he dropped out to be swiftly replaced by Michael Fassbender. Despite finally landing their Jobs, Sony decided to drop the project, instead shopping it to Universal Pictures.
Although Universal's 2015 slate already looked very strong (and has proved to be so, setting an industry record for highest-grossing box office), it wasted no time in putting the project into production, retaining Fassbender in the role.
The actor admits he was surprised to be offered the part, largely because he couldn't see a resemblance to Jobs. "That was definitely the first thing I thought of — I don't really look like him. But the script was amazing. As soon as I read it, I knew it was very special."
"There was just more [in the script] than Macbeth. Initially the rhythm is hard to get."
Suitably impressed, Fassbender didn't take much convincing. "It was one of those things where I couldn't really say no. I wanted to work with Danny Boyle, so we'd met before and talked about the possibility of working together. It was a brief hesitation, if there was any at all."
Despite the instant attraction to the script, Fassbender admits the sheer volume of Sorkin's rapid-fire and lengthy dialogue was daunting, even though the actor had tackled Shakespeare a year earlier. "It was the quantity, really; there was just more than Macbeth," he says. "Initially the rhythm is hard to get. It takes time, there's a lot of repetition. But once you get it, it's a joy.
"Then it makes everything easier because it dictates a lot for you, just like Shakespeare; it takes a lot of the psyche of the character, what's going on inside them, their motivations and their emotional state. A lot of that is dictated through the pace, the rhythm."
One of the unusual features of Sorkin's script is its three-act structure. The action is broken into chapters, each leading up to a particular product launch. To complement the script, Boyle implemented an equally unusual filming structure.
"We had two weeks of rehearsal before filming the first act, two weeks for the second, and just under two weeks for the third," explains Fassbender. "It was a real luxury. It was a chance for us to play with the elasticity of the piece and with the different actions and movements; obviously, all the action is in the dialogue.
"We had an opportunity to try stuff out and make mistakes," he adds. "By the time we got to filming [each act was also shot in two weeks], we hit the ground running."
Michael Fassbender Awards history
Academy Award nominations
Best supporting actor
2014: 12 Years A Slave
Bafta Film Award nominations
Best actor
2012: Shame
Best supporting actor
2014: 12 Years A Slave
Jobs is remembered as an enigmatic character. Unquestionably a genius when it came to shaping the future of technology, he has also drawn plenty of criticism for his treatment of those around him — particularly his estranged daughter Lisa, a relationship explored in the film.
When approaching the character, however, Fassbender decided not to let Jobs' reputation influence him. "For me, it doesn't help me in terms of preparation. I just look at the information in the script and the motivations and the objectives," he says. "Human beings are complicated. If we delve into anybody's life there would be ambiguity. And I don't know what Steve Jobs was like. I only saw interviews that were through the prism of the media or through what other people say of him. That's never going to be an accurate reading of someone."
"My job is my job; I just do what's in the script."
Since premiering at Telluride Film Festival in October — before travelling to New York and London — the film has received criticism for perceived inaccuracies, but Fassbender has little time for the dissenters: "I'm just doing a dramatisation, it's not a biopic. My job is my job; I just do what's in the script. I think we have a responsibility to tell stories about people who've changed the world we live in."
Despite focusing largely on the script, Fassbender did meet with several of Jobs' closest colleagues and companions. "What was really apparent from all of them was that they still seemed in orbit around the man, in a certain way. They seemed to be profoundly struck by him.
"I felt a palpable sadness from John Sculley [who Jobs convinced to become the CEO of Apple in 1983, played by Jeff Daniels in the film]. I think they never buried the hatchet. In a way this film gives a little bit of closure to the relationship, which I thought was nice."
One character not as caught up in the cult of Jobs, says Fassbender, is marketing professional and long-time companion Joanna Hoffman, played by Kate Winslet. Fassbender and Winslet share a lot of screen time in the film, an experience he recalls as a joy: "She's the best at what she does. A top-drawer actor and a lot of fun."