John Crowley, the director of Brooklyn, talks to his leading lady Saoirse Ronan about dancing with the camera, connecting to the role and a fortuitous meeting with Patti Smith. Wendy Mitchell reports.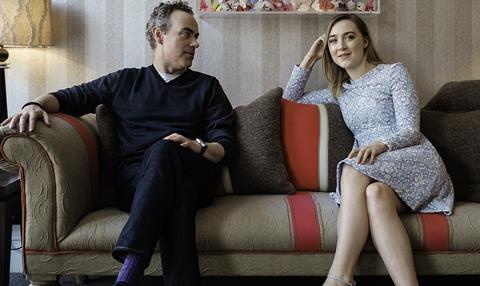 Saoirse Ronan gives a career-changing performance in John Crowley's Brooklyn as Eilis Lacey, a young Irish woman who aims for a better life by moving to New York in 1952 and finding a job as a department-store assistant. When she's called back to Ireland following a death in the family, she has to choose between her new life in America, including a blossoming romance with Tony (Emory Cohen), and a chance to stay in Ireland and imagine a future with the dependable Jim (Domhnall Gleeson).
For Ronan, now 21, playing Eilis marks her first major role as a young woman. We've seen her grow up on screen starting, at age 12, with her Oscar-nominated performance as Briony Tallis in Atonement; her Bafta-nominated role in The Lovely Bones; her more action-packed turn in Hanna; a sensitive performance in Kevin Macdonald's How I Live Now; and most recently joining the esteemed ensemble of Wes Anderson'sThe Grand Budapest Hotel.
Ireland-born, London-based director Crowley is enjoying the best reviews of his career with Brooklyn, having previously made Intermission, Boy A (starring the then-unknown Andrew Garfield), Is Anybody There? and Closed Circuit. Finola Dwyer and Amanda Posey (An Education) produce, and Nick Hornby adapted the script from Colm Toibin's acclaimed novel. Julie Walters and Jim Broadbent round out the cast.
Brooklyn premiered at Sundance in January 2015, where it became the breakout hit of the festival, with HanWay/CAA striking an estimated $9m deal with Fox Searchlight for the US. After screening in Telluride and Toronto, the film was launched theatrically on November 4 in the US by Fox Searchlight and November 6 in the UK by LionsGate UK. In its opening weekend in Ireland, it earned $652,200, to become the highest-opening Irish film since Michael Collins in 1996.
As for Ronan, she will be honoured on January 2 with the International Star Award at the 27th annual Palm Springs International Film Festival and in February makes her Broadway debut in The Crucible. Screen invited Crowley to interrogate his leading lady about Brooklyn and her career during the film's screening at the BFI London Film Festival in October.
John Crowley Has your sense of yourself as an actor changed over the years?
Saoirse Ronan No, I don't think it has. Without sounding cocky, I am more aware now of how to use what I have. It's still very much based on instinct for me. Honestly, when you gave me Philadelphia, Here I Come! [Brian Friel's 1964 play about an Irish immigrant in Philadelphia], that was probably the most research I've ever done for a role. I don't really do that. It's just always felt wrong for me to dissect anything. So my approach hasn't changed at all really. When you are a kid and you do something like acting, it does seem sort of effortless. There is no inhibition; there is absolute belief in imagination and it being real. I've never wanted to lose that.
Crowley For me, you're all instinct as an actor. You approached the role from the inside. That's married to staggering technical skill and technique. In terms of your awareness of the camera and how to calibrate exactly what we might discuss before a scene, that can't just be instinct, can it?
Ronan I think that's experience. Very early on, though, I had a strong relationship to the camera in the best possible way. I am always aware of where the camera is and what it's doing. I like when we work together, myself and the camera. I have always liked rules and I like direction. By the same token, to have a camera do a particular movement, I like to be able to work with it.
Crowley To dance with it.
Ronan Yes, to dance with it. My favourite thing is to have big, epic Steadicam shots; we did it a little bit in Brooklyn. I love those. In a way it simplifies everything, even though it's backbreaking for the Steadicam operator. Nobody can stop it once it's started, you just have to keep going with it. I like
fluidity in movement.
Crowley We did a couple of key ones, for instance you and Emory walking away from the dance, which was a single take, and Domhnall and yourself on the beach. So, with Brooklyn, what would you say is different about the role for you? Not so much about the character but for you, as an actor playing it?
Ronan As you know, it was so close to where I was at in my own life. There were times I found it very hard to separate the two, and sometimes I thought, "Am I even doing anything?" because it's so close. Not so much who I am: Eilis and Saoirse, character wise, are not the same. I think you would agree. But our journey was so similar and how it affected us was very similar.
SAOIRSE RONAN AWARDS HISTORY
Academy Award nominations
Best supporting actress
2008: Atonement
Bafta Film Award nominations
Best actress
2010: The Lovely Bones
Best supporting actress
2008: Atonement
Crowley When we had lunch in London about a month before we shot, you were in a very particular place emotionally, with homesickness, after you moved to London. You wanted to know, "Does it get easier?" And having lived here for 18 years, I said, "Yes it does," but not quickly. Because you were in that place, on set I never had to shift you emotionally into a place to hit the target of the scene. You would arrive very quickly with it so that each take was working more and more towards an exact point, which would usually come around take six or seven. I'd just know watching the monitor, "That's it."
Ronan Did that change when you were in the edit?
Crowley It probably did. By the time you come through a whole editing process, you're trying to recalibrate the bigger story issues so you might look for something that was a different colour, that you might not have even intended. The thing that we were light on in the script that we had to push up a bit in the edit was actually some of the homesickness.
Ronan It's so funny because, at the time, I felt that such a huge chunk of our story was me sad and crying.
Crowley I remember you saying you thought you were crying too much. I was absolutely certain that you weren't because I never felt your crying was generalised. It always felt like an expression of the problem of that character and that obstacle she was coming up against, whether it was loneliness or missing her sister or struggling at work.
Ronan They were all different cries, weren't they? I think you got me there. I don't think I'd had that to the same extent before with a director, where you were incredibly specific. When you'd come in, you were incredibly in tune. To have that given to you with every take, at first I thought, "Jesus, am I just doing nothing that he needs?" As we went on, I could see you were making me better. Even in those first three weeks in Ireland, a tiny change felt so important.
Crowley With this, the writing was so good, from the novel to Nick Hornby's screenplay, and then you're meeting this part at such a particular point in your life and career. Those two things side by side — where you were emotionally in your life but also your career moving from that younger actor who had huge respect, into an emotional powerhouse role that would take you to a young woman within the one film. For me, you're staking your claim as one of the best actors working. That's what I watched happen on set.
Ronan I felt very changed at the end of it. I felt like it changed me.
Crowley In what way?
Ronan I feel like I absolutely walked through the fire and felt a fear that I had never felt with a film before. Because I cared so much about it. So much! We had great fun, and I don't want to paint it as this horrible experience, but it felt like a mountain to me. It felt like something I wanted to climb, something I knew I needed to get through. It felt like a step into adulthood. London was the first step for me, moving away. And then going into
Brooklyn sealed the deal. I guess that was the moment when I felt like Brooklyn had given me something that none of the other films had given me, which was overcoming a fear.
Crowley Fear of what?
Ronan Of not delivering, of being rejected by your own — not that they ever would. The responsibility that I felt to you as much as I did to them was immense. I really didn't want to let anyone down. I felt like it was a whole nation behind us as well. I jumped into Brooklyn and I knew it was going to change me for the better and I was going to grow. But I was scared.
Crowley When we first met, you told me a story that you had met [singer] Patti Smith and she took you by the hands and said, "You know it's all about the work."
Ronan That was one of those moments in life that happened at the exact right time.
Crowley It feels to me that you're so clear now about what your acting is about. Do you have a sense of what you want to do in the next 20 years, the next 40 years?
Ronan Patti came along at just the right time, just like you did. It was a time where industry had all of a sudden infiltrated my life and I could have lost focus on what I wanted. I was lucky to have someone like her come along and remind me that there other people out there for whom, 40 years later, the purity of their love and motivation is still the same. I don't want anything out of acting, I just want to do it. It frees me just as much as it did when I was a kid. I use it in a different way, maybe, but the love that I feel for it, and the need I have to do it, is still very pure. I don't want the press and publicity side of it, or the money, or the pressure from studios or producers or agents, to get in the way of this pure love I have for it. I don't want to let it go and I don't want to let it change too much.