Benicio del Toro talks to Jeremy Kay about his role as a ruthless killer in Denis Villeneuve's Sicario and the disheartening lack of progress in the war on drugs since his work on Traffic in 2000.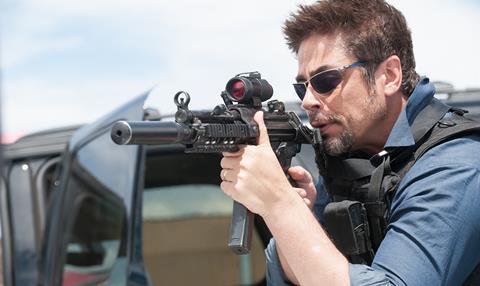 The clear reference point to Benicio del Toro's memorable turn as a hitman in Denis Villeneuve's Sicario is his role as a compromised cop in Steven Soderbergh's 2000 film Traffic — and the Puerto Rico-born star dives straight in.
"It's been 15 years since Traffic and there hasn't been much change," says del Toro, of the intensity of America's self-described 'war on drugs'. "And the violence is such that perhaps there's no solution in sight."
Unless of course you are del Toro's Mexican 'sicario' — or hitman — Alejandro, or Josh Brolin's CIA operative Matt Graver, a seen-it-all tough guy in what is turning out to be one of America's dirtiest wars. In Sicario, the pair form the backbone of a covert operation to take down a Mexican drug lord, with what is clearly an elastic approach to legal authority. Their tactics are necessarily brutal and do not sit well with the hard-charging FBI agent Kate Macer, played by Emily Blunt, who they enlist to legally validate their cross-border incursions.
"They are frustrated and they are fighting fire with more fire," del Toro says of the two male characters. "It could be true but it's not based on facts. This is a thriller based on what could be real."
"I liked the sense of collaboration and Denis Villeneuve did that with all the actors."
Del Toro's Alejandro is the dark heart of Sicario, either a few steps up or down the ladder of moral consciousness depending on which way you look at it. Under masterful direction by Villeneuve from a screenplay by Taylor Sheridan, Sicario offers glimpses into a cavernous reality that always remains elusive. While Macer scrambles to get a glimpse inside, Alejandro darts ahead, mostly out of sight. Del Toro inhabits the role with splendid inscrutability — a haunted former prosecutor "blinded by rage" who now works with the Americans to complete his revenge mission.
"There was a moment in Traffic where my character gives information to the DEA and says something like, 'I feel like a traitor,'" del Toro explains. "Now here's a guy [Alejandro] who is no longer feeling like that and he's working with the other team. The frustration has boiled up so much that he doesn't feel like a traitor any more. He has to get on the other team to fight the evils [being perpetrated by the cartels]."
Before shooting began on the Thunder Road Pictures and Black Label Media thriller — Lionsgate released in the US and licensed rights around the world — del Toro spoke to some friends in the DEA he had got to know while making Traffic.
"I learnt a little bit [about the cartels]," he says, although there is a sense he is holding back. "One of the things I learnt is that production has not diminished and consumption has not diminished. There have been some changes on marijuana [laws] in the States… so there has been an attempt to change the tactics in the war on drugs. But it's still going on and there's violence on both sides of the border. In some parts of Mexico, not all, it's got out of hand. But there's violence in the States too."
Alejandro forms a poignant bond with Macer, but he would not hesitate to kill her if he felt she were to compromise the mission. "I don't think he would have blinked," says the actor.
Del Toro bonded with the UK-born Blunt, appreciating her renowned sense of fun. "She's a homie," he says. "She can hang out and make fun of herself as well."
As for Villeneuve: "I liked the sense of collaboration and he did that with all the actors. It makes you feel a sense of responsibility for the film."
Next up for del Toro is London and a March shoot for Star Wars: Episode VIII. He can't say more than that for fear Disney will dispatch its own sicario to silence him.
AWARDS HISTORY
Academy Award nominations:
Best supporting actor
2001: Traffic
2004: 21 Grams
Bafta Film Award nominations:
Best actor
2004: 21 Grams
Best supporting actor
2001: Traffic