Timothy Spall talks to John Hazelton about tackling the biggest role of his career in Mr. Turner, becoming detective to 'discover' his character and the ever-present spectre of unemployment.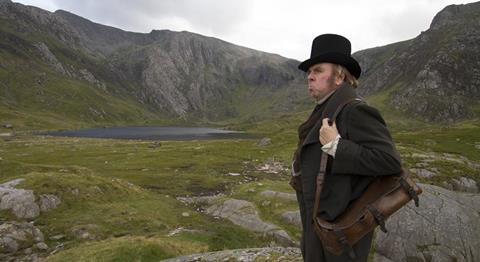 In his typically self-effacing way, Timothy Spall confirms that playing the title role in Mike Leigh's Mr. Turner was indeed a demanding job.
"Actors going on about how hard they work is never attractive, but yeah, it was probably the biggest challenge of my acting life," says Spall, who has been one of the UK's leading character actors for nearly 30 years. "And I knew it was going to be that, because I knew what we were going to have to do was a journey of discovery, as it always is with Mike."
The film - which explores the last decades in the life of 19th century British 'painter of light' JMW Turner - is Spall's fifth feature with writer-director Leigh, after Life Is Sweet, Secrets & Lies, Topsy-Turvy and All Or Nothing. It joins a list of credits that also includes six Harry Potter films, a handful of US movies and dozens of UK films and TV series.
The earlier performances earned a string of Bafta and other nominations but Mr. Turner has put Spall squarely in the spotlight. Cannes Film Festival and New York Film Critics Circle have given him best actor awards already this year, and he has picked up his second European Film Awards nomination.
The 'journey of discovery' on Mr. Turner started with the improvisation process for which Leigh has become famous, an approach Spall describes as constructing a character "from ground zero, amalgamating from other characters that you have encountered in your life as templates for a human being that you then start building up".
"You chuck everything in to create this character and then eventually what happens is the character starts dictating to you about the way it's going to go."
'Although I'm getting a lot of attention it's not going to turn me into something different all of a sudden'

Timothy Spall
In this case, of course, there were the historical facts to take into account.
"We did have the luxury of a brilliant expert, Jacqueline Riding, in the time and the art," says Spall, "but it was also down to the individual, and particularly me, to go off and do my detective work.
"There was a lot of information about how [Turner] looked and talked but there was nothing about how he felt. That gave us a massive amount of dramatic license to create this complex psychological and emotional make-up."
Comparing Turner to the modern-day characters that he played in earlier Leigh films, Spall works up some of the intensity that comes out in his performance.
"You're not talking about a taxi driver, as you were in All Or Nothing," he says, "or a high-street photographer [the character he played in Secrets & Lies], you're talking about one of the greatest artists the world has ever known. Not only that, but also a man who was very, very different to how you imagine him to be, incredibly contradictory.
"He was a working-class son of a barber, with an unreconstructed Cockney nature who also had this naturally polymath and inquisitive mind."
In the end, "We realised Turner was a man of implosive intellect and implosive emotion who expressed himself mainly through what came out of the end of his arm."

Follow the work
With all the attention Mr. Turner has attracted, Spall concedes that for him "things are looking up". Though he has not signed on for any new projects since the film was unveiled on the festival circuit and released in its first few markets - he most recently finished work on UK mini-series The Enfield Haunting - there are, he reports, "some very nice possibilities".
That said, "I'm not knocking back offers from the studios or anything like that. Although I'm getting a lot of attention, it's not going to turn me into something different all of a sudden. It's lovely, but I'm still a middle-aged bloke - I'm not all of a sudden going to be turned into a young leading man."
As a consummate working actor, Spall knows as well as any that in his business attention can be fleeting.
"There's a wonderful device in the world that's going to kick the stuffing and the bullshit out of any actor," he says, "and it's called unemployment. As soon as you get a little dose of that, Charlie Big
Trousers becomes Mr Humble."