Idris Elba and Helen Mirren lead actor nominations with three nods each.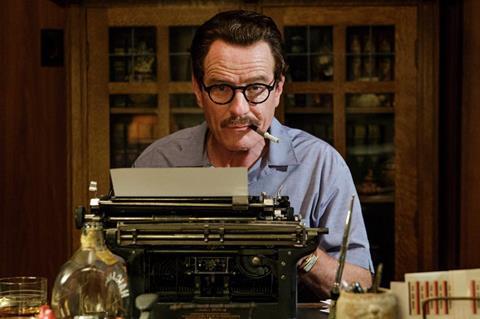 Scroll down for full list of film and TV nominations
Hollywood blacklist drama Trumbo has led the nominations for the 22nd Screen Actors Guild Awards with three nods for lead actor Bryan Cranston, supporting actress Helen Mirren and the ensemble cast. The Martian and The Hateful Eight were shut out.
Set in 1947, the film centres on Dalton Trumbo (Cranston), who was Hollywood's top screenwriter, until he and other artists were jailed and blacklisted for their political beliefs.
Cranston will go up against Johnny Depp for Black Mass, Leonardo DiCaprio for The Revenant, Michael Fassbender for Steve Jobs and Eddie Redmayne for The Danish Girl.
Films that secured two nominations included Beasts Of No Nation, The Big Short, Carol, The Danish Girl, Room, Spotlight - whose outstanding cast nod will only strengthen its status as best picture Oscar frontrunner — and Steve Jobs.
British actors Idris Elba and Mirren led the actor nominations, each securing nods in three categories.
Elba was nominated for best supporting actor for child soldier drama Beasts Of No Nation, for which he is also included in the category for best ensemble cast, and secured a further nod for best actor in a miniseries with Luther.
In the supporting actor category, Elba will be up against Christian Bale for The Big Short, Mark Rylance for Bridge of Spies, Michael Shannon for 99 Homes and nine-year-old Jacob Tremblay for Room.
Mirren was nominated for best actress for Woman In Gold and best supporting actress for Trumbo, for which she is also included in the category for best ensemble.
In the leading actress category, Mirren will be up against Cate Blanchett for Carol, Brie Larson for Room, Saoirse Ronan for Brooklyn and Sarah Silverman for I Smile Back.
For supporting actress, Mirren is nominated alongside Rooney Mara for Carol, Rachel McAdams for Spotlight, Alicia Vikander for The Danish Girl and Kate Winslet for Steve Jobs.
The winners will be announced at an awards ceremony on Jan 30, 2016.
NOMINATIONS
THEATRICAL MOTION PICTURES
Outstanding Performance by a Male Actor in a Leading Role
BRYAN CRANSTON / Dalton Trumbo – "TRUMBO" (Bleecker Street)
JOHNNY DEPP / James "Whitey" Bulger – "BLACK MASS" (Warner Bros. Pictures)
LEONARDO DiCAPRIO / Hugh Glass – "THE REVENANT" (20th Century Fox)
MICHAEL FASSBENDER / Steve Jobs – "STEVE JOBS" (Universal Pictures)
EDDIE REDMAYNE / Einar Wegener/Lili Elbe – "THE DANISH GIRL" (Focus Features)
Outstanding Performance by a Female Actor in a Leading Role
CATE BLANCHETT / Carol Aird – "CAROL" (The Weinstein Company)
BRIE LARSON / Ma – "ROOM" (A24)
HELEN MIRREN / Maria Altmann – "WOMAN IN GOLD" (The Weinstein Company)
SAOIRSE RONAN / Eilis – "BROOKLYN" (Fox Searchlight Pictures)
SARAH SILVERMAN / Laney Brooks – "I SMILE BACK" (Broad Green Pictures)
Outstanding Performance by a Male Actor in a Supporting Role
CHRISTIAN BALE / Michael Burry – "THE BIG SHORT" (Paramount Pictures)
IDRIS ELBA / Commandant – "BEASTS OF NO NATION" (Netflix)
MARK RYLANCE / Abel Rudolph – "BRIDGE OF SPIES" (DreamWorks)
MICHAEL SHANNON / Rick Carver – "99 HOMES" (Broad Green Pictures)
JACOB TREMBLAY / Jack – "ROOM" (A24)
Outstanding Performance by a Female Actor in a Supporting Role
ROONEY MARA / Therese Belivet – "CAROL" (The Weinstein Company)
RACHEL McADAMS / Sacha Pfeiffer – "SPOTLIGHT" (Open Road Films)
HELEN MIRREN / Hedda Hopper – "TRUMBO" (Bleecker Street)
ALICIA VIKANDER / Gerda Wegener – "THE DANISH GIRL" (Focus Features)
KATE WINSLET / Joanna Hoffman – "STEVE JOBS" (Universal Pictures)
Outstanding Performance by a Cast in a Motion Picture
BEASTS OF NO NATION (Netflix)
ABRAHAM ATTAH / Agu
KURT EGYIAWAN / 2nd I-C
IDRIS ELBA / Commandant
THE BIG SHORT (Paramount Pictures)
CHRISTIAN BALE / Michael Burry
STEVE CARELL / Mark Baum
RYAN GOSLING / Jared Vennett
MELISSA LEO / Georgia Hale
HAMISH LINKLATER / Porter Collins
JOHN MAGARO / Charlie Geller
BRAD PITT / Ben Rickert
RAFE SPALL / Danny Moses
JEREMY STRONG / Vinny Peters
MARISA TOMEI / Cynthia Baum
FINN WITTROCK / Jamie Shipley
SPOTLIGHT (Open Road Films)
BILLY CRUDUP / Eric MacLeish
BRIAN D'ARCY JAMES / Matty Carroll
MICHAEL KEATON / Walter "Robby" Robinson
RACHEL McADAMS / Sacha Pfeiffer
MARK RUFFALO / Michael Rezendes
LIEV SCHREIBER / Marty Baron
JOHN SLATTERY / Ben Bradlee, Jr.
STANLEY TUCCI / Mitchell Garabedian
STRAIGHT OUTTA COMPTON (Universal Pictures)
NEIL BROWN JR. / DJ Yella
PAUL GIAMATTI / Jerry Heller
COREY HAWKINS / Dr. Dre
ALDIS HODGE / MC Ren
O'SHEA JACKSON JR. / Ice Cube
JASON MITCHELL / Eazy-E
TRUMBO (Bleecker Street)
ADEWALE AKINNUOYE-AGBAJE / Virgil Brooks
LOUIS C.K. / Arlen Hird
BRYAN CRANSTON / Dalton Trumbo
DAVID JAMES ELLIOTT / John Wayne
ELLE FANNING / Niki Trumbo
JOHN GOODMAN / Frank King
DIANE LANE / Cleo Trumbo
HELEN MIRREN / Hedda Hopper
MICHAEL STUHLBARG / Edward G. Robinson
ALAN TUDYK / Ian McLellan Hunter
TELEVISION PROGRAMMES
Outstanding Performance by a Male Actor in a Television Movie or Miniseries
IDRIS ELBA / DCI John Luther – "LUTHER" (BBC America)
BEN KINGSLEY / Grand Vizier Ay – "TUT" (Spike)
RAY LIOTTA / Lorca/Tom Mitchell – "TEXAS RISING" (History)
BILL MURRAY / Himself – "A VERY MURRAY CHRISTMAS" (Netflix)
MARK RYLANCE / Thomas Cromwell – "WOLF HALL" (Masterpiece/PBS)
Outstanding Performance by a Female Actor in a Television Movie or Miniseries
NICOLE KIDMAN / Grace – "GRACE OF MONACO" (Lifetime)
QUEEN LATIFAH / Bessie Smith – "BESSIE" (HBO)
CHRISTINA RICCI / Lizzie Borden – "THE LIZZIE BORDEN CHRONICLES" (Lifetime)
SUSAN SARANDON / Gladys Mortenson – "THE SECRET LIFE OF MARILYN MONROE" (Lifetime)
KRISTEN WIIG / Delores DeWinter – "THE SPOILS BEFORE DYING" (IFC)
Outstanding Performance by a Male Actor in a Drama Series
PETER DINKLAGE / Tyrion Lannister – "GAME OF THRONES" (HBO)
JON HAMM / Don Draper – "MAD MEN" (AMC)
RAMI MALEK / Elliot – "MR. ROBOT" (USA Network)
BOB ODENKIRK / Jimmy McGill – "BETTER CALL SAUL" (AMC)
KEVIN SPACEY / Francis Underwood – "HOUSE OF CARDS" (Netflix)
Outstanding Performance by a Female Actor in a Drama Series
CLAIRE DANES / Carrie Mathison – "HOMELAND" (Showtime)
VIOLA DAVIS / Annalise Keating – "HOW TO GET AWAY WITH MURDER" (ABC)
JULIANNA MARGULIES / Alicia Florrick – "THE GOOD WIFE" (CBS)
MAGGIE SMITH / Violet Crawley, Dowager Countess of Grantham – "DOWNTON ABBEY" (Masterpiece/PBS)
ROBIN WRIGHT / Claire Underwood – "HOUSE OF CARDS" (Netflix)
Outstanding Performance by a Male Actor in a Comedy Series
TY BURRELL / Phil Dunphy – "MODERN FAMILY" (ABC)
LOUIS C.K. / Louie – "LOUIE" (FX Networks)
WILLIAM H. MACY / Frank – "SHAMELESS" (Showtime)
JIM PARSONS / Sheldon Cooper – "THE BIG BANG THEORY" (CBS)
JEFFREY TAMBOR / Maura Pfefferman – "TRANSPARENT" (Amazon)
Outstanding Performance by a Female Actor in a Comedy Series
UZO ADUBA / Suzanne "Crazy Eyes" Warren – "ORANGE IS THE NEW BLACK" (Netflix)
EDIE FALCO / Jackie Peyton – "NURSE JACKIE" (Showtime)
ELLIE KEMPER / Kimmy Schmidt – "UNBREAKABLE KIMMY SCHMIDT" (Netflix)
JULIA LOUIS-DREYFUS / President Selina Meyer – "VEEP" (HBO)
AMY POEHLER / Leslie Knope – "PARKS AND RECREATION" (NBC)
Outstanding Performance by an Ensemble in a Drama Series
DOWNTON ABBEY (Masterpiece/PBS)
HUGH BONNEVILLE / Robert, Earl of Grantham
LAURA CARMICHAEL / Lady Edith Crawley
JIM CARTER / Mr. Carson
RAQUEL CASSIDY / Baxter
BRENDAN COYLE / Mr. Bates
TOM CULLEN / Anthony Gillingham
MICHELLE DOCKERY / Lady Mary Crawley
KEVIN DOYLE / Mr. Molesley
JOANNE FROGGATT / Anna Bates
LILY JAMES / Lady Rose
ROBERT JAMES-COLLIER / Thomas Barrow
ALLEN LEECH / Tom Branson
PHYLLIS LOGAN / Mrs. Hughes
ELIZABETH McGOVERN / Cora, Countess of Grantham
SOPHIE McSHERA / Daisy
LESLEY NICOL / Mrs. Patmore
JULIAN OVENDEN / Charles Blake
DAVID ROBB / Dr. Clarkson
MAGGIE SMITH / Violet, Dowager Countess of Grantham
PENELOPE WILTON / Isobel Crawley
GAME OF THRONES (HBO)
ALFIE ALLEN / Theon Greyjoy
IAN BEATTIE / Ser Meryn Trant
JOHN BRADLEY / Samwell Tarly
GWENDOLINE CHRISTIE / Brienne of Tarth
EMILIA CLARKE / Daenerys Targaryen
MICHAEL CONDRON / Bowen Marsh
NIKOLAJ COSTER-WALDAU / Jaime Lannister
BEN CROMPTON / Dolorous Edd
LIAM CUNNINGHAM / Ser Davos Seaworth
STEPHEN DILLANE / Stannis Baratheon
PETER DINKLAGE / Tyrion Lannister
NATHALIE EMMANUEL / Missandei
TARA FITZGERALD / Selyse Baratheon
JEROME FLYNN / Bronn
BRIAN FORTUNE / Othell Yarwyck
JOEL FRY / Hizdahr Zo Loraq
AIDAN GILLEN / Littlefinger Petyr Baelish
IAIN GLEN / Ser Jorah Mormont
KIT HARINGTON / Jon Snow
LENA HEADEY / Cersei Lannister
MICHIEL HUISMAN / Daario Naharis
HANNAH MURRAY / Gilly
BRENOCK O'CONNOR / Olly
DANIEL PORTMAN / Podrick Payne
IWAN RHEON / Ramsay Snow
OWEN TEALE / Ser Alliser Thorne
SOPHIE TURNER / Sansa Stark
CARICE VAN HOUTEN / Melisandre
MAISIE WILLIAMS / Arya Stark
TOM WLASCHIHA / Jaqen H'ghar
HOMELAND (Showtime)
F. MURRAY ABRAHAM / Dar Adal
ATHEER ADEL / Numan
CLAIRE DANES / Carrie Mathison
ALEXANDER FEHLING / Jonas Hollander
RUPERT FRIEND / Peter Quinn
NINA HOSS / Astrid
RENÉ DAVID IFRAH / Bibi
MARK IVANIR / Ivan Krupin
SEBASTIAN KOCH / Otto Dűring
MIRANDA OTTO / Allison Carr
MANDY PATINKIN / Saul Berenson
SARAH SOKOLOVIC / Laura Sutton
HOUSE OF CARDS (Netflix)
MAHERSHALA ALI / Remy Danton
DEREK CECIL / Seth Grayson
NATHAN DARROW / Edward Meechum
MICHAEL KELLY / Doug Stamper
ELIZABETH MARVEL / Heather Dunbar
MOLLY PARKER / Jackie Sharp
JIMMI SIMPSON / Gavin Orsay
KEVIN SPACEY / Francis Underwood
ROBIN WRIGHT / Claire Underwood
MAD MEN (AMC)
SOLA BAMIS / Shirley
STEPHANIE DRAKE / Meredith
JAY R. FERGUSON / Stan Rizzo
BRUCE GREENWOOD / Richard Burghoff
JON HAMM / Don Draper
CHRISTINA HENDRICKS / Joan Harris
JANUARY JONES / Betty Francis
VINCENT KARTHEISER / Pete Campbell
ELISABETH MOSS / Peggy Olson
KEVIN RAHM / Ted Chaough
KIERNAN SHIPKA / Sally Draper
JOHN SLATTERY / Roger Sterling
RICH SOMMER / Harry Crane
AARON STATON / Ken Cosgrove
MASON VALE COTTON / Bobby Draper
Outstanding Performance by an Ensemble in a Comedy Series
THE BIG BANG THEORY (CBS)
MAYIM BIALIK / Amy Farrah Fowler
KALEY CUOCO / Penny
JOHNNY GALECKI / Leonard Hofstadter
SIMON HELBERG / Howard Wolowitz
KUNAL NAYYAR / Rajesh Koothrappali
JIM PARSONS / Sheldon Cooper
MELISSA RAUCH / Bernadette Rostenkowski-Wolowitz
KEY & PEELE (Comedy Central)
KEEGAN-MICHAEL KEY / Various Characters
JORDAN PEELE / Various Characters
MODERN FAMILY (ABC)
JULIE BOWEN / Claire Dunphy
TY BURRELL / Phil Dunphy
AUBREY ANDERSON EMMONS / Lily Tucker-Pritchett
JESSE TYLER FERGUSON / Mitchell Pritchett
NOLAN GOULD / Luke Dunphy
SARAH HYLAND / Haley Dunphy
ED O'NEILL / Jay Pritchett
RICO RODRIGUEZ / Manny Delgado
ERIC STONESTREET / Cameron Tucker
SOFIA VERGARA / Gloria Delgado-Pritchett
ARIEL WINTER / Alex Dunphy
ORANGE IS THE NEW BLACK (Netflix)
UZO ADUBA / Suzanne "Crazy Eyes" Warren
MIKE BIRBIGLIA / Danny Pearson
MARSHA STEPHANIE BLAKE / Berdie Rogers
DANIELLE BROOKS / Tasha "Taystee" Jefferson
LAVERNE COX / Sophia Burset
JACKIE CRUZ / Marisol "Flaca" Gonzales
CATHERINE CURTIN / Wanda Bell
LEA DELARIA / Carrie "Big Boo" Black
BETH FOWLER / Sister Jane Ingalls
JOEL MARSH GARLAND / Scott O'Neill
KIMIKO GLENN / Brook Soso
ANNIE GOLDEN / Norma Romano
DIANE GUERRERO / Maritza Ramos
MICHAEL J. HARNEY / Sam Healy
VICKY JEUDY / Janae Watson
SELENIS LEYVA / Gloria Mendoza
TARYN MANNING / Tiffany "Pennsatucky" Doggett
ADRIENNE C. MOORE / Black Cindy
KATE MULGREW / Galina "Red" Reznikov
EMMA MYLES / Leanne Taylor
MATT PETERS / Joel Luschek
LORI PETTY / Lolly Whitehill
JESSICA PIMENTEL / Maria Ruiz
DASCHA POLANCO / Dayanara Diaz
LAURA PREPON / Alex Vause
ELIZABETH RODRIGUEZ / Aleida Diaz
RUBY ROSE / Stella Carlin
NICK SANDOW / Joe Caputo
ABIGAIL SAVAGE / Gina
TAYLOR SCHILLING / Piper Chapman
CONSTANCE SHULMAN / Yoga Jones
DALE SOULES / Frieda
YAEL STONE / Lorna Morello
SAMIRA WILEY / Poussey Washington
TRANSPARENT (Amazon)
ALEXANDRA BILLINGS / Davina Rejennae
CARRIE BROWNSTEIN / Syd Feldman
JAY DUPLASS / Josh Pfefferman
KATHRYN HAHN / Raquel Fein
GABY HOFFMANN / Ali Pfefferman
CHERRY JONES / Leslie Mackinaw
AMY LANDECKER / Sarah Pfefferman
JUDITH LIGHT / Shelly Pfefferman
HARI NEF / Gittel/Gerson
EMILY ROBINSON / Rose Boymelgreen
JEFFREY TAMBOR / Maura Pfefferman
VEEP (HBO)
DIEDRICH BADER / Bill Ericsson
SUFE BRADSHAW / Sue Wilson
ANNA CHLUMSKY / Amy Brookheimer
GARY COLE / Kent Davidson
KEVIN DUNN / Ben Cafferty
TONY HALE / Gary Walsh
HUGH LAURIE / Tom James
PHIL REEVES / Doyle
SAM RICHARDSON / Richard
REID SCOTT / Dan Egan
TIMOTHY SIMONS / Jonah Ryan
SARAH SUTHERLAND / Catherine
MATT WALSH / Mike McLintock
SAG AWARDS HONOURS FOR STUNT ENSEMBLES
Outstanding Action Performance by a Stunt Ensemble in a Motion Picture
"EVEREST" (Universal Pictures)
"FURIOUS 7" (Universal Pictures)
"JURASSIC WORLD" (Universal Pictures)
"MAD MAX: FURY ROAD" (Warner Bros. Pictures)
"MISSION: IMPOSSIBLE – ROGUE NATION" (Paramount Pictures)
Outstanding Action Performance by a Stunt Ensemble in a Comedy or Drama Series
"THE BLACKLIST" (NBC)
"GAME OF THRONES" (HBO)
"HOMELAND" (Showtime)
"MARVEL'S DAREDEVIL" (Netflix)
"THE WALKING DEAD" (AMC)
LIFE ACHIEVEMENT AWARD
52nd Annual SAG Life Achievement Award
CAROL BURNETT