BBC Films confirms Christine Langan departure to Baby Cow with recruitment for successor underway; Langan describes tenure as "great privilege".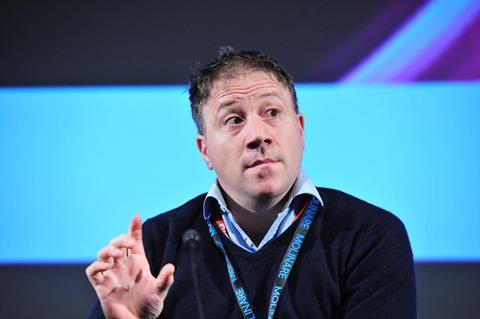 BBC Films commissioning executive Joe Oppenheimer will serve as acting head while the organisation seeks a replacement for outgoing head Christine Langan who is set to deaprt early October.
Langan's departure was revealed by Screen's sister publication Broadcast in July.
Langan, who was head of the unit since 2009, is to leave the BBC to join Steve Coogan and Henry Normal's Baby Cow Productions as its CEO.
The executive goes out on a high following the critical and commercial successes of Brooklyn, I, Daniel Blake, Absolutely Fabulous: The Movie and The Lady In The Van.
During her tenure at the broadcaster the executive has backed productions including Simon Curtis' Academy Award-nominated My Week With Marilyn, Lynne Ramsay's intense thriller We Need to Talk About Kevin and Stephen Frears' Golden Globe and Academy Award-nominated and BAFTA winning Philomena.
Other successes include Lone Scherfig's BAFTA winning An Education, Armando Iannucci's BAFTA-nominated In the Loop, Jane Campion's Academy Award-nominated Bright Star and Andrea Arnold's BAFTA winning Fish Tank.
In 2015 BBC Films was recognised by BAFTA with the award for Outstanding Contribution to British Cinema which was collected by Langan.
Langan said: "BBC Films is a precious resource to independent film makers in the UK and audiences everywhere. It's been a truly great privilege and very fulfilling experience to run the division and I'm extremely grateful, both to the BBC for the wonderful opportunity and to an amazingly hardworking and dedicated team, without whom it wouldn't have been possible. Enlightened leaders like Tony and Charlotte have embraced the vital role that BBC Films plays in our creative life and I hope that audiences will long enjoy the rich array of varied projects nurtured by BBC Films."
Tony Hall, BBC Director-General, added: "I've loved working with Christine. She has a real eye for the popular as well as the idiosyncratic. She's collaborative, ambitious, a brilliant enabler of ideas - and a great ambassador for our country's film industry. She's done a great job for BBC Films. We'll miss her."
Charlotte Moore, director, BBC Content, commented: "Christine has made an outstanding impact on the independent British film industry. The extraordinary range and quality of BBC Films is down to Christine's editorial vision, dedication and passion. She has significantly increased the profile of BBC Films and raised the bar for British film across the industry. I would like to thank her for all her hard work and wish her the very best in her new role."
Upcoming films for the broadcaster's film arm include Amma Asante's A United Kingdom which will open the London Film Festival, staring David Oyelowo and Rosamund Pike, Lone Scherfig's Their Finest, City of Tiny Lights, starring Riz Ahmed and directed by Pete Travis, and The Mercy from James Marsh starring Colin Firth and Rachel Weisz. The former three titles will also feature at the Toronto Film Festival, alongside Denial, The Levelling, Lady Macbeth and I, Daniel Blake.
Steve Coogan said of Langan's appointment to Baby Cow: "Christine's arrival as head of Baby Cow is a dream appointment for us. She is universally respected as a smart insightful executive with great taste. I experienced this up close when I was developing the film, Philomena. Christine's input, guidance and passion helped bring it to life in the best possible way. She combines an ambition and vision for the company with a real understanding of how to nurture creative collaborations. Talent trusts her. Building on Baby Cow's comedy heritage and our exciting film and tv drama slate, she is the perfect person to take the company to a new level."