Donmar Warehouse artistic director Grandage talks making his film directing debut.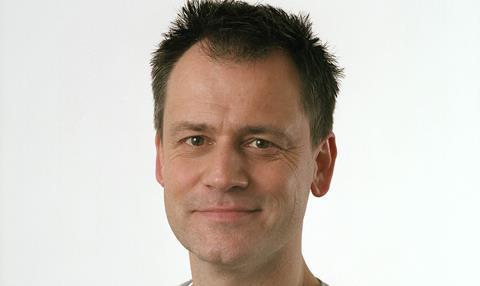 Michael Grandage, who was artistic director of London's Donmar Warehouse theatre for 10 years from 2002-2012, makes his directing debut with Genius, an adaptation of A Scott Berg's prize-winning novel about the relationship between famed literary editor Max Perkins and authors such as Thomas Wolfe and Ernest Hemingway. Colin Firth is Perkins, Jude Law plays Wolfe and Dominic West is Hemingway. The film, which is in Competition, also features Nicole Kidman, Laura Linney and Guy Pearce.
Genius was produced by Grandage, James Bierman, his business partner at the Michael Grandage Company, and screenwriter John Logan, with Riverstone Pictures financing and FilmNation Entertainment handling worldwide sales.

How did you first get involved in Genius?
About 14 years ago, John Logan optioned the book and has spent a considerable amount of that time trying to get the film made. It's been nearly made several times. It's had several different actors attached to it. About two and a half years ago, it clicked in properly with Colin Firth being attached as Max Perkins and a lot of people got behind it then, with different directors and different actors opposite Colin. I was working with John Logan for the first time on a play and at one point he said, "I'd love to send you this film script to hear what you think." I very much liked it and sent him a passionate email about why I thought it was a great script. It was a turning point for John because he then said, "Would you like to direct it?" He also said, "There's no studio wanting make this film - would your company produce it?"

How did you find that side of the process, trying to get financiers interested?
James Bierman and myself had aspirations to make a film through our company but we started from scratch. We took a lot of advice from Tim Bevan at Working Title [an executive producer on the film]. FilmNation became enormously helpful and part of the deal. We found friends and colleagues as we went who basically made it happen with us.

You must have had film directing offers before. What appealed about Genius?
During the 10 years I was at the Donmar, a lot of film offers came my way. But I was running a theatre. With this script, I saw huge parallels between what a theatre director does and what Max Perkins does in the story. An editor and a director have this extraordinary talent in front of them and the job is to somehow help bring it before a public. My way into Genius was how beautifully it articulated the role of certain creative people behind the creative source.

What was most daunting about stepping behind the camera for the first time?
Everything. I was going completely out of my comfort zone. The only part of the process I felt in control of was a dialogue with actors. I knew I wanted to make this a film about really investigating passionate performances at a level we would examine in the theatre. I also spent a year and a half properly investigating so I at least knew what end of the camera to look into. Sam Mendes, my predecessor at the Donmar, and Kenneth Branagh, who I've worked with a lot in the theatre — I just basically spent a lot of time with them and visited their sets.

Which sets did you visit?
When I first started this process, Ken was filming Jack Ryan: Shadow Recruit and then he went onto Cinderella so I got onto both of those sets with him. On Jack Ryan, he brought me along to see a scene, then got me back and followed the scene right the way through to the final edit. Also, because he was in Jack Ryan and because I've directed him before, he very sweetly said, "OK, I'm going to go into this scene, will you stay beside the camera and tell me what we're going to do here?" It was like a very high-level film-school training and I'm indebted to him for it. I also went in phenomenally prepared. Sam Mendes said to me, "The prep time, which seems to be 12 weeks of you wondering what it's going to yield, just make sure you fill each day with the prep." I was so glad I took that advice; I arrived on set absolutely knowing how I wanted the film to look, feel and move.

How did you find working with you cast?
Nicole, Colin, Jude and Laura Linney, who form the film's main quartet, were all stunning to work with. They were up for a big dialogue with their director about acting. It was very satisfying for me. The editing was a very exciting process as well. I kept waiting for the bit of the process that I wouldn't enjoy, but I enjoyed all of it.

How long was Michael Fassbender attached to the project before he left and you recast with Jude Law?
It was within a month of me starting that Michael became unavailable due to being offered another movie. He was very sweet, very honest about it. He said, "Look, the movie I've been offered is huge so I'm going to go with it." I'm desperate to work with him, I think he's very talented, but it allowed me to put my own personality into the film through the cast.

Was trying to attach other actors to raise the finance frustrating?
That was an eye-opener. In any given moment, an actor's value is worth this and if you're trying to finance in a six-month period, they can become less financeable than they were six months ago. It's like doing the stock exchange. We'd started to raise money on Firth and Fassbender, and I remember the call that said, "We're now raising money on Firth, Law and Kidman, what does that mean for the financing?" and everybody saying, "We're still on board in a big way."

Are you developing other films?
I'd like to direct again and the play I did recently with Nicole Kidman in the West End [Photograph 51, about the female scientist Rosalind Franklin who helped discover the structure of DNA] lends itself beautifully to a filmic structure. I've got Nicole committed to it. The writer of the play, Anna Ziegler, has done a first draft of a screenplay for me and it's opened the film up beautifully. It's too early to say it's happening on this date but there is certainly a commitment from me and Nicole to make the story as quickly as possible. It's an important story that deserves to be out there and she's passionate about playing it.