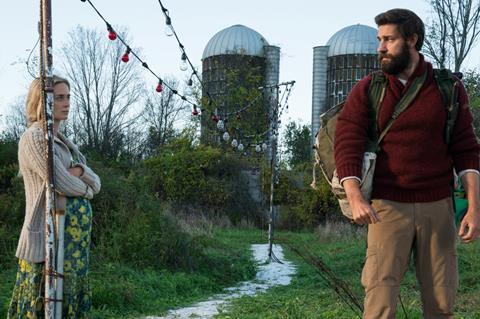 John Krasinski's horror film and recent SXSW opener A Quiet Place became the breakout hit of the year-to-date as it toppled Ready Player One en route to a chart-topping $50.2m in North America through Paramount Pictures.
The film reportedly cost $17m excluding marketing spend and compares well against the $33.4m February 2017 debut of global hit Get Out. It arrived in 3,508 theatres, performing above expectations to deliver a much-needed success for the studio. Added to the $21m international haul from 40 markets, the global tally after the first weekend stands at $71m.
Based on exit poll data supplied by Paramount, A Quiet Place drew a 49% male-51% female crowd, 63% of whom were aged 25 and above. The 18-34 demographic accounted for 53% of ticket sales. By ethnicity, 54% of the crowd was Caucasian, 21% Hispanic, 18% African American, 8% Asian and 4% "other".
Krasinski stars alongside his wife Emily Blunt as a couple who flee an alien invasion with their children and find themselves preyed upon by a species that hunts by sound.
Black Panther consolidated its status as the third highest North American release of all time. On Friday the Marvel Studios release reached $659.2m to rank only behind Star Wars: The Force Awakens and Avatar on the all-time pantheon, and by the end of the weekend the film stood at $665.6m following an $8.7m haul.
Warner Bros' sci-fi Ready Player One has become a $391.3m global hit for the studio and director Steven Spielberg. It fell 41% and one slot to number two in its second weekend, adding $24.6m for $96.5m.
Universal's R-rated comedy Blockers starring Leslie Mann and Jon Cena arrived in third place on $20.6m from 3,379 sites and reportedly cost $21m to produce. Entertainment Studios launched its Toronto pick-up and Ted Kennedy political drama Chappaquiddick starring Jason Clarke in seventh place on $5.8m in 1,560 venues.
Roadside Attractions' I Can Only Imagine – already the distributor's biggest hit in North America – slid 20.2% and two places to number six in its fourth weekend, adding $7.8m for $68.5m.
LD Entertainment's sports drama The Miracle Season with Helen Hunt opened at number 11 on $3.9m from 1,707. Amazon Studios released Lynne Ramsay's dark thriller and Cannes 2017 premiere You Were Never Really Here starring Joaquin Phoenix at number 29 on $132,829 from three venues for a powerful $43,304 average. Andrew Haigh's Midwest drama Lean On Pete opened via A24 at number 41 on $46,975 from four sites.
Box office for the top 12 amounted to $148.1m, marking a 22.5% gain on last weekend and a 24.8% climb over the comparable session in 2017.
This week's wide releases are: Dwayne Johnson in New Line's action adventure Rampage via Warner Bros; Universal thriller Truth Or Dare; NEON's Borg vs. McEnroe; and Fun Academy's animation Sgt. Stubby: An American Hero.
Confirmed top 10 North America April 6-8, 2018
Film (Dist) / Conf wkd gross / Conf total to date
1 (-) A Quiet Place (Paramount) Paramount Pictures International $50.2m –
2 (1) Ready Player One (Warner Bros) Warner Bros International $24.6m $96.5m
3 (-) Blockers (Universal) Universal Pictures International $20.6m –
4 (3) Black Panther (Buena Vista) Walt Disney Studios Motion Pictures International $8.7m $665.6m
5 (2) Tyler Perry's Acrimony (Lionsgate) Lionsgate International $8.4m $31.7m
6 (4) I Can Only Imagine (Roadside Attractions) Mission Pictures International $7.8m $68.5m
7 (-) Chappaquiddick (Entertainment Studios) Sierra/Affinity $5.8m –
8 (6) Sherlock Gnomes (Paramount-MGM) Paramount Pictures International $5.4m $33.7m
9 (5) Pacific Rim: Uprising (Universal-Legendary Entertainment) Universal Pictures International $4.8m $54.8m
10 (11) Isle Of Dogs (Fox Searchlight) Fox International $4.6m $12m