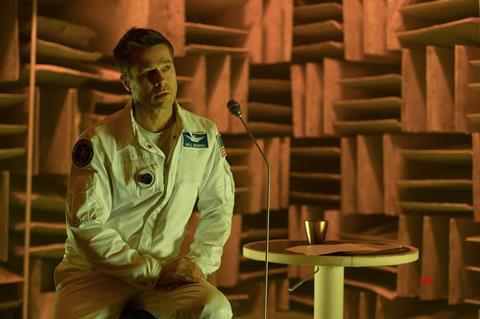 SEPTEMBER 30 UPDATE: DreamWorks Animation and Pearl Studio's Abominable ruled global box office on a confirmed $29.5m through Universal's distribution pipeline powered by a number one North American launch, while Ad Astra maintained orbit as the international champion on $19.1m.
Focus Features' Downton Abbey continued to perform strongly and surged past $100m worldwide in its second weekend, while Quentin Tarantino scored the highest opening weekend of his career in South Korea as Once Upon A Time… In Hollywood crossed $350m worldwide.
WALT DISNEY STUDIOS MOTION PICTURES INTERNATIONAL
UPDATED: New Regency and 20th Century Fox's space drama Ad Astra starring Brad Pitt and directed by James Gray used a $19.1m haul from 50 material territories to reach $54.2m after two weekends. Globally, the sci-fi earned $28.1m for $89m. It is open in all its markets through Disney's distribution apparatus, which does not release the film in China, Taiwan, or Hong Kong.
The distributor reported strong holds across Europe, where the UK is the early lead market on $5.7m from two sessions after a $1.7m weekend, followed by France on $5.4m after a $2m weekend gross, and Spain on $900,000 for $3.8m. Japan generated $700,000 for $4.5m, and South Korea $400,000 for $3.6m. It stands at $2.9m in Mexico , and $2.6m in Australia.
Ad Astra opened at number one in Russia on $3.1m, and ranks as the number one Western release in Indonesia, Japan, Thailand and the Philippines.
The Lion King added an estimated $3.7m internationally to reach $1.0987bn, and $5.3m worldwide for $1.6387bn. China is the lead on $120.4m, followed by the UK on $92m, France on $79.4m Brazil on $69.3m, and Japan on $61.4m.
WARNER BROS PICTURES INTERNATIONAL
UPDATED: It: Chapter Two earned $11.9m in 78 markets following a 44% drop overall to reach $224.9m internationally, and $418.6m worldwide. Germany was the lead hold on $1.5m after a 30% drop resulted in a $17.4m running total and kept the horror sequel at number one for the fourth weekend in a row. France also generated $1.5m for $9.8m after three sessions.
Lead market the UK produced $1.2m for $21.7m after four, Mexico $684,000 for $20.8m after four, and Brazil $570,000 for $11m after the same period. Russia has generated $17m, Italy $10.4m, and Australia $9.8m. Japan will be the last key market to open on November 1.
UNIVERSAL PICTURES INTERNATIONAL
UPDATED: Focus Features' hit British period drama Downton Abbey brought in a further $10.7m from 36 territories as the early international running total climbed to $49.3m. Globally, the release starring Maggie Smith, Hugh Bonneville, Michelle Dockery and Imelda Staunton earned $25m for $107.7m.
By territory, the UK remains far and away the lead market after $3.3m in the third session ensured a number one hold and boosted the tally to $23.4m. Australia produced $957,000 for $6.6m after three, and Germany delivered $1.1m for $2.9m after two. France produced the best debut on $1.6m in fourth place.
While Abominable ranks as the number one global release thanks to the $20.85m number one North American debut, the adventure about a Chinese girl who tries to reunite a yeti with its family in the Himalayas opened more modestly outside North America, earning $8.9m from 30 territories for a $10.3m running total. A confirmed $29.5m worldwide boosted the early haul to $30.9m.
Leading the way on a number one $2.1m debut was Mexico, followed by a number one $1.5m launch in Brazil. Next came Germany on $699,000 for sixth place, followed by Colombia at number one on $403,000. In its second weekend, the animation added $802,000 for $2m in Australia. Abominable is a co-production between NBCUniversal-owned DreamWorks Animation and China's Pearl Studio, which will distribute the film in China.
MILLENNIUM MEDIA
UPDATED: Rambo: Last Blood earned $9.5m to push the running total to $24.5m, with Germany on $2.9m via Universum, the UK on $2.7m through Lionsgate UK, Middle East on $1.9m through Eagle, Malaysia on $1.8m through Rain Film, and Australia and New Zealand on $1.4m via Roadshow. Angel Has Fallen stands at $58.8m.
SONY PICTURES RELEASING INTERNATIONAL
UPDATED: Columbia Pictures' Once Upon a Time… In Hollywood grossed $7m from 62 markets for $218.5m and coasted past $350.1m worldwide to stand at $357m. The drama starring Brad Pitt, Leonardo DiCaprio and Margot Robbie earned Tarantino a career-best debut in South Korea on $1.4m including previews, which was 28% ahead of his previous best launch for Django Unchained. China will be the final market on October 25 through Bona Film. Sony Pictures Animation's The Angry Birds Movie 2 added $3.1m from 56 for $83.4m and opens this week in Brazil.
PARAMOUNT PICTURES INTERNATIONAL
Dora And The Lost City Of Gold used a $3.4m session in 33 markets to climb to an underwhelming $45.6m. The family adventure opened in Italy on $490,000 in fifth place, and stands at $7.1m in the UK after seven weekends, and $6.3m in Mexico after three. Alligator horror-thriller Crawl has grossed $49.5m and opened in Brazil on $424,000 in fifth place.
STXINTERNATIONAL
Hustlers has reached an early $14.8m following a $3m session and opened in Portugal in second place on $125,000. The revenge caper starring Constance Wu and Jennifer Lopez added $1.3m in the UK for $6.2m after three weekends, and stands at $3.6m after three in Russia, and $1.3m in Netherlands after three.