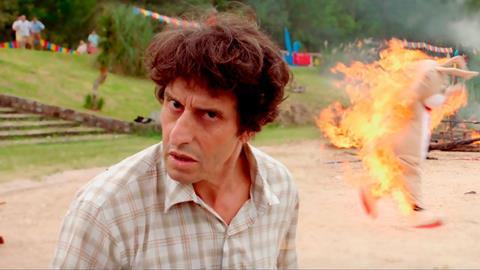 The number of film-goers in Argentina who went to the cinema to watch a local release dropped 11% year-on-year in 2017.
According to latest information from data firm Ultracine, admissions for local films in Argentina fell from 6.89m in 2016 to 6.21m last year. Including international releases, the overall number of film-goers slipped 2.5% from 48.78m in 2016 to 47.59m in 2017.
When inflation is factored into the equation, the story is different. Box office in 2017 for all films released in Argentina generated 4.83bn pesos to climb 23% against the 3.93bn total in 2016.
Ultracine said last year's box office for Argentine films produced 559.6m pesos compared to 493.9m in the previous year, marking a rise of 13%.
The average ticket price across all releases surged 26% to reach 101.48 pesos compared to 80.59 pesos in 2016, while the average cost of a ticket for an Argentine film climbed year-on-year by 28% from 71.62 pesos to 90.07 pesos.
Local smash Ten Days Without Mom (Mama Se Fue De Viaje) was the only release to break into the top 10 pantheon for all releases including Hollywood tentpoles in Argentina, ranking fifth on 163.5m pesos via Disney and 1.671m attendances.
Universal-Illumination's Despicable Me 3 was the top draw of 2017 on 405.2m pesos and 3.834m attendances. Universal stablemate The Fate Of The Furious came in second (319.1m pesos, 2.739m attendances), followed by Disney's Beauty And The Beast (202.9m, 2.048m), and Warner Bros' It (200.1m, 1.883m) at number four.
Turning to the local charts, the Argentine releases rounding out the top five after Ten Days Without Mom were My Love Or My Passion (El Futbol o Yo) through Disney (103.9m, 1.066m), The Summit (La Cordillera) via Warner Bros (62.9m pesos, 638,273), Black Snow (Nieve Negra) / through Disney (62.6m, 691,682), and Los Padecientes through Fox (35.3m, 401,741).
TOP 10 RELEASES IN 2017
Title / Distributor /Admissions / Gross (Argentine pesos)
1. Despicable Me 3 / Universal / 3,834,960 / $405.2m
2. The Fate Of The Furious / Universal / 2,738,840 / $319.1m
3. Beauty And The Beast / Disney / 2,048,409 / $202.9m
4. It / Warner Bros / 1,882,683 / $200.1m
5. Ten Days Without Mum (Mama Se Fue De Viaje) / Disney / 1,671,246 / $163.5m
6. Pirates Of The Caribbean: Dead Men Tell No Tales / Disney / 1,335,246 /. $143.2m
7. Moana / Disney / 1,473,407 / $138.5m
8. The Boss Baby / Fox / 1,401,539 / $135.7m
9. Cars 3 / Disney / 1,278,396 / $134.7m
10. Annabelle: Creation / Warner Bros / 1,195,958 / $125.8m
TOP 10 LOCAL RELEASES IN 2017


Title / Distributor /Admissions / Gross (Argentine pesos)
1. Ten Days Without Mum (Mama Se Fue De Viaje) / Disney / 1,671,246 / $163.5m
2. My Love Or My Passion (El Futbol o Yo) / Disney / 1,065, 782 / $103.9m
3. The Summit (La Cordillera) / Warner Bros / 638,273 / $62.9m
4. Black Snow (Nieve Negra) / Disney / 691,682 / $62.6m
5. Los Padecientes / Fox / 401,741 / $35.3m
6. Los Que Amon Odian / Disney / 344,152 / $31.3m
7. Casi Leyendas / Disney / 160,711 / $14.1m
8. Yo Soy Asi, Tita De Buenos Aires / Disney / 87,034 / $7.8m
9. Sola Se Vive Una Vez / Disney / 83,912 / $7.4m
10. Desire (Desearas Al Hombre De Tu Hermana / Energia / 74,118 / $7.3m