Entertainment's drama posts $5.7m (£3.5m) as it expands nationwide to top chart, including previews; Warner Bros' The Hobbit: The Desolation of Smaug leads Fri-Sun weekend with $5.2m (£3.2m); Disney's Frozen crosses £30m mark.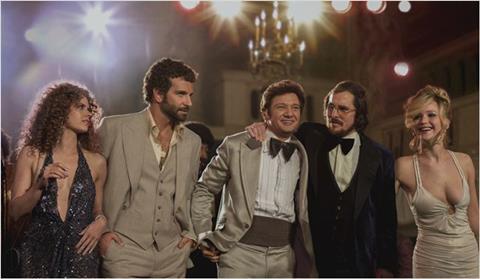 In a strong start to the year where the top eight films each grossed over £1m (the first time that's happened since Feb 11-13, 2011), American Hustle has topped the UK chart as it expanded nationwide.
Entertainment's drama, nominated for seven Golden Globes, recorded a $5.7m (£3.5m) weekend as it expanded nationwide following its two-week exclusive run at the Vue West End.
This tally includes $1.8m (£1.1m) from its nationwide shows on Jan 1-2, excluding its performance at the Vue West End, with David O. Russell's latest standing at $6m (£3.6m) overall.
Were it an official debut, it would rank as Russell's best-ever opening topping The Fighter's $3.5m (£2.1m) from 394 sites. Three Kings is Russell's best-ever UK performer with $11.4m (£7m) and American Hustle could well challenge that.
WARNER BROS
It might not have held the top spot overall thanks to American Hustle's previews, but The Hobbit: The Desolation of Smaug did lead the UK chart over the Fri-Sun weekend.
Warner Bros' fantasy sequel took an additional $5.2m (£3.2m) for $61.1m (£37.31m) to date, dropping a respectable 37% in the process in its fourth weekend. It will shortly become only the third 2013 release to have grossed over £40m in the UK.
At the same stage in its run (albeit with one extra day as a result of previews), The Hobbit: An Unexpected Journey stood at $73.5m (£44.9m) on its way to $84.7m (£51.7m). That film dropped 51% in its fourth weekend as Les Misérables conquered the chart, so a stronger hold for Smaug could see it start to catch up.
Also for Warner Bros, Gravity is up to $45.3m (£27.65m) following a $418,000 (£255,000) weekend.
The critically acclaimed sci-fi was the biggest original hit of 2013 and ninth biggest hit overall, based on Rentrak's figures from Jan 4, 2013 to Jan 2, 2014.
DISNEY
The festive period saw Frozen become the biggest Walt Disney Animation Studios' feature of all time, and the first weekend of 2014 has seen it cross the £30m mark.
Disney's animation posted a terrific $4.8m (£2.9m) fifth weekend to climb to $50.4m (£30.8m) in the UK. That represents a remarkable week-on-week drop of just 17%, with 2D screenings providing a huge 82.31% of the weekend gross and 73.07% of the film's entire gross.
Frozen has now surpassed Monsters University's $50.1m (£30.6m) UK result and could even challenge Iron Man 3's $60.5m (£37m) to become Disney's strongest 2013 release.
It also marks the first time a studio has ever had three titles released in one year gross over £30m.
Also for Disney, Saving Mr. Banks and Thor: The Dark World have amassed $6.5m (£4m) and $32.4m (£19.8m), respectively.
UNIVERSAL
The week's highest new entry came in the form of Universal's Last Vegas, which enjoyed a healthy confirmed $2.9m (£1.8m) UK debut from its 373 sites.
That's an opening ahead of director Jon Turteltaub's last UK outing, The Sorceror's Apprentice, which conjured up $1.9m (£1.1m) from 406 sites back in 2010.
In their second weekend of release, 47 Ronin and All is Lost dropped 57% and 37%, respectively, to add $746,000 (£454,000) for $4.7m (£2.7m) and $202,000 (£123,000) for $881,000 (£537,000).
Moshi Monsters: The Movie stands at $2.2m (£1.35m) after three weeks in play.
PARAMOUNT
Released in 335 sites through Paramount, Paranormal Activity: The Marked Ones charted fifth as it scared up a $2.6m (£1.6m) UK bow, including previews.
The Marked Ones' Fri-Sun tally of $1.7m (£1.01m) would have seen it chart eighth, and the overall opening is the lowest of the Paranormal Activity series to date. Paranormal Activity 4 was the previous lowest opener with $4.2m (£2.5m), including $1.3m (£805,632) in previews, from 416 sites.
It's worth noting, however, that The Marked Ones was released in fewer sites than all four previous entries in the found footage franchise. Paranormal Activity 5 is set for release later this year on Oct 24.
Also for Paramount, Anchorman 2: The Legend Continues enjoyed a $2.5m (£1.5m) third weekend as it fell three places to sixth.
The sequel to the cult comedy has now amassed a healthy $19.7m (£12.01m) in the UK, six times the entire UK gross of its predecessor.
Nebraska stands at $841,000 (£513,000) after five weeks in play.
FOX
Charting seventh on debut, Mandela: Long Walk to Freedom recorded a $2.4m (£1.5m) UK bow from its 514 sites through Fox.
Pathe's biopic achieved a solid site average of $4,658 (£2,844) and is likely to play well midweek with its older-skewing audience. It marks the best-ever UK opening for director Justin Chadwick, topping The Other Boleyn Girl's $1.6m (£954,994) from 318 sites.
Also for Fox, The Secret Life of Walter Mitty fell only 31% in its second weekend for $1.9m (£1.2m).
Ben Stiller's latest directorial outing is now up to $8.6m (£5.3m) in the UK as it attempts to chase down Tropic Thunder's $14.2m (£8.7m) result to become Stiller's strongest performer as a director in the UK.
Walking with Dinosaurs journeyed to an excellent hold in its third weekend, dropping a mere 2% for $1.2m (£757,258) and a running total of $7.3m (£4.5m) to date.
LIONSGATE
Rounding off this week's top ten was The Hunger Games: Catching Fire as it posted a $875,000 (£534,164) seventh weekend.
Lionsgate's well-received sequel has now amassed an excellent $54m (£33m) in the UK which bodes well for The Hunger Games: Mockingjay, Part 1, released later this year on Nov 21.
Catching Fire was the fifth biggest hit of 2013.
ARTIFICIAL EYE
Arnaud des Pallières' historical drama Age of Uprising recorded a $1,600 (£971) UK debut from two sites through Artificial Eye.
UPCOMING RELEASES
This week sees Lionsgate's The Railway Man receive a saturation release, while eOne's 12 Years a Slave and Delivery Man both receive wide releases.
Kaleidoscope's The Square and StudioCanal's racing doc 1 – Life on the Limit are among the films receiving a limited release.