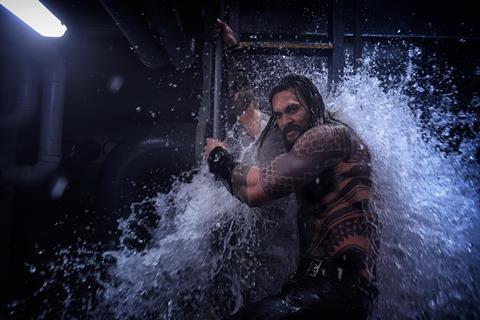 DECEMBER 15 UDPATE: DC Entertainment's Aquaman added $27m on Friday from 43 markets, ranking number one everywhere as the running total climbed to $179.1m.
The tentpole added $12.4m from 24,800 screens in China where after one week it stands at $147.4m and ranks Warner Bros' second biggest release of all time.
DECEMBER 14 REPORT: After last weekend's fireworks in China, DC Entertainment's Aquaman dived into a further 35 markets on Friday as the international running total surged to $152m.
The tentpole has grossed $135m via Warner Bros Pictures International (WBPI) after one week in China and already ranks as the biggest film in the DC Universe and has overtaken the lifetime totals of Black Panther, Spider-Man: Homecoming, and the two Ant-Man films.
Opening records have tumbled in the UK, where the tentpole stands at $1.8m including previews and scored the biggest opening day in the DC Universe on Wednesday, as well as WBPI's second best opening day, and the third best industry opening day.
Opening on a non-traditional Thursday, Mexico led the way on $1.4m including previews, followed by Russia and Brazil on $1.3m apiece, rising to $2m including previews in the latter market.
Thailand generated $761,000 for WBPI's fourth biggest opening day and the second biggest in the DC universe, while the UAE produced $691,000 for the studio's third biggest opening day, and Malaysia $617,000 for the same accolade.
Indonesia stands at $2.2m after two days, and Taiwan $1.4m after two, and the Philippines $1.1m after two.
Fantastic Beasts: The Crimes Of Grindelwald stands at $433.4m, Crazy Rich Asians $64.5m, A Star Is Born $175.7m, and Creed II $23.4m.
Ralph Breaks The Internet on $122.3 through Walt Disney Studios Motion Pictures International opens in Belgium and the Netherlands, while The Nutcracker And The Four Realms has reached $101.6m.
Amblin Partners' fantasy adventure Mortal Engines on $23.7m debuts in the UK, Germany, France, Italy, and Spain. The Grinch has plundered $109.8m and arrives in China and Japan, and Unfriended: Dark Web on$1.8m opens in Meixco.
The Possession Of Hannah Grace has grossed $14m for Sony Pictures Releasing International, while The Girl In The Spider's Web stands at $19.2m, and Venom $640.9m.
Fox International launches Once Upon A Deadpool, a cleaner, child-friendly version of the R-rated Deadpool 2, in the UK, Australia and eight smaller markets. Bohemian Rhapsody stands at $429.5m, and Widows $27.8m. Dragon Ball Super: Broly, the latest in the Dragon Ball animation series, opens n Japan.