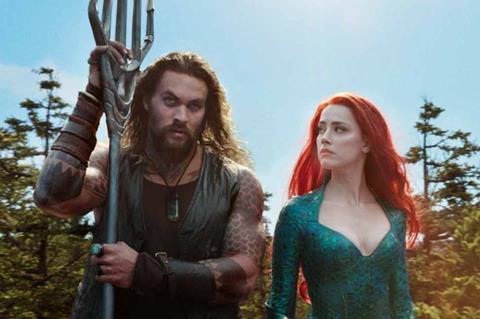 JANUARY 6 UPDATE: Warner Bros' global smash is approaching the $1bn mark and stayed top in North America as a confirmed $31m sent the running total to $260m after three weekends.
Escape Room, the first wide release of 2019, opened well in second place for Sony on $18.2m in 2,717 theatres. The horror thriller about a murderous team-building event reportedly cost $9m to produce, although marketing costs have not been disclosed.
Disney's Mary Poppins Returns dropped one place to number three and stands at $138.8m after three weekends, while Sony's Golden Globe animation winner Spider-Man: Into The Spider-Verse ranks fifth and has amassed $133.9m after four.
In its second weekend Annapurna's Vice starring Golden Globe musical or comedy actor Christian Bale fell 26.2% and one place to number seven and added $5.7m for $29.7m. Bumblebee is approaching $100m after three sessions through Paramount, and ranks fourth on $97.6m. After four weekends Clint Eastwood's drama The Mule ranks sixth and has grossed $81.2m through Warner Bros.
Warner Bros' A Star Is Born ranks 22nd and has grossed $202.1m after 14 weekends, while Fox Searchlight's The Favourite starring Golden Globe winner Olivia Colman ranks 13th and has grossed $19.3m after seven. Golden Globe best comedy or musical feature winner Green Book at number 15 has grossed $35.2m through Universal after eight, and Fox's best dramatic feature winner Bohemian Rhapsody starring Golden Globe winner Rami Malek at number 11 has amassed $193.6m after ten sessions.
The top 12 films combined for $123.5m, marking a 27.7% drop against last weekend, and a 17.5% year-on-year drop against the first weekend of 2018.
This week's wide releases are: Sony family adventure A Dog's Way Home; STX Entertainment's remake The Upside starring Bryan Cranston and Kevin Hart; and Keanu Reeves sci-fi thriller Replicas through Entertainment Studios.
Confirmed top 10 North America Jan 4-6, 2019
Film (Dist) / Conf wkd gross / Conf total to date
1 (1) Aquaman (Warner Bros) Warner Bros Pictures International $31m $260m
2 (-) Escape Room (Sony) Sony Pictures Releasing International $18.2m –
3 (2) Mary Poppins Returns (Buena Vista) Walt Disney Studios Motion Pictures International $15.9m $138.8m
4 (3) Bumblebee (Paramount) Paramount Pictures International $13.2m $97.6m
5 (4) Spider-Man: Into The Spider-Verse (Sony) Sony Pictures Releasing International $13.1m $133.9m
6 (5) The Mule (Warner Bros) Warner Bros Pictures International $9.1m $81.2m
7 (6) Vice (Annapurna) $5.7m $29.7m
8 (8) Second Act (STX) STX International $4.8m $32.8m
9 (9) Ralph Breaks The Internet (Buena Vista) Walt Disney Studios Motion Pictures International $4.7m $187.2m
10 (7) Holmes And Watson (Sony) Sony Pictures Releasing International $3.3m $28.3m