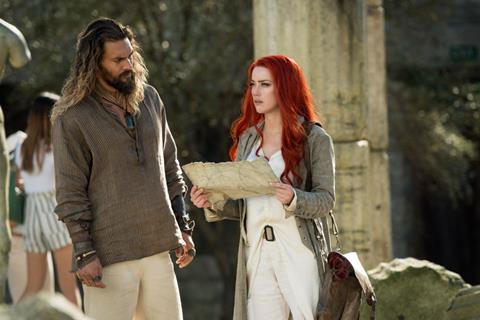 DECEMBER 8 UPDATE: Aquaman brought in a further $37.2m (RMB 256m) on Saturday from 32,500 3D screens to dominate the market on 85% share and raise the running total after two days to $61.1m (RMB 421.3m).
The DC tentpole scored Warner Bros Pictures International's (WBPI) biggest China opening day on Friday and is tracking 54% ahead of Batman v Superman: Dawn Of Justice, 69% ahead of Justice League, and more than double Wonder Woman by the same stage.
WBPI sources said the new release was retaining strong word of mouth based on scores from local ticketing services and entertainment platforms, with Maoyan on 9.5, Taopiaopiao on 9.2, and Douban on 8.4.
DECEMBER 7 REPORT: Aquaman has made a big splash in China and set a Warner Bros opening day record on Friday of an estimated $24.6m (RMB 169.5m).
Playing on approximately 30,500 screens (all 3D) and securing roughly 86% market share, the DC Entertainment tentpole starring Jason Momoa and directed by James Wan also delivered the biggest industry opening day in the month of September.
Warner Bros Pictures International (WBPI) executives said Aquaman's online profile was "extremely high" in China, with a Maoyan score of 9.5, Taopiaopaio on 9.4, and Douban on 8.4. The film debuts in North America on December 21.
In other good news for WBPI, Fantastic Beasts: The Crimes Of Grindelwald has crossed $400m to reach $402.8m. The Harry Potter spin-off was the top international film last weekend and will most likely surrender the crown to stablemate Aquaman.
Elsewhere, A Star Is Born has reached $170.6m in the week when it received five Golden Globe nominations, while Creed II stands at an early $15.3m, and Crazy Rich Asians, which landed two Globes nods, $64.4m.
Ralph Breaks The Internet, nominated for a Golden Globe on Thursday, was last weekend's global box office champion and has amassed $97m via Walt Disney Studios Motion Pictures International and arrives in Spain, Bolivia and Paraguay this weekend. Meanwhile Disney's live-action fantasy The Nutcracker And The Four Realms starring Keira Knightley, Helen Mirren, Mackenzie Foy, Eugenio Derberz, and Golden Globe nominee Richard E. Grant (for Can You Ever Forgive Me?), stands at $89.8m and opens this weekend in South Korea and Russia.
Bohemian Rhapsody earned a couple of Golden Globe nominations this week – for dramatic film and dramatic actor Rami Malek – and Fox International executives will look for more good news this week as the Freddie Mercury drama approaches the $400m mark.
Currently on $385m, the feature scored a superb $6.3m debut in Italy last week and will need to deliver solid holds there and in its other markets to secure the milestone this weekend.
Can You Ever Forgive Me? is emerging as a heavyweight awards contender and landed Globes nods this week for its stars Melissa McCarthy and Richard E. Grant. The drama opens up in Australia and New Zealand. Steve McQueen's heist drama Widows was overlooked by the Hollywood Foreign Press Association and has generated $21.5m ahead of a weekend session that brings debuts in Germany, Indonesia, Hong Kong, Taiwan, Singapore and Vietnam.
Robert Redford and Sissy Spacek drama The Old Man & The Gun opens in the UK, while crime drama The Hate U Give starring Amandla Stenberg has grossed $2.5m and ventures into Brazil.
This is a significant weekend for the fantasy adventure Mortal Engines produced by Peter Jackson. Universal Pictures International has orchestrated a coordinated roll-out in 42 territories ahead of next week's North America debut, among them Australia and New Zealand, Russia, South Korea, Indonesia, India, Portugal, Poland, Taiwan, Thailand, Philippines, and Singapore.
Family release The Grinch stands at $71.1m and opens in Mexico and South Africa. Satirical romp Sorry To Bother You starring Lakeith Stanfield, Tessa Thompson and Armie Hammer debuts in the UK, while the cowboy drama Brokeback Mountain starring Jake Gyllenhaal and the late Heath Ledger gets a re-release in South Korea. Johnny English Strikes Again starring Rowan Atkinson has reached $151.2m to consolidate its status as the highest international performer in the comedy franchise. First Man earned a Golden Globe nod for supporting actress Claire Foy and has grossed $55.4m.
Paramount Pictures International chiefs have provided latest updates on their active releases. The Mark Wahlberg and Rose Byrne comedy Instant Family stands at $4.5m, and Second World War horror film Overlord produced by J.J. Abrams stands at $18.9m.