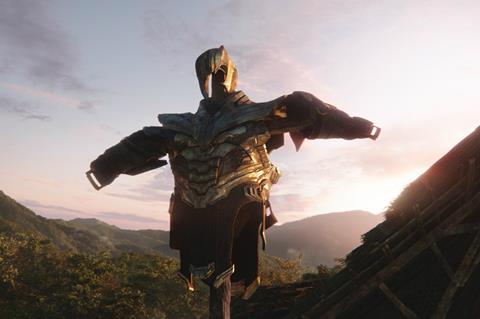 Avengers: Endgame, already a record holder for advance ticket sales, is on track to open in the $200m-$250m range in North America and stands a good chance of usurping current champion Avengers: Infinity War and go higher than $257.7m.
Marvel Studios' upcoming 22nd release – it opens on April 26 – comes hot on the heels of the $1bn global milestone set by this year's Captain Marvel.
Industry observers say there is no question it will exceed Captain Marvel's $153.4m opening weekend in early March to score the highest debut of the year-to-date.
Some have even speculated it could gross more than $300m, although the run time of more than three hours limits the number of daily presentations in theatres and makes such a target unlikely.
At a filmmakers round table at CinemaCon on Thursday (4) Matthew Bakal, co-founder of online ticket platform Atom Tickets, said Avengers: Endgame shattered pre-sales records in North America, selling more tickets in its first 24 hours than the first days of the four previous record-holders combined. They are: Aquaman, Star Wars: The Last Jedi, Avengers: Infinity War, and Solo - A Star Wars Story.
In its first 24 hours the upcoming film sold five times as many tickets as the previous record set by Aquaman, and within hours of going on sale Endgame sold more three times more tickets than 2018's Avengers: Infinity War.
The rush for tickets created blackouts on several companies' websites on Wednesday. At its peak, traffic to the Atom Tickets website and app was 20 times that of the usual amount.
Avengers: Endgame stars Robert Downey Jr., Chris Evans, Mark Ruffalo, Chris Hemsworth, Scarlett Johansson, Brie Larson, Jeremy Renner, Tessa Thompson, and Josh Brolin. Anthony Russo and Joe Russo directed.