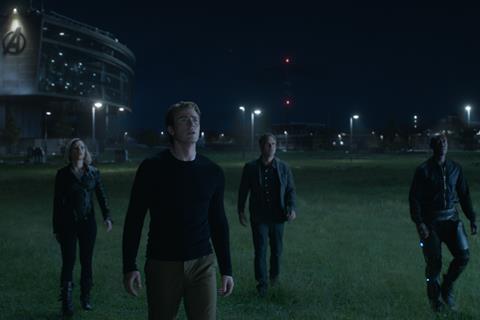 APRIL 24 UPDATE: After scoring the highest opening day in history in China on Wednesday, Marvel Studios' Avengers: Endgame had reached $130.4m by early lunchtime on its second day of release on Thursday (25).
The tentpole stood at RMB 876.3m by 12.30pm in Shanghai following the opening day haul of $107.2m (RMB 719) that included some $28.2m (RMB 189) from Tuesday midnight previews.

According to Chinese box office app Maoyan, the film has drawn a 54.9%-45.1% male-female crowd overall thus far, and is forecast to finish on approximately $532m (RMB 5.58bn).
Disney is expected to report an update on Thursday morning Pacific Time, and industry observers have called a potential $1bn five-day worldwide opening gross by Sunday.
Endgame opens around the world virtually everywhere except Russia (Monday April 29), and also opened on Wednesday in the major markets of South Korea, France, Germany, Australia, and Italy, as well as Asian powerhouse Indonesia, and Thailand, Taiwan, Singapore, Hong Kong, and Scandinavia, among others.
Thursday brings debuts in the UK, Brazil, Poland, Argentina and Portugal alongside at least a dozen others, while lining up on the Friday runway are Japan, Mexico, Spain, India, South Africa, Vietnam, Venezuela and Ecuador. The film shot entirely in IMAX and launches in some 1,400 IMAX sites worldwide this week.
EARLIER UPDATE: Disney executives said on Wednesday morning (24) that Avengers: Endgame delivered the highest opening day of all time in China on an estimated $107.2m (RMB 719m).
The result by 10.50pm Shanghai time includes Wednesday grosses of $79m (RMB 530m) and Tuesday night previews of $28.2m (RMB 189m).
The record surpassed the mark set by Monster Hunt 2 (RMB 547m), which did not include midnight previews, but did open on the first day of Chinese New Year; Fast 8's RMB 480m, which included RMB 62m in midnight previews); and Avengers: Infinity War's RMB 447m, which included RMB 60m in midnight previews.
ORIGINAL APRIL 23 REPORT: Early indications from tracking sources in China reveal that Avengers: Endgame crossed $80m by early afternoon on Wednesday (24) with a $100m opening day haul including previews a strong possibility for the tentpole.
Tuesday previews generated roughly $27m (RMB 188m), and by approximately 2pm on Wednesday the concluding saga in the first phase of Marvel Studios films had added some $54m (RMB 364m) to reach roughly $81m (RMB 552m) and counting.
With much of the day to go the film was set up to finish close to the $100m mark, providing a five-day opening weekend with the dynamic lift-off required from China to propel this week's global bow past $900m and possibly into the mythical realm of $1bn. Disney executives are expected to provide an update on Wednesday morning from Los Angeles.
The only possible negatives are the film's run time (three hours) and the fact that Chinese authorities have declared Sunday a work day in China in compensation for the May 1-4 holiday.
Last year's Avengers: Infinity War delivered a $640.5m debut in April 2018, however that was without China, which followed in May with $210.4m in its first three days. Had Infinity War opened in China day-and-date with everywhere else, the combined total would have reached $851m.