MARCH 29 UPDATE: The DC Entertainment tentpole added $46m worldwide on Monday to reach $468.6m worldwide and $287.5m internationlaly and $181.1m in North America as the studio revised its weekend take to $256.5m internationally and $422.6m worldwide.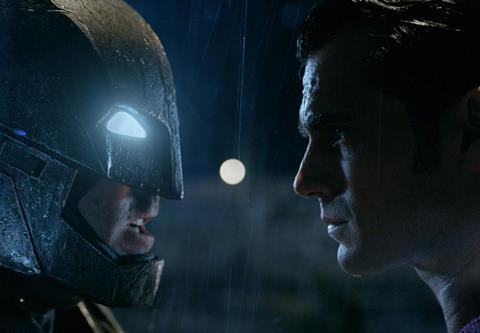 WARNER BROS PICTURES INTERNATIONAL
March 28 UPDATE: The DC Entertainment tentpole dominated the globe, earning an estimated $422.6m worldwide in its opening weekend, powered by $256.5m from more than 40,000 screens in 66 markets and $166m in North America.
Batman v Superman: Dawn Of Justice's combined international debut delivered the biggest superhero debut and a March record, as well as Warner Bros' second biggest launch behind the Harry Potter finale, and career highs for stars Ben Affleck and Henry Cavill, and director Zack Snyder.
China led the way on $57.2m on approximately 16,000 screens in a three-day record bow for the studio, followed by the UK on $20.7m on 1,701 for a March record and, excluding previews, a superhero record.
Mexico produced $18.2m on more than 4,300 for 90% market share of the top five and the biggest Warner Bros debut in history and a new March mark.
An estimated $12m from 1,330 in Brazil scored the biggest industry opening weekend, while South Korea produced $10.2m from 1,696, and Australia $9.9m from 594.
Russia generated $7.7m on 2,418 for the biggest DC Entertainment release, while France delivered $8.6m from 822, Germany $8.1m from 1,015, Spain $6.2m from 702 over five days, Italy $5.9m from 769, and Japan on $4.5m from 717 in a new DC mark. India delivered $6.6m from 1,371 for a record Warner Bros launch and the second highest for the industry in March.
The four Scandinavian markets produced $5.5m from 734 screens, and there were record-breaking debuts across Asia including Warner Bros records in Hong Kong, India, Malaysia, Singapore and Vietnam. The combined tally for nine markets excluding China and Japan amounted to $32.3m.
Latin America generated $16.7m excluding Mexico and Brazil, and there were Warner Bros records in Argentina, Bolivia, Chile, Colombia, Peru, Puerto Rico and Venezuela.
Batman V Superman: Dawn Of Justice amassed $36m worldwide on Imax for the biggest debut outside the December holiday period, taking $18m from 557 internationally and $7m in China from 272 screens.
WALT DISNEY STUDIOS MOTION PICTURES INTERNATIONAL
UPDATE: Disney executives celebrated crossing $1bn at the international box office for the year-to-date in recrod time for the studio on Friday March 25 and reported that Zootopia grossed $42.5m to reach $455.8m. China remained the lead market on $201m, followed by Russia on $28.4m, and France on $126.8m. The animation hit debuted in the UK on $7.3m with two weeks of school holiday to come.
The film has reached $697.2m worldwide to rank as the sixth highest grossing original IP in history behind Disney or Disney-Pixar stablemates Frozen, The Lion King, Finding Nemo, Inside Out, and Up.
Star Wars: The Force Awakens stands at $2.062bn worldwide and $1.128bn internationally.
FOX INTERNATIONAL
UPDATE: Dreamworks Animation's Kung Fu Panda 3 added $21.3m from 66 markets for $292.6m and opened in Australia at number four on $2.2m from 349 venues.
The Revenant raised its tally to $323.9m following an $8.4m weekend in 33 that saw China generate $6.2m for $50.8m. France has produced $25.2m and Spain $15.6m.
Deadpool added a further $3m from 51 to climb to $396.3m, while FIP's Kapoor & Sons brought in $2.7m for $12.8m and stands at $12.3m in India and $532,000 in the UK.
LIONSGATE INTERNATIONAL
UPDATE: The Divergent Series: Allegiant added $8.9m from 78 markets for a $70.6m running total. Gods Of Egypt grossed $2.3m from 74 for $102.4m.
UNIVERSAL PICTURES INTERNATIONAL
UPDATE: My Big Fat Greek Wedding, which Universal is distributing in 28 territories, opened in 14 Universal territories and grossed $8.3m. The film opened in Australia at number two on $3.4m and the UK at number four on $1.5m.
Hail Caesar! added $1m from 28 territories for $29.4m, while Room, which Universal distributes in 24 territories, has reached $9.5m through Universal rising to $20.7 overall including FilmNation licensees.
The Witch stands at $5.1m and The Danish Girl $51.6m.
NU IMAGE
London Has Fallen grossed $4m for $55m through licensees.
PARAMOUNT PICTURES INTERNATIONAL
UPDATE: 10 Cloverfield Lane grossed $2.5M from 11 markets for $12.1m, adding $1.2m in the UK for $4.8m and $605,000 in France for $2.1m.
13 Hours stands at $12.5m and The Big Short $62m.