MARCH 20 UPDATE: Live-action fantasy starring Emma Watson races to $357.1m worldwide debut.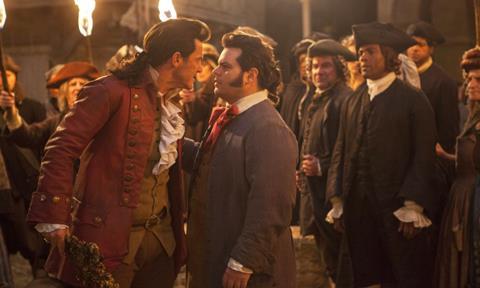 Beauty And The Beast soared into the record books thanks to a confirmed $174.8m debut in an astonishing launch that marked the biggest debut in nearly a year.
The live-action fantasy scored the biggest bow in history for a PG film, the biggest Disney live-action release, the sixth biggest North American debut, and the biggest launch since Captain America: Civil War opened on $179.1m last May. Disney films now occupy six of the seven all-time opening weekend slots.
The remake from Walt Disney Pictures and Mandeville Films usurped last year's Batman v Superman: Dawn Of Justice on $166m to set a new March high-water mark and raised the bar for spring by crushing the previous best of $132.4m set in February 2016 by Deadpool.
Bill Condon directed the film, which debuted in 4,210 theatres and also became the seventh Walt Disney Studios release to open on more than $150m. The film reportedly cost $160m to make excluding P&A costs and at this rate is performing strongly with repeat viewings likely to be a productive multiplier.
Elsewhere Legendary and Warner Bros' Kong: Skull Island slipped 54.4% to number two and crossed $100m in its second weekend as $27.8m boosted the tally to $109.1m.
Fox's Logan in third place stands at $184.3m after three weekends, and Universal's horror smash Get Out in fourth has reached $133.3m after four.
The Belko Experiment arrived in seventh place through BH Tilt on $4.1m from 1,341 theatres and reportedly cost $5m.
Danny Boyle's T2 Trainspotting arrived at number 29 through TriStar on $170,575 from five venues. The sequel to Boyle's celebrated 1996 drama reunites the original lead cast of Ewan McGregor, Robert Carlyle, Ewan Bremner and Jonny Lee Miller.
Broad Green opened recent SXSW opener Song To Song by Terrence Malick at number 37 on $50,559 from four, while Music Box opened Francois Ozon's French drama Frantz starring Venice best young actress winner Paula Beer at number 49 on $18,745 from two.
Beauty And The Beast drove box office for the top 12 to $253.5m, marking a 66.8% climb from last weekend and a 53.4% gain on the comparable session in 2016.
This week's wide releases are: action adventure Power Rangers through Lionsgate; action comedy CHiPs starring Dax Shepard and Michael Pena through Warner Bros; Sony's recent SXSW world premiere and sci-fi thriller Life starring Jake Gyllenhaal, Ryan Reynolds and Rebecca Ferguson; and sports drama Slamma Jamma through River Rain.
Confirmed top 10 North America March 17-19, 2017
Film (Dist) / Conf wkd gross / Conf total to date
1 (-) Beauty And The Beast (Buena Vista) Walt Disney Studios Motion Pictures International $174.8m –
2 (1) Kong: Skull Island (Warner Bros) Warner Bros Pictures International $27.8m $109.1m
3 (2) Logan (Fox) Fox International $17.8m $184.3m
4 (3) Get Out (Universal) Universal Pictures International $13.4m $133.3m
5 (4) The Shack (Lionsgate-Summit) Lionsgate International $6m $42.5m
6 (5) The Lego Batman Movie (Warner Bros) Warner Bros Pictures International $4.6m $167.3m
7 (-) The Belko Experiment (BH Tilt) $4.1m –
8 (7) Hidden Figures (Fox) Fox International $1.5m $165.5m
9 (8) John Wick: Chapter Two (Lionsgate- Summit) Lionsgate International $1.2m $89.8m
10 (6) Before I Fall (Open Road) Open Road International $985,631 $11.2m