APRIL 12 UPDATE: Tentpole surges to $993.2m worldwide, will cross $1bn on Wednesday.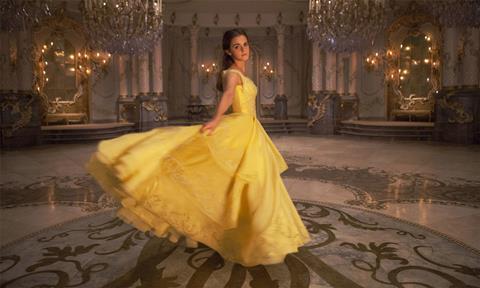 WALT DISNEY STUDIOS MOTION PICTURES INTERNATIONAL
APRIL 12 UPDATE: Beauty And The Beast added $9.7m worldwide on Tuesday to reach $993.2m, of which $557.3m comes from international markets and $435.9m from North America.
APRIL 11 REPORT:Beauty And The Beast added $5.4m to reach $550.5m internationally as the global tally climbed by $7.4m to $983.4m.
North America has generated $433m. The next biggest market is China on $85.2m, followed by the UK on $73.9m, Brazil $36.4m, South Korea $34.1m, and Mexico $28.5m.
Australia and Germany have delivered $26.8m and $25.8m, respectively. Italy has generated $21m, Spain $19.6m, and France $16.5m, while Argentina has produced $10.4m.
APRIL 10 REPORT: Beauty And The Beast added $61.3m in its fourth session as the tally climbed to $976.2m, of which $545.3m comes from international markets and $430.9m from North America.
Disney's live-action adaptation ranks as the 15th biggest release of all time in North America and the 14th biggest in the UK and powered The Walt Disney Studios to $1.007bn for the year-to-date.
Beauty And The Beast grossed $35.8m from international markets over the weekend and remains number one in Germany, South Korea, Brazil, and Argentina, among others.
The Europe-wide haul for Beauty And The Beast has reached $217m, surpassing those of Deadpool, Zootopia, Batman v Superman, Captain America: Civil War, and Suicide Squad.
While the comparison points are not the same genre, they illustrate the film's standing in the tentpole world.
China has generated $85m, the UK on $72.9m, Brazil $36.1m, South Korea $33.9m, Mexico $28.3m, and Australia $26.1m.
Germany has delivered $25.4m, Italy $21m, Spain $19.4m, France $16.1m, Russia $14.4m, the Philippines $13.2m, and Argentina $10.2m.
The film starring Emma Watson and Dan Stevens will debut in Japan on April 21.
Moana added $2.3m from 16 active territories to reach $386.1m internationally and $634.8m worldwide.
PARAMOUNT PICTURES INTERNATIONAL
Ghost In The Shell grossed $41.1m in 54 markets over the weekend, including three debuts for $92.5m internationally.
China delivered a $21.4m number one result, while the film opened in second place in Japan on $3.2m.
All in their second week of release, Russia was the top holdover, delivering $1.6m for $8m, while France collected $1.5m for $5.3m, Germany grossed $1.2m for $3.8m and Mexico $1m for $4m.
Also in week two, Brazil generated $832,000 for $3.3m, the UK $917,000 for $5.2m, Australia $854,000 for $3.1m and South Korea on $699,000 for $5.5m.
Ghost In The Shell grossed $4.4m internationally from 698 IMAX screens, including $2.5m from 389 locations in China.
WARNER BROS PICTURES INTERNATIONAL
UPDATED: Kong: Skull Island produced $16.4m from 65 markets, bringing the Legendary and Warner Bros action-adventure to $378.9m. China is the top market on $161m, followed by the UK on $18.6m, Mexico on $13.9m, Japan on $14.2m, and South Korea on $12.1m.
The latest 'MonsterVerse' instalment starring Tom Hiddleston, Samuel L. Jackson and Brie Larson generated $11.1m in France, while Russia stands at $10.5m, Australia on $9.7m, Brazil on $9.3m, Germany on $9m, Taiwan on $8.2m and Malaysia on $6.9m.
The comedy Going In Style starring Morgan Freeman, Michael Caine and Alan Arkin opened day-and-date with North America in 32 markets, generating $4.8m. Russia delivered fourth place on $762,000, more than double the results of The Second Best Marigold Hotel and Parental Guidance.
The film debuted in the UK on $712,000, while the UAE produced $549,000, Holland $302,000, and Brazil $244,000, approximately 77% ahead of The Second Best Marigold Hotel.
The heist comedy will open in Spain and Germany this week, with Australia and Mexico set to debut the following week.
The LEGO Batman Movie grossed $2.4m in 46 markets for $127.9m. Benefiting from school holidays throughout the week, Australia produced $1.3m dropping 26% from the previous week for $4.2m.
The animation's highest grossing territories are the UK on $33.4m, Mexico on $8.4m, Germany on $7.3m, Brazil $6.3m, and China $6.1m.
France has produced $5.5m, while Russia and Spain have generated $4.8m each, and Poland $3m.
LIONSGATE INTERNATIONAL
UPDATED: Power Rangers grossed an additional $6m from 75 markets, bringing the international tally to $42.1m.
The action-adventure launched in France on $1.3m, and delivered sub-par bows in Italy and Spain on $424,000 and $357,000, respectively.
Mexico is the top performer on $5.4m, while the UK and Brazil have delivered $4.9m and $4.8m, respectively. Malaysia has produced $2.7m, and Australia $2.4m. South Korea is the next market to debut on April 20.
In its first major weekend, The Shack grossed $4.2m from 24 markets for $5.5m. It opened across most of Latin America, grossing $2.9m in second place in Brazil and $431,000 in Mexico. It opened in Germany on $261,000.
Best director Oscar-winner Damien Chazelle's La La Land has reached an estimated $288.1m, surpassing the $286.4m international lifetime of The Hunger Games. The UK is the top market on $37.3m, followed by China on $36m, Japan on $34.3m, South Korea on $24.9m, and France on $19.7m.
FOX INTERNATIONAL
UPDATED: The Boss Baby generated $37.9m in 49 markets this weekend, surging past the $100m mark in the early stages of international release. The DreamWorks animated film stands at $110.8m and will cross $200m worldwide on Monday.
The UK is the top market on $9.9m, beating the openings of The Croods and Trolls by 49% and 47%, respectively. France added $3.1m in week two for $9.7m, while Mexico generated $3.5m for $12.1m. Brazil stands on $2.4m for $6.6m, Germany $1.5m for $4.6m and Australia $1.9m for $8.9m. The film features the voice talents of Alec Baldwin and Toby Maguire and there are more than 30 markets yet to open.
Logan added a further $2.9m in 64 markets for $378.9m. France and Brazil generated $393,843 for $14.9m and $380,268 for $28.9m, respectively. Japan is the next market to open on June 1.
Hidden Figures earned $1.1m in 24 markets, placing the historical drama on $57.7m. A Cure For Wellness stands at $17.5m.
SONY PICTURES RELEASING INTERNATIONAL
UPDATED: Sony Pictures Animation's Smurfs: The Lost Village grossed $22.1m in 58 markets day-and-date with the North American debut for an international total of $42.1m.
The film, featuring the voice talents of Demi Lovato and Rainn Wilson, debuted in Brazil on $2.1m, France on $1.9m including previews, Mexico on $1.6m, Germany on $1.4m including previews, and Italy on $904,000.
With the approaching Easter holidays, Sony executives expect strong numbers in the long run. China and South Korea will open on April 21 and April 28.
Life, which premiered at SXSW, earned $6.1m in 56 markets for $34.5m. The sci-fi thriller from Columbia Pictures and Skydance grossed $2.4m in South Korea and gets its next debut in France on April 19.
UNIVERSAL PICTURES INTERNATIONAL
UPDATED: Illumination and Universal's Sing has crossed $350m at the international box office. The animation added $2.9m in 25 territories, for a total of $350.9m. Combined with the North American total of $270.1m, the film stands at $621.1m.
Japan produced $2.8m in its fourth session and ranked number two behind the opening of Ghost In The Shell for a total of $36m. Sing has no more international releases.
Writer-director Jordan Peele's Get Out, from Universal and Blumhouse, grossed $2.1m in 20 territories for $13.8m. The horror stands at $176.6m worldwide.
The UK generated $737,000 in its fourth weekend for a running total of $10.m. More international markets roll out over the next two months.
M. Night Shyamalan's Split, also from Universal and Blumhouse, grossed $1.3m in 26 territories for an international running total of $135.1m.
Brazil is the top holdover at number six in week three with $550,000 for $4m. France earned $253,000 for $12.6m, while Russia generated $231,000 for $9.7m. Japan will be the last territory to release on May 12.
Wartime drama The Zookeeper's Wife starring Jessica Chastain stands at an early $611,589 from its first four territories. Horror title Raw, which Universal has in limited markets, stands at $436,872 and opened in the UK on $58,000.
The Fate Of The Furious opens in 62 territories alongside North America this week. The action tentpole starring Vin Diesel, Dwayne Johnson, and Charlize Theron, debuts first in eight markets including Australia and France on Wednesday.
Universal's newest instalment of the Fast And Furious franchise will launch on 1,074 IMAX screens in 66 markets globally, including North America and China, making it the widest day-and-date opening in IMAX history.
CHINA UPDATE
Enlight's The Devotion Of Suspect X directed by Alec Su added $9.1m for a $47.3m running total. Wang Kai and Ruby Lin star in the murder-mystery.