MARCH 27 UPDATE: Legendary / Warner Bros' Kong: Skull Island grosses $93m including superb $72.1m China debut.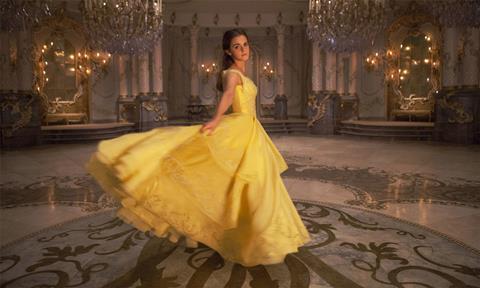 WALT DISNEY STUDIOS MOTION PICTURES INTERNATIONAL
UPDATED: Strong debuts in Australia, France and Argentina were among weekend highlights as Beauty And The Beast added $120.5m to reach $374.5m, while North America surged to $319m for a $693.5m worldwide tally.
The global result ensured the live-action fantasy became the fourth consecutive Disney tentpole to hit $600m global after Doctor Strange, Moana, Rogue One.
As expected the film starring Emma Watson and Dan Stevens delivered a dominant performance in its second session as it opened top in Australia on $11.4m including previews to capture 57% market share.
In two other notable table-topping launches, France generated $8.2m including previews for 45% market share heading into Easter holidays at the end of next week, while Argentina delivered $4.4m for 73% share in the second-highest live-action debut behind Fast & Furious 7.
The UK produced the highlight of the second weekends after Beauty And The Beast added $15.7m in the third biggest second session behind Skyfall and Spectre to reach $49.6m.
China remains the top market on $72.7m. Mexico has generated $23.4m, Brazil $23.8m, South Korea $23.1m, Germany $17.3m, Italy $15.7m, Spain $13.7m, Russia $11.6m, the Philippines $10.8m, and Indonesia $7.1m.
The film grossed $8.1m on 617 global Imax screens to reach $33.6m in the format and $13.5m internationally.
WARNER BROS PICTURES INTERNATIONAL
UPDATED: Kong: Skull Island crossed $250m internationally powered by strong openings in China and Japan. Warner Bros and Legendary's latest 'MonsterVerse' tentpole amassed $93m from 67 markets over the weekend, bringing the film to $258.9m.
The film starring Tom Hiddleston, Samuel L. Jackson and Brie Larson debuted in China on $72.1m for a 71% market share and the second biggest international weekend of 2017, beating Logan and Beauty And The Beast. The China total is also double that of the initial 'MonsterVerse' instalment, 2014's Godzilla. Japan launched on $3.5m, narrowly ranking at number two behind Sing.
The UK is the CGI-fuelled action film's second-biggest market on $16.2m, followed by Mexico on $12.8m, South Korea on $12m and Russia on $10.2m.
France has generated $9.6m, Australia $8.7m, and Brazil $8.6m, while Germany has produced a market total of $7.7m. Taiwan has $7.4m, while Vietnam and Malaysia have delivered $6.4m each.
Kong: Skull Island debuted on $6.5m from 387 IMAX screens in China, beating Batman v Superman's $6.1m for the biggest March IMAX opening in that territory.
CHIPS starring Dax Shepard and Michael Peña opened in 31 international markets at the weekend and grossed $1.8m.
The UK is the top market, earning $256,000. The action-comedy opens this week in the UAE, followed by Australia on April 6 and Mexico on April 7.
The LEGO Batman Movie grossed $1.1m in 52 markets, bringing the animation to $121.6m. The top grossing territories are the UK on $33.2m, Mexico on $8.4m, Germany on $7.2m, Brazil on $6.3m, and China on $6.1m.
France has grossed $5.5m, Russia $4.8m, Spain $4.7m, while Italy and Poland have produced $3m each. The animation opens in Australia and Japan this week.
LIONSGATE INTERNATIONAL
UPDATED: Power Rangers launched on $18.7m from 62 markets in its international debut day-and-date with the solid North American debut at the weekend.
The action-adventure delivered strong debuts across Latin America, where Mexico and Brazil were the top markets on $2.7m and $2.3m, respectively. Both markets ranked number two for the weekend. The UK debuted at number two on $2m.
The film starring Elizabeth Banks and Bryan Cranston will open in seven markets over the next two weeks, starting with France on April 5.
La La Land added $2m from 46 for $282.5m internationally and $432.7m worldwide. The UK is the top market on $37.3m, followed by China on $36m, and Japan on $29.9m.
FOX INTERNATIONAL
UPDATED: The Boss Baby debuted on $17.6m in five markets. The animated film debuted at number one in Russia on $11.2m for Fox's biggest release of all time for an animated film. Australia brought in $4m, while Peru generated $948,000 – both debuts ranked number two. The film featuring the voice talents of Alec Baldwin and Toby Maguire opened top in Ukraine and Chile on $603,000 and $782,000, respectively.
Logan generated $11.9m from 79 markets to stand on $364m. Brazil added $1.7m for $26.7m and ranks now as the third biggest Fox release of all time. France generated $1.1m for $13.5m, the UK added $1m for $27m, China delivered $1m for $104.7m, while Australia added $816,000 for $16.3m. Japan will be the next release on June 1.
Hidden Figures earned $3m from 30 markets, elevating the international score to $53.2m. The historical drama debuted in South Korea on $986,000 and continued to hold well in France on $717,000 for $3.6m. Italy added $365,000 for $2.3m, with Australia bringing in $322,000 for a market total of $12.3m.
Fox International Productions and FoxStar's Phillauri debuted in India and the UK, grossing $3.1m, including $2.9m from India where it opened in first place. Badrinath Ki Dulhania added $1.4m in India in its third week of release, driving the international total to $21.9m.
SONY PICTURES RELEASING INTERNATIONAL
UPDATED: Life, the recent SXSW world premiere sci-fi thriller from Columbia Pictures and Skydance, debuted in 56 markets on $15.9m. Russia was the top market on $3.1m for second place. The film expands in the coming weeks to South Korea on April 5 and Spain on April 7.
The Chris Pratt and Jennifer Lawrence starrer Passengers reached the $186.2m internationally with the opening of its final market, Japan, which delivered $1.5m. The film is presented in association with LStar Capital and Village Roadshow Pictures.
El Bar, from Sony Pictures International Productions, debuted at number two in Spain this weekend on $1.1m. The Spanish-language thriller from director Álex de la Iglesia centres on a group of people trapped in a bar trying to survive a mysterious attack.
UNIVERSAL PICTURES INTERNATIONAL
UPDATED: M. Night Shyamalan's Split from Blumhouse and Universal opened at number four in Brazil on $1.5m, scoring Shyamalan's biggest opening in that market. The thriller added $5.2m overall from 42 territories for $128m. Russia brought in a further $2m for $7.6m, while France added $797,000 for $11.4m. The next and final release is Japan on May 12.
Jordan Peele's Get Out from Universal and Blumhouse grossed $1.9m from 11 territories for a total of $6.7m, bringing the worldwide sum to $154.4m. The UK held at number three in week two on $1.7m for $6m, while South Africa debuted on $38,000. The thriller opens in four territories next weekend.
Illumination and Universal's Sing has reached $600m worldwide after the animated musical took in $5.3m from 35 territories for $331.5m. Japan held at number two in week two, grossing $4.1m for $16.7m, while France added $220,000 in its ninth session for a total of $22.9m.
Fifty Shades Darker gathered a further $1m from 39 territories including $400,000 in Germany to bring the film to $263.5m. Combined with the US total of $114.4m, the film stands at $377.9m worldwide.
A Dog's Purpose grossed $4.1m in 39 territories over the weekend for a combined Universal, China and Mister Smith total of $111.6m. Universal has grossed $20.4m in 14 territories. In China, where the film is being released by Huaxia Film, the film has grossed $82.4m, while Mister Smith territories have generated $8.8m. Russia is the next territory to open on March 30.
The Zookeeper's Wife launched in Poland on $164,000, and opens in four territories this week.
STUDIOCANAL
The Lost City Of Z starring Charlie Hunnam, Sienna Miller, Tom Holland and Robert Pattinson brought in $311,874 in its first weekend in the UK.