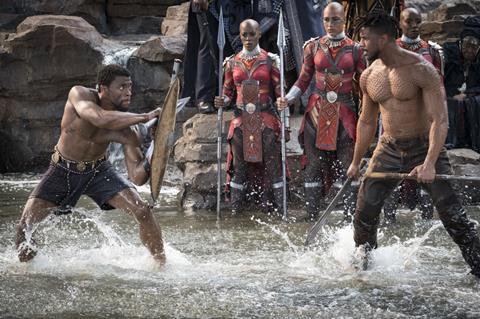 MARCH 6 UPDATE: Disney executives on Tuesday confirmed that Marvel Studio's Black Panther crossed $90m worldwide on Monday to reach $909.8m, of which $403.4m comes from international markets and the $506.4m balance from North America.
WALT DISNEY STUDIOS MOTION PICTURES INTERNATIONAL
Globally, since last week, Black Panther has overtaken Thor: Ragnarok on $854m, Guardians Of The Galaxy Vol. 2 on $864m, Batman vs Superman on $874m, Spider-Man: Homecoming on $880m, and Spider-Man 3 on $891m.
The UK is the lead market on $49.9m, followed by South Korea on $41.5m, Brazil $25.7m, Australia $22.7m, Mexico $22.3m, France $21.8m, and Germany $15.1m.
Russia has delivered $13.3m, Taiwan $12m, Indonesia $11.6m, Malaysia $9.4m, India $9.2m, Philippines $8.7m, Thailand $8m, and Hong Kong $7.9m.
CHINA
Operation Red Sea retained the international box office crown as an estimated $62.6m haul boosted the running total to $472.5m. Detective Chinatown 2 added $32.9m for $494.8m. Monster Hunt 2 used an $8.3m session to raise its game to $351.2m.
FOX INTERNATIONAL
UPDATED: Jennifer Lawrence spy thriller Red Sparrow earned $26.6m from 65 markets, led by a $2.6m and $2.5m number two launches in the UK and Germany, respectively. It arrived top in Taiwan on $2.4m, number two in Australia on $2.2m, and number one in Spain on $2.1m.
Elsewhere, Mexico delivered a number two debut on $1.6m, Italy number one on $1.5m, Indonesia on number two on $1m, and Brazil number four on $713,000.
Oscar best picture winner The Shape Of Water added $9.5m for $69.4m and arrived in Japan in sixth place on $1.6m. Three Billboards Outside Ebbing, Missouri starring best actress Oscar winner Frances McDormand debuted in China on $2.4m to drive a $5.8m session and elevate the running total to $79.2m. The Greatest Showman added $5.5m for $211.5m, Maze Runner: The Death Cure $4.1m for $222.9m, and Ferdinand $1.6m for $207.3m.
UNIVERSAL PICTURES INTERNATIONAL
UPDATED: Fifty Shades Freed crossed the $250m to reach $250.2m after a $10.4m weekend, and stands at $345.9m worldwide. Germany is the top market after $2m boosted the tally to $30m. The UK has generated $24.2m, France $21.4m, and Brazil $18.3m – all after four sessions.
Lady Bird added $4.3m for $11.1m and opened in France on $857,000 and Italy on $692,000. The Post stands at $24.6m, and Phantom Thread $18m.
WARNER BROS PICTURES INTERNATIONAL
UPDATED: The crime caper Game Night brought in $8.5m for $16.3m and opened in the UK on $1.5m including previews for number four, and Germany on $1.1m for fifth place. Clint Eastwood's 15:17 To Paris opened in Japan on $1.9m over four days and overall grossed $2.2m for $15.4m.
STX INTERNATIONAL
Thriller Den Of Thieves grossed $1.4m to reach $25.8m and opened this week in Spain. All The Money In The World took $2.2m from STX markets to reach $28.8m.
SONY PICTURES RELEASING INTERNATIONAL
UPDATED: Peter Rabbit used a $12.7m China debut to add $14.3m for $17.9m and propel the family film to $101.9m worldwide. Call Me By Your Name added $1.7m for $15.3m, while
Jumanji: Welcome To The Jungle added $2.2m for $536.9m and $930m worldwide. Russian hit Ice stands at $22.2m following a $2.1m session.