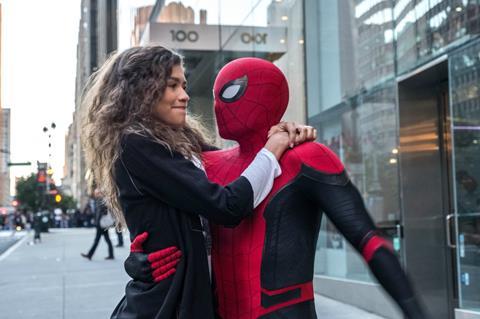 Spider-Man: Far From Home will soar past $750m worldwide this weekend and heads into its third session as the strong favourite to retain its box office crown on $466.6m from international markets and a robust $677.8m worldwide.
The stand-alone success story from Columbia Pictures, Marvel Studios, and Pascal Pictures opened in Italy on Wednesday (10), and is expected to bring in another mighty session after last weekend's $238m international haul.
Sony Pictures Releasing International executives will release figures at the weekend. China has generated more than $167m since the June 28 debut and overall, the tentpole should have little troubled passing the $500m international mark.
Can anything challenge it? Disney's The Lion King could make some noise when it ventures into China this weekend, one week before North America, but will not come close to knocking Far From Home off its perch. Jon Favreau's photo-realistic animated adventure is projected to gross in the region of $50m in China. Favreau's The Jungle Book offers a solid comp and grossed $48.9m ($52.4m) in its first weekend there in April 2016 en route to $150.1m ($160.7m).
Fox's action comedy Stuber starring Dave Bautista and Kumail Nanjiani opens day-and-date with North America in around 30 territories including the UK, Australia, Netherlands, and Portugal. It is an untested pairing for its likeable stars, and has drawn mediocre reviews.
Toy Story 4 has reached $369.1m internationally and stands at $686m worldwide. The animation opens in Japan and Hong Kong this weekend and, based on prior instalments, the omens look good. Toy Story 3 finished on $126m in Japan after a July 2010 launch, which adjusts for inflation to $148.9m. It opened in Hong Kong on $3.2m ($3.8m in today's terms) and went on to amass $11.5m ($13.5m).
Aladdin has reached $611.4m internationally after crossing the $600m barrier at the weekend, and stands at $934.7m globally. Avengers: Endgame has amassed $1.928bn at the international box office.
Universal's biggest title in play remains Illumination Entertainment's The Secret Life Of Pets 2, which has grossed $135.2m internationally. Danny Boyle's musical romance Yesterday has reached $24.4m and debuts in eight in a session where the key new market is Germany. Pedro Almodovar's Pain & Glory (Dolor y Gloria) has taken $1.9m and opens in Central America, Colombia and Peru. Jim Jarmusch's Cannes opening film The Dead Don't Die has taken $4.9m from Universal territories and arrives in the UK. Octavia Spencer horror Ma stands at $14.4m.
From Warner Bros Pictures International, Annabelle Comes Home has grossed $95.6m and will coast past $100m this weekend with significant debuts set for the UK, France, and Spain. The horror series has done well in these markets, with Annabelle: Creation – the most successful in the series internationally ($204.4m) and globally ($306.5m) – launching in the UK on $2.5m in August 2017 on the way to a $10.8m final gross. It opened in France on $1.3m, finishing on $10.6m, and grossed $5.9m in Spain by the end of its run.
Elsewhere within the Warner Bros fold, Godzilla: King Of The Monsters has amassed $274.2m, and children's adaptation Pokémon Detective Pikachu featuring the voice of Ryan Reynolds $286.3m.
Elton John biopic Rocketman has grossed $85.9m through Paramount Pictures International.