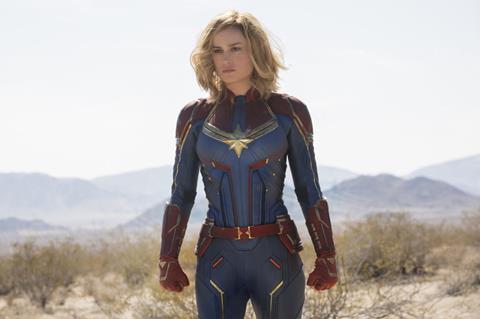 MARCH 7 UPDATE: Disney executives have revealed the global launch plan for Marvel Studios' Captain Marvel starring Brie Larson as it opens across the world this week en route to what could generate a global debut of more than $300m.

According to insiders, Captain Marvel could reach the $165m-$180m range internationally. Among other territories, it takes off in France, Italy and South Korea on Wednesday (6) touches down in Australia, Russia, Germany and Brazil on Thursday, and lands in China and the UK on Friday, day-and-date with North America.
There are a couple of data points that, while not like-for-like comparasions, suggest a range for the international launch of what has become an anticipated tentpole propelled by a female lead and hyped up by a long promotional lead-in.
Marvel Studios' Black Panther leapt to $169m in its initial launch in roughly 70% of the international footprint in February 2018 en route to $646.9m. Wonder Woman launched via DC Entertainment / Warner Bros on $125m in June 2017. That debut included China, the UK, South Korea, Mexico and Brazil and did not feature several key territories. The film finished on $409.3m internationally.
Opening everywhere except Japan (March 15), Captain Marvel should soar higher than her DC Entertainment female-led counterpart simply because of the bulk of territories in the initial launch. Disney and Marvel Studios executives will be pleased with a North American debut exceeding $100m, although a result in the $125m-$140m range would not be a surprise.
Anything above $100m would make Captain Marvel one of Marvel Studios' biggest stand-alone debuts. Iron Man opened on $98.6m in May 2008, Guardians Of The Galaxy $94m in August 2014, and Doctor Strange $85.1m in November 2016. Black Panther is the outlier on $202m over three days in February 2018, scoring the sixth highest debut in history.
In more detail, the Wednesday debut markets are France, Italy, South Korea, Taiwan, Indonesia, Malaysia, Philippines, Hong Kong, Thailand, Sweden, Switzerland, Belgium, Netherlands, and Portugal. Captain Marvel also touches down in Norway, Denmark, Finland and Israel.
Thursday brings new launches in Australia, Russia, Germany, Brazil, Argentina, Colombia, Singapore, Greece, Austria, Peru, Chile, Panama, New Zealand Ukraine, and UAE. Captain Marvel opens in China and the UK on Friday day-and-date with North America, and also heads into Mexico, Spain, India, Vietnam, Ecuador, Poland, South Africa, and Turkey.
The tentpole opens on more than 4,200 theatres in the US and Canada, including more than 3,000 3D locations, more than 400 IMAX screens, and more than 750 premium large format screens and 250 D-Box / 4D locations.
Starring alongside Larson are Samuel L. Jackson, Ben Mendelsohn, Djimon Hounsou, Lee Pace, Lashana Lynch, Gemma Chan, Rune Temte, Algenis Perez Soto, and Mckenna Grace, with Annette Bening, Clark Gregg, and Jude Law. Anna Boden and Ryan Fleck directed from a screenplay they co-wrote with Geneva Robertson-Dworet, based on a story by Nicole Perlman and Meg LeFauve, Boden and Fleck, and Robertson-Dworet Marvel Studios chief Kevin Feige produced the film, and Louis D'Esposito, Victoria Alonso, Jonathan Schwartz, Patricia Whitcher and the late Stan Lee are executive producers.
Walt Disney Studios Motion Pictures International's Ralph Breaks The Internet has amassed $321.6, while Mary Poppins Returns has floated to $175.9m, and Glass $134.7m through Buena Vista International.
Alita: Battle Angel has raced to $286.9m through Fox International, while Oscar winner Bohemian Rhapsody stands at $656.5m, and The Favourite has reached $56.1m. Rate Your Date opens in Germany, Austria, and Switzerland. On The Basis Of Sex also debits in Germany and Austria. Syria thriller Exfiltres debuts in France.
DreamWorks Animation's How To Train Your Dragon: The Hidden World has reached $293.2m through Universal Pictures International. Happy Death Day 2U stands at $31.6m, and Mary Queen Of Scots $26.2m. The Sisters Brothers debuts in Australia, and Everybody Knows opens in the UK and Australia.
Sony Pictures Releasing International's Spider-Man: Into the Spider-Verse has scaled $176.1m and swings into Japan, where the property is a popular one. Horror release Escape Room has amassed $72.7m, and family title A Dog's Way Home $32.2m, of which $26.9m comes from Sony markets, and $5.3m from China.
Warner Bros Pictures International's Lego 2: The Second Part has grossed $63.5m, The Mule $48.6m, Creed II $97.9m, Aquaman $808.9m, and A Star is Born $216.6m.
Paramount Pictures International's comedy Instant Family has grossed $48.2m, while comedy remake What Men Want stands at $6.7m.