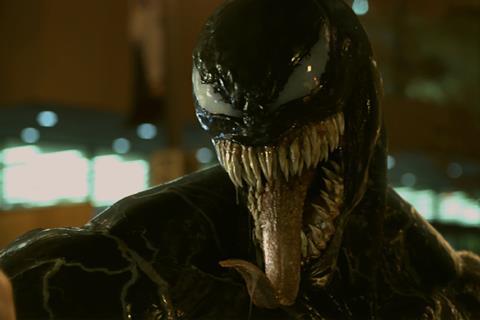 NOVEMBER 12 UPDATE: Venom surpassed expectations to score a confirmed $112.5m opening weekend in China as the comic book adaptation reclaimed top spot at the international box office thanks to a $119.5m weekend that raised the running total to $469.9m.
Fox's Bohemian Rhapsody impressed in second place on $63.1m, while Universal-Illumination's The Grinch arrived on $12.7m, and Paramount's Overlord made off with $9.2m.
SONY PICTURES RELEASING INTERNATIONAL
UPDATED: Venom's global tally stands at $676.2m. The China result includes previews and recorded the second highest debut for a superhero film in the territory, the fifth best debut for an imported film, and Sony's biggest debut in China. The monster hit starring Tom Hardy has generated $32.3m in Russia, $30.1m in South Korea, $26m in the UK, and $24.1m in Mexico.
The Girl In The Spider's Web presented by Columbia Pictures, MGM and New Regency earned $5.9m from 49 to raise the early tally to $8.1m. Highlights came from Russia on $1.3m, Mexico on $685,000, Australia on $581,000, Spain on $487,000, and Brazil on $433,000. The thriller stars Claire Foy as Lisbeth Salander and opens in France this week, followed by the UK and Germany on November 21 and 22. Spider's Web debuted in fifth place in North America on $8m.
Goosebumps 2: Haunted Halloween grossed $3.1m from 43 markets for $43.6m, while German adventure comedy 25 km/h added $1.3m in Germany for $3.9m.
FOX INTERNATIONAL
UPDATED: Bohemian Rhapsody grossed a further $63.7m from 78 markets as an impressive number one debut in Japan and a string of 35 number one holds including many major markets propelled the running total to $185.9m. The popular Queen and Freddie Mercury drama opened top in Japan on $4.3m, and delivered a superb number one hold in the second session in South Korea, climbing more than 44% on $7.2m to reach $14.8m.
In the UK a robust third weekend saw Bohemian Rhapsody hold well at number two on $5.9m for $37.m. In other number one holds in the second weekend, France and Australia delivered $5.2m for $14.5m and $4.5m for $12.3m, respectively, while Mexico produced $4m for $12.6m.
Table-topping holds in Germany, Spain, Russia and Brazil resulted in $3.6m for $10.3m, $3.3m for $9.9m, $3.2m for $9.5m, and $2.1m for $5.3m, respectively. The film grew in Holland by a little more than 2%, adding $1.8m for $4m in another number one hold, and retained top spot in Indonesia with a 19% climb that generated $1.1m for $2.5m, and gained 9% in the Philippines on $993,000 for $2.1m. Sweden added $878,000 for $2.8m, where Bohemian Rhapsody also ranks number one after two weekends.
In its first international debut, Steve McQueen's heist thriller Widows opened at number three in the UK on $3.1m.
WALT DISNEY STUDIOS MTION PICTURES INTERNATIONAL
Fantasy The Nutcracker And The Four Realms stands at the cusp of $100m worldwide after a $13.5m international session from 45 material territories elevated the international running total to $61.4m and worldwide to $96.7m. China leads the way at this early stage on $15.8m, followed by Italy on an excellent $8.2m (the film held at number one), Germany on $4.7m, the UK on $4.4m, and Mexico on $4.2m.
UNIVERSAL PICTURES INTERNATIONAL
UPDATED: Universal-Illumination Entertainment's family release The Grinch claimed $13.1m from 23 territories in a string of debuts that went out day-and-date with the $67.6m number one North American debut. Leading the way for the family feature voiced by Benedict Cumberbatch and others was the UK on a strong $6.5m. Brazil delivered $1.4m for second place, Norway $788,000 for number one, Sweden $712,000 for number two, and Indonesia $338,000 for number four.
Halloween added $5.5m from 66 for $88.3m and stands at $245.3m worldwide. Germany delivered the highlight of the session, adding $989,000 for $9.9m after three weekends. Damian Chazelle's space race drama First Man added $3.6m from 50 for $50m, and comedy Johnny English Strikes Again $3.2m from 67 for $122.7m.
Gay conversion therapy drama Boy Erased starring Lucas Hedges, Nicole Kidman and Russell Crowe opened in its first international market, Australia, on $305,000 at number six.
PARAMOUNT PICTURES INTERNATIONAL
World War Two horror film Overlord debuted day-and-date with North America in 52 markets on $9.2m. Now active in 84% of the international footprint, there are still France (November 21) and Australia (December 6) to come.
Overlord opened in third place in Russia on $1.4m, sixth in the UK on $855,000, second in Indonesia on $709,000, fourth in Mexico on $638,000, and top in Taiwan on $437,000. Elsewhere the film arrived in second place in Malaysia on $420,000, seventh in Brazil on $400,000, top in Hong Kong on $387,000, fifth in Spain on $374,000, eighth in Italy on $357,000, and 11th in Germany on $338,000. It arrived in third place in North America on $10.1m.
WARNER BROS PICTURES INTERNATIONAL
UPDATED: A Star Is Born used a $9.6m weekend haul from 68 markets to surge to $145.8m, and $323.9m worldwide. The highlights were a $1.9m gross in the fourth weekend in Australia to rank second and push the tally to $17.1m, and a $1.6m session in the UK that ranks fourth and elevated the running total to $33.1m after six. France delivered $971,000 in the sixth for $12.8m. The UK is the top market, followed by Australia, France, then Germany on $8.6m, and Italy on $7.5m.
Family animation Smallfoot added $5.2m from 66 territories for $123.9m, and crossed $200m worldwide to reach $204.2m. The UK remains the top market on $13.9m.
STX INTERNATIONAL
Jennifer Garner action thriller Peppermint stands at $13.2m from 59 markets, while Mark Wahlberg action thriller has grossed $29.7m from 64, and The Happytime Murders $6.8m from 51.