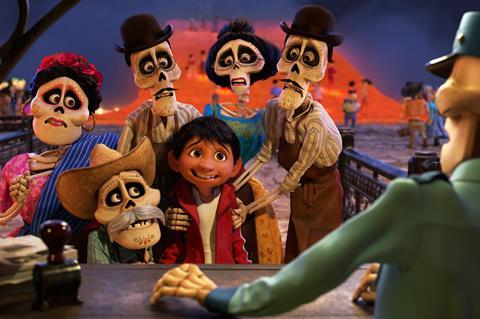 DECEMBER 11 UPDATE: Pixar's Coco stayed top in North America on $18.5m through Buena Vista in a generally quiet session before the launch this week of Star Wars: The Last Jedi.
A24 expanded The Disaster Artist in its second weekend from 19 theatres to 840 as James Franco's film about Tommy Wiseau and the making of his notoriously bad film The Room vaulted eight places from 12 to four on $6.4m for $7.9m.
Lionsgate's Wonder in third place crossed $100m in its fourth session, while DC Entertainment's Justice League at number two hit the $200m mark last Tuesday (December 5), and Thor: Ragnarok crossed $300m in week six.
Fox Searchlight's The Shape Of Water, which earned seven Golden Globe nominations on December 11, expanded from two venues to 41 and leapt seven slots to number 13 on $1.1m for $1.4m in its second session. Working Title's Darkest Hour expanded from four to 53 theatres and climbed 11 places to number 15 in its third weekend through Focus Features, adding $741,417 for an early $1.2m running total.
NEON and 30West opened Toronto International Film Festival buy I, Tonya starring Margot Robbie as disgraced ice skater Tonya Harding and it opened well at number 19 on $264,155 for a terrific $66,039 average from four venues.
Just Getting Started (formerly Villa Capri), the action comedy with Morgan Freeman, Tommy Lee Jones and Rene Russo, delivered a lacklustre number 10 debut through Broad Green on $3.2m from 2,161 theatres.
Box office for the top 12 generated $76.1m, dropping 23.8% against last weekend and climbing 1.7% against the comparable session in 2016.
This week brings Lucasfilms' Star Wars: The Last Jedi starring Daisy Ridley, Adam Driver, Mark Hamill, John Boyega, Oscar Isaac, and the late Carrie Fisher via Buena Vista.
Confirmed top 10 North America December 8-10, 2017
Film (Dist) / Conf wkd gross / Conf total to date
1 (1) Coco (Buena Vista) Walt Disney Studios Motion Pictures International $18.5m $135.7m
2 (2) Justice League (Warner Bros) Warner Bros Pictures International $9.7m $212.1m
3 (3) Wonder (Lionsgate) Lionsgate International $8.4m $100.3m
4 (12) The Disaster Artist (A24) Warner Bros $6.4m $7.9m
5 (4) Thor: Rangarok (Buena Vista) Walt Disney Studios Motion Pictures International $6.3m $301.1m
6 (5) Daddy's Home 2 (Paramount) Paramount Pictures International $5.9m $91.1m
7 (6) Murder On The Orient Express (Fox) Fox International $5.2m $92.8m
8 (9) The Star (Sony) Sony Pictures Releasing International $3.7m $32.3m
9 (8) Lady Bird (A24) Focus Features International $3.5m $22.2m
10 (-) Just Getting Started (Broad Green) Sierra/Affinity / eOne $3.2m –