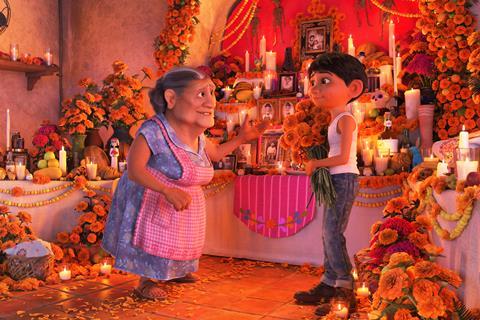 WALT DISNEY STUDIOS MOTION PICTURES INTERNATIONAL
DECEMBER 11 UPDATE: Pixar's Coco held on to pole position before it hands over to Disney stablemate Star Wars: The Last Jedi later this week, earning $55.6m to reach a relatively early $254.4m as the global tally hit $390.1m.
The animation held on to number one for the third consecutive weekend in China, where it has bucked the trend of Pixar disappointments in the territory and stands at a remarkable $127.7m. Mexico is another market that has delivered exceptional results and the film stands at $56.7m.
Coco opened top in both Paraguay and Venezuela, although Disney executives did not provide numbers. The film ranks number one in Austria, France, Germany, Israel, Spain, Switzerland, Netherlands, Malaysia, Chile, Colombia and Central America.
On a global haul of $833.7m, Marvel Studios' Thor: Ragnarok has overtaken Spider-Man ($822m) and Wonder Woman ($822m) in the box office pantheon. The tentpole added $3.6m to reach $532.6m internationally.
China once again is the top market on approximately $112m, followed by the UK on $40.4m, South Korea on $35.1m, Brazil on $30.3m, and Australia on $26m.
STUDIOCANAL
Paddington 2 added $21.5m for $70.8m. The company did not provide a weekend report or territory breakdowns.
FOX INTERNATIONAL
UPDATE: Murder On The Orient Express added $19.8m from 59 markets for a $181.9m running total. The all-star murder mystery opened in Japan on $2.6m and Taiwan on $1m.
Italy led the holdovers on $4.2m for $9.1m after two weekends, while Spain produced $1.4m for $7.9m after three. South Korea delivered $1.2m for $5.3m and Brazil $1.2m for $3.3m, both after two sessions. The UK has generated $29.9m after six and remains the lead market.
Drama The Mountain Between Us added $1.4m from 20 for $29.5m and debuted in Germany on $387,671 at number six. In the second weekend, the UAE and Portugal both delivered good holds on $181,453 for $705,143 and $102,663 for $262,694, respectively.
WARNER BROS PICTURES INTERNATIONAL
UPDATE: Justice League crossed the $400m mark internationally and $600m worldwide as a further $16.3m from 66 markets elevated the running totals to $402.6m and $614.7m, respectively.
DC Entertainment's superhero tag-team has reached $103.2m in China, $35.8m in Brazil, $23.5m in Mexico, $21.7m in the UK, and $13.9m in Australia.
James Franco's The Disaster Artist generated $1m from three markets to stand at an early $1.7m. The UK produced $483,000 including previews for $910,000 after two weekends. The film stands at $730,000 in Australia after two. Horror smash It stands at $368.2m and $695.7m worldwide.
PARAMOUNT PICTURES INTERNATIONAL
Daddy's Home 2 brought in $11.6m from 59 markets to reach $51.2m. Peru sparked the biggest industry non-local debut on a fine $772,000 number one opening, while Germany delivered $741,000 in fifth place, and Chile $139,000 at number four.
The UK led holdovers on $1.8m for $13.3m after three sessions, followed by Mexico on $1.7m for $7.9m after two, and Australia on $1.1m for $6.9m after three. After two weekends, the comedy sequel stands at $940,000 in Colombia, $1.1m in Spain, and $892,000 in Argentina.
LIONSGATE INTERNATIONAL
Julia Roberts family Drama Wonder grossed $11.4m from 56 markets for a $29.3m running total and opened in Brazil on an excellent $3.6m. The film held on to number one in Australia where it has taken $4.4m after two weekends. The UK has produced $4.3m after two, Spain $3.1m, and Venezuela $2m. It opened in Mexico this week.
Jigsaw crossed $100m worldwide, adding $1.3m from 64 markets for $62.9m internationally. The UK is the top market on $6.7m, while Venezuela ranks second on $5.7m, Germany and Russia tied for third on $5.1m each, and France fifth on $4.1m.
STX INTERNATIONAL
UPDATE: A Bad Moms Christmas opened in 14 territories this weekend and added $6m to climb to $45.7m. Mexico was top of the class with a $1.1m number five debut some 31% ahead of Bad Moms, followed by Russia on $1.1m for third and 86% ahead, and Italy on $515,000 at number eight, some 34% behind the 2016 original.
The combined region of Germany, Austria and Switzerland has produced more than $10m after five weekends, although STX did not break out the territories. The UK has delivered $10.3m after six.
The Foreigner added $855,000 for $104.9m. The Jackie Chan crime thriller opened in three markets – Hong Kong, Argentina and Uruguay – and has reached $139.2m worldwide.
CINEMA MANAGEMENT GROUP
UPDATE: Loving Vincent, the acclaimed hand-painted animation directed by husband-and-wife team Hugh Welchman and Dorota Kobiela that on Saturday night (December 9) won the European animated feature film prize at the European Film Awards, added $5.8m through international licencees to reach $17.4m and stands at $23.2m worldwide.
UNIVERSAL PICTURES INTERNATIONAL
UPDATE: Happy Death Day added $2.7m for a $56.7m running total and opened in second place in Russia on $1.6m. After four sessions France generated $368,000 for $4.1m, while Germany and Argentina have produced $3.2m and $802,000 after four weekends and two weekends, respectively.
Spanish title Perfectos Desconocidos added $2.8m in the second session in Spain to reach an excellent $7.6m. Working Title's Darkest Hour has amassed a very early $4.7m in China and will continue to roll out internationally in January. The Snowman stands at $36m and Girls Trip $23.5m.