Ryan Reynolds as the foul-mouthed, R-rated superhero delivered a bona fide smash as Fox opened Deadpool on a massive February record.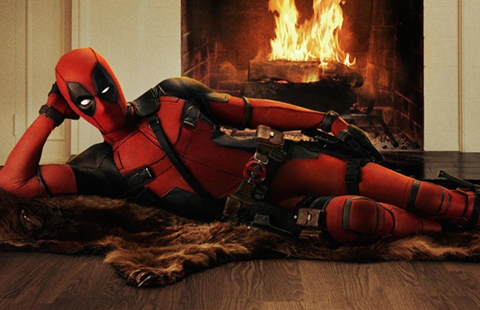 The $135.1m was by far the biggest February debut in history (previous mark was $85.2m set by Fifty Shades Of Grey in 2015) and combined with $125m from 61 international markets for a $260.1m global launch.
Deadpool is on course to generate $19m from 374 Imax screensover the four-day weekend in North America and $24m worldwide for the weekend, rising to $28m over four days.
The $16.8m three-day portion of the North American debut beat all February and R-rated records and ranks as the second-best 2D opening behind the July release of The Dark Knight Rises on $19m.
Warner Bros opened How To Be Single at number three on $18.8m while Zoolander 2 arrived in fourth place on $15.7m via Paramount.
DreamWorks Animation's Kung Fu Panda 3 slipped to number two in its second session via Fox on a marginal drop – many in the top 10 achieved the feat – and added $19.7m for $93.9m.
Outside the top 10 Michael Moore's Where To Invade Next opened via IMG Films on $1m from 308 theatres.
Overall box office for the top 12 reached $226.6m and gained 176% on the previous weekend.
This week's wide releases are: Race via Focus Features and Risen through Columbia Pictures.
Estimated top 10 North America January February 12-14, 2016
Film (Dist) / Est wkd gross / Est total to date
1 (-) Deadpool (Fox (Fox International) $135.1m –
2 (1) Kung Fu Panda 3 (Fox-DreamWorks) Fox International $19.7m $93.9m
3 (-) How To Be Single (Warner Bros) Warner Bros Pictures International $18.8m –
4 (-) Zoolander 2 (Paramount) Paramount Pictures International $15.7m –
5 (4) The Revenant (Fox) Fox International $6.9m $159.2m
6 (2) Hail, Caesar! (Universal) Universal Pictures International $6.6m $21.4m
7 (3) Star Wars: The Force Awakens (Buena Vista) Walt Disney Studios Motion Pictures International $6.2m $914.8m
8 (5) The Choice (Lionsgate) $5.3m $13.3m
9 (8) Ride Along 2 (Universal) Universal Pictures International $4.1m $82.7m
10 (9) The Boy (STX Entertainment) Lakeshore $2.9m $30.8m