Walt Disney Studios chairman Alan Horn on Monday hailed what is set to become an "historic" industry achievement this week.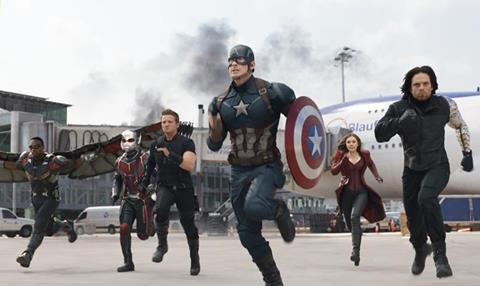 Through December 18 the studio's films have generated $6.9883bn and will reach the unprecedented target any day now powered by the early fire of new release Rogue One: A Star Wars Story, which opened to $290m worldwide at the weekend.
Thus far Disney releases have amassed an industry record $2.7004bn in North America and a Disney record $4.2879bn internationally.
It may be no coincidence that 2016 marks the first time the studio has released a film from each of its brands in a calendar year: Disney, Walt Disney Animation Studios, Pixar Animation Studios, Marvel Studios and Lucasfilm.
"This historic achievement is possible because all of our film studios are bringing their absolute best to the table, telling great stories of all kinds that resonate with audiences across borders, gender, and generations," said Horn.

"These films work because each one has not only something for everyone, but everything for someone. It's our honour to be able to create these experiences for audiences, and we're thankful to them for continuing to come out to the theatre with us."
Disney currently holds five of the top ten films of the year globally, domestically and internationally. Three of the top four hail from Disney and have crossed $1bn at the box office: Captain America: Civil War on $1.15bn, Finding Dory on $1.028bn and Zootopia on $1.024bn. The Jungle Book on $966.6m worldwide ranks as the fourth biggest film of the year globally.
The studio also holds the top three international and the top two North American releases. The $179.1m opening weekend of Captain America: Civil War means Disney holds five of the top six North American openings in industry history, while it also holds four of the top five animated films.
In further milestones in 2016, both Pixar and Marvel Studios crossed $10bn in combined lifetime grosses for their films.
Star Wars: The Force Awakens played its part in Disney's 2016 haul, earning $736.6m of its $2bn-plus global tally this year.