DreamWorks Animation's How To Train Your Dragon 2 unloads the biggest wave of releases this weekend but China could upset the applecart yet again with Godzilla entering its second weekend and a debut for Maleficent.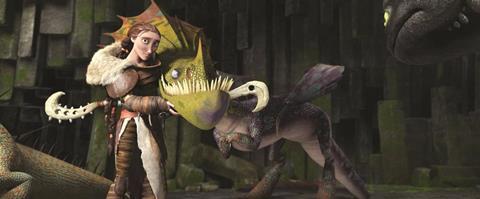 DreamWorks Animation's How To Train Your Dragon 2 stands at $41.4m and flies into around 30 territories through Fox International.
The biggest impact is expected to come from Australia alongside a slew of Latin American countries: Mexico, Brazil, Argentina, Colombia, Chile and Peru.
All the aforementioned LatAm markets except Peru are competing in the World Cup and remain in contention – however only Argentina is in action this weekend, on Saturday.
Meanwhile Godzilla has been fired up by that huge $37m China debut last weekend through Warner Bros Pictures International (WBPI) and there should be plenty more to plunder in the second session to help the lizard push away from its $263.7m perch.
And who knows? Recent international box office champion Maleficent starring Angelina Jolie could reclaim its crown given that it opens in China, which these days has the power to make any film rule the roost.
The fantasy stands at $289.1m through Walt Disney Studios Motion Pictures International (WDSMPI).
WBPI's Edge Of Tomorrow also knows a thing or two about being top of the class and will cross $200m outside North America heading into the weekend that saw it perched on $194.7m.
WBPI also unleashes Clint Eastwood's Frankie Valli and The Four Seasons story Jersey Boys day-and-date with North America in the UK, Italy and France. The latter two countries will be embroiled in World Cup duty on Friday night, which may well dent box office prospects.
X-Men: Days Of Future Past has grossed $466m through Fox International and ventures into Venezuela.
The Fault In Our Stars has reached $46.1m and arrives in the UK, Singapore, Sweden, Portugal and Belgium, among several others. Both Portugal and Belgium play the second of their World Cup group games on Sunday.
Bollywood title Humshakals opens in India and the Middle East, while The Other Woman on opens in the UK and Italy.
Sony Pictures Releasing International's comedy 21 Jump Street has grossed an early $23.7m and storms into 14 territories including Australia, Singapore, Sweden and South Africa.
Heaven Is For Real arrives in Spain, Uruguay and Singapore.
WDSMPI's Frozen is on $854.1m and Captain America: The Winter Soldier $454.3m.
Transcendence arrives in Mexico and Spain through Lionsgate licensees.