Warner Bros.' Due Date took the spoils at the UK box office over the Nov 5 - 7 weekend.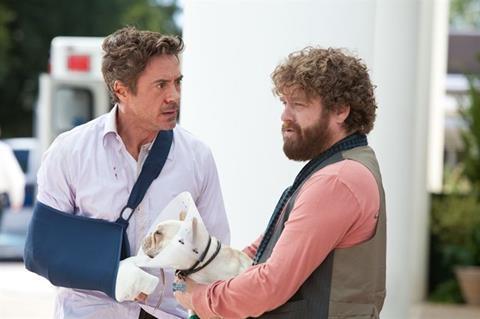 Todd Phillips' road trip-comedy, starring Zach Galifianakis and Robert Downey Jr, took $3.7m (£2.3m) from 449 screens for a week-best screen average of $8,433 (£5,223).
However, despite its chart topping debut Due Date was £1m off Phillips' previous UK opening with 2009 smash The Hangover, and $2.1m (£1.3m) off last week's number one Saw 3D.
Paramount's Jackass 3D entered the chart in second place after grossing $2.7m (£1.7m) from 373 screens at a per-print average of $7,346 (£4,549). Billed as a documentary, the third instalment in the prank-filled franchise grossed more than double the opening take of Jackass Number Two which opened on $1.2m (£735,274) in 2006.
Fahrenheit 9/11 is the highest grossing documentary of all time. Michael Moore's 2004 satire opened on $2.1m (£1.3m) in UK and went on to gross £6m. Jackass 3D is unlikely to surpass that total in UK, but could run it close, especially if final US figures are an indicator. Fahrenheit 9/11 totalled $119m (£73.6) in US compared to Jackass 3D's current running total of $110m (£68m).
Paramount's second new top ten entry Let Me In took $789,227 (£488,402) from 363 screens. Matt Reeves' fantasy-horror remake took twice the opening box office of critically acclaimed Swedish horror Let The Right One In but is playing on five times the number of screens.
Momentum's Mike Leigh-directed drama Another Year debuted in ninth position, taking $574,669 (£355,626), a fraction below Leigh's latest, Oscar-nominated Happy Go Lucky.
Bollywood comedies Golmaal 3 and Action Replayy were the week's only other top 20 newcomers, entering the chart in 11th and 15th respectively.
Momentum's sci-fi thriller Skyline is the coming weekend's only saturation release. There are wide releases for Warner Bros.' romance-drama Flipped and Disney's comedy You Again, starring Kristen Bell, Sigourney Weaver and Jamie Lee Curtis.