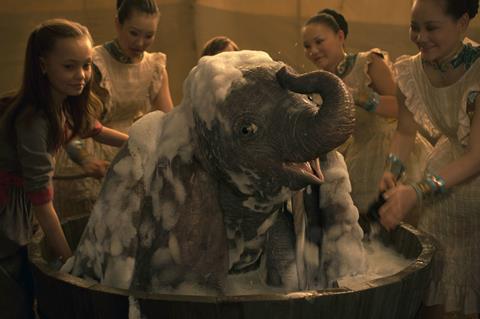 APRIL 1, 2019: Disney's Dumbo took flight on $119.5m worldwide and $73.5m internationally to rank as the number one film of the weekend, while Captain Marvel reached $992.6m to round out a week in which The Walt Disney Studios crossed $1bn at the international box office for the year-to-date.
DreamWorks Animation's How To Train Your Dragon: The Hidden World crossed $500m worldwide through Universal Pictures International, and Alita: Battle Angel broke the $400m global barrier for Fox International, while Green Book has crossed $300m worldwide through various distributors. Universal's Us surges to early $46.3m at international box office and will cross $175m worldwide on Monday.
WALT DISNEY STUDIOS MOTION PICTURES INTERNATIONAL
UPDATED: Dumbo, Tim Burton's live-action take on the beloved children's story, earned $73.5m from a full international roll-out day-and-date with the disappointing $45m number one debut in North America. As often happens, international is shaping up to be the most likely route to recoupment given the estimated $170m production cost, which does not include marketing spend.
The family release starring Michael Keaton, Eva Green, Colin Farrell and Danny De Vito among others ranked top in many markets, including the UK on $7.9m, Mexico on $7.6m, Russia on $4.1m, Italy on $3.9m, Spain on $3.7m, and France on $3.6m. It opened top across Latin America led by Mexico on 65% market share in the third highest Disney live-action debut of all-time, and delivered the same accolade in Colombia.
The top market was China, where Dumbo ranks as the number one Western release on $10.7m heading into next weekend's holiday. It finished the weekend as the number one western release in Japan on $2.3m, India, Malaysia and the Philippines. Brazil and Australia produced $2.7m and $1.9m, respectively, in their opening sessions.
Marvel Studio's Captain Marvel starring Brie Larson ranks as the tenth highest superhero film of all time after a $47.7m global haul, and stands at $638.6m internationally to rank as the ninth highest superhero title. North America has delivered $353.9m.
The blockbuster has reached $151.6m in China, South Korea $43.5m, the UK $42.7m, followed by Brazil on $34m, and Mexico on $31.6m.
So far in 2019, The Walt Disney Company releases have generated $1.104bn internationally.
UNIVERSAL PICTURES INTERNATIONAL
How To Train Your Dragon: The Hidden World crossed $500m worldwide as a $6.8m global session at the weekend propelled the running total to $501.9m. Internationally, the finale of DreamWorks Animation's beloved saga added $2.6m from 58 territories in play for $348.9m from 67 overall. Russia was the top holdover market where a further $546,000 boosted the running total to $27.5m.
During the course of its run, the film opened at number one in 54 markets and delivered the biggest debut in the series in 53 of them. It ranked number one internationally for two weekends, and scored the biggest opening for a DreamWorks Animation title in 11 territories including Russia, Mexico, Argentina, Indonesia, Turkey and Malaysia; and the biggest animated opening of all-time in Ukraine, Vietnam and Egypt. It is the highest-grossing film in the franchise in 39 territories including Brazil, France, Mexico, and Russia.
Jordan Peel's horror hit Us grossed $22.6m from 60 territories as the early international running total climbed to $46.3m, and worldwide $174.5m. The film opened in 14 markets led by South Korea on a $6.9m number one that ranks as the second highest foreign horror weekend ever behind Peele's feature directorial debut Get Out, and powered by the all-time highest opening day for a foreign horror release.
Us debuted top in Australia on $2.7m, and arrived in second place in Russia on $1.4m. The UK generated a further $2.5m driven by a $1m Saturday and ranks second with an $8.2m tally. Germany delivered $1.3m for $3m, France $1.1m for $3.5m, Spain $859,000 for $2.3m, Brazil $494,000 for $1.5m, and Taiwan $333,000 for $1.3m.
Fighting With My Family stands at an early $3.2m from five Universal territories and has reached $1.9m in Australia after two weekends. Combined with non-Universal markets, the drama directed by Stephen Merchant and starring Florence Pugh stands at $13.2m. Mary Queen Of Scots has grossed $28.4m internationally, and $44.9m worldwide.
LIONSGATE INTERNATIONAL
UPDATED: Green Book has crossed $300m at the global box office through Amblin Partners, Lionsgate and other distributors. Internationally the film has grossed $219.6m in 62 markets, and $84.5m in North America via Universal. In China, the $70.7m running total has overtaken Titanic to rank as the highest grossing best picture Oscar winner.
Romance Five Feet Apart starring Haley Lu Richardson and Cole Sprouse brought in $6.2m from 39 markets as the running total climbed to an early $14.8m. It opened in Australia in fourth place on $1.4m including previews, and stands at $3.1m in Italy after two weekends, and $2.9m in Brazil after two.
FOX INTERNATIONAL
Bohemian Rhapsody earned $3.5m from 16 markets as the Queen and Freddie Mercury drama's international running total climbed to $680m. It added $2.6m in the second weekend in China for an $11.6m running total. Japanese box office climbed 17% in its 21st session, adding $449,000 for $113.9m. Alita: Battle Angel crossed $400m worldwide and stands at $317.7m internationally.
PARAMOUNT PICTURES INTERNATIONAL
Family animation Wonder Park grossed $2.5m from 23 markets to reach a mediocre $14.4m, adding $979,000 in its second session in Russia for $3.6m. Brazil has generated $2.7m after three. Wonder Park debuts in France this week.
Transfomers spin-off Bumblebee surged to $5.1m in Japan after a $1m haul in the second weekend. Overall the sci-fi adventure stands at $338m internationally. Rom-com remake What Men Want starring Taraji P. Henson stands at $15.3m internationally, $3.2m in the UK and $1.5m in Netherlands, both after three sessions.
WARNER BROS PICTURES INTERNATIONAL
The Lego Movie 2: The Second Part used a $1.8m session in 54 markets to reach $78.7m, and $183.3m worldwide. The animation added $1m in Australia for 3.9m after two weekends. The UK remains the lead market by some distance on $23.6m, followed by Germany on $4.2m, Australia, Poland on $3.5m, and Mexico on $3.5m.
SONY PICTURES RELEASING INTERNATIONAL
Horror film Escape Room grossed $1.6m from 29 markets for $94.5m. Audiences in China have contributed the most and the film stands at $34.2m there, followed by $6.1m in France, $4.9m in Germany, $4.4m in South Korea, $3.8m in Russia, and $3.3m in the UK. Univer