Vin Diesel, Paul Walker and the gang are expected to hold on to the global box office crown this weekend as the film reached $526.8m through Thursday morning.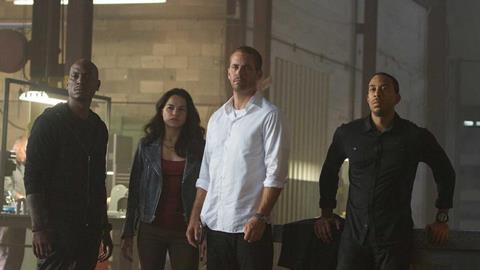 Latest data puts the international tally of Fast & Furious 7 at $343.1m with China and Russia to open this weekend. North American theatres had generated $183.7m.
Warner Bros Picture International reported updated running totals of $92.6m for Focus, $11.8m for Get Hard, $21.7m for Run All Night and $193.8m for American Sniper.
Fox International unleashes The Longest Ride day-and-date with North America this weekend in around 29 territories, among them Australia, Taiwan, Holland, Singapore and Central America.
DreamWorks Animations' Home stands at $97.4m, while Kingsman: The Secret Service has reached $258.4m and Taken 3 $238.5m including EuropaCorp markets.
Cinderella has amassed $242.1m via Walt Disney Studios Motion Pictures International. Big Hero 6 has reached $433.4m and Into The Woods $81.4m.
Sony pushes out its comedy Paul Blart: Mall Cop 2 ahead of North America in the UK and German-speaking Europe this weekend.
Lionsgate International's Insurgent reached $120.1m by April 6 and France led the way on $12.9m via SND/M6 followed by the UK on $10.1m through eOne.
The sci-fi opens this weekend in Finland.