Disney's animation debuts top with $7.7m (£4.7m); Lionsgate's The Hunger Games: Catching Fire surpasses The Hunger Games' final UK result.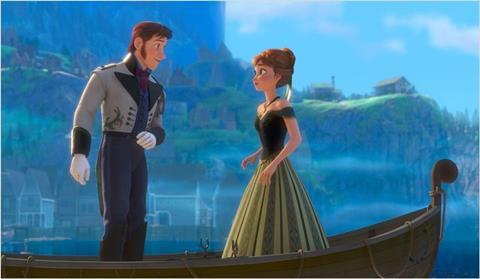 Preventing it from a third straight week at the summit, Frozen has extinguished The Hunger Games: Catching Fire to top the UK chart on debut.
Disney's animation scored a terrific $7.7m (£4.7m) debut at a strong average of $15,261 (£9,317). Interestingly, 60.92% ($4.7m/£2.9m) of its opening came from 2D screenings, with 3D accounting for 39.08% ($3m/£1.8m).
That's a debut ahead of Walt Disney Animation Studios' other 2013 outing Wreck-It Ralph which took $7.4m (£4.5m) on its way to $38.8m (£23.7m). It is, though, behind both Tangled ($8.4m/£5.1m from 445) and Bolt ($8.9m/£5.4m from 594), although Bolt's opening included a hefty $4.3m (£2.6m) in previews.
With the arrival of The Desolation of Smaug on Friday [Dec 13], Frozen is unlikely to hold onto the top spot. However, with the school holidays upcoming, it will likely enjoy a lucrative run until the end of the year.
Also for Disney, Saving Mr. Banks retained fourth spot with a $898,000 (£547,881) second weekend. John Lee Hancock's biopic of the making of Mary Poppins is now up to $3.3m (£2m) in the UK.
Superhero sequel Thor: The Dark World added $270,000 (£165,101) for $32.1m (£19.6m) to date. Unless it receives a boost over the festive period, it's likely to end its UK run as the fourth-best Marvel performer behind Iron Man 2's $34.7m (£21.2m).
LIONSGATE
It may have dropped to second, but Lionsgate can take comfort in the fact that The Hunger Games: Catching Fire has now surpassed The Hunger Games.
Catching Fire took a further $4.4m (£2.7m) this weekend to climb to $43.2m (£26.4m) and surpass The Hunger Games' final UK result of $38.9m (£24m). The well-received sequel is currently the year's seventh biggest hit, narrowly behind The Croods' $43.7m (£26.7m).
The film will shortly become only the fifth in the UK this year to cross £30m mark.
Also for Lionsgate, Homefront was released in 295 sites and recorded a $721,000 (£440,306) debut at a sturdy average of $2,248 (£1,493).
That opening compares favourably to Jason Statham's other 2013 solo outing, Hummingbird, which launched with $339,000 (£206,731) from 262 sites. It's some way behind director Gary Fleder's best-ever UK bow though, which belongs to Kiss the Girls' $1.4m (£832,646) from 269 sites.
Jeune et Jolie stands at $171,000 (£104,586) after ten days in play.
WARNER BROS
Falling one place to third, Gravity added $1.7m (£1.02m) in its fifth weekend of release.
Warner Bros' sci-fi is now up to an excellent $40.2m (£24.55m) in the UK and with $1.7m (£1m) during Mon-Thurs [Dec 2-5] last week, could cross the £25m mark by this weekend.
Also for Warner Bros, Getaway was released in 105 sites but could only manage a soft $42,600 (£26,000) UK debut.
That marks director Courtney Solomon's lowest ever UK bow, behind Dungeons & Dragons ($665,000/£405,669 from 140) and An American Haunting ($887,000/£541,446 from 269).
EONE
Perhaps to be expected given the arrival of Frozen, Free Birds fell heavily in its second weekend for $514,000 (£313,637).
eOne's animation now stands at $2.5m (£1.5m) after ten days in play.
Also for eOne, action comedy The Family is up to $1.8m (£1.08m) in the UK following a $41,600 (£25,406) third weekend.
SONY
Falling over 50% in its second weekend, Carrie added $466,000 (£284,786) for $2.2m (£1.4m) after ten days in play through Sony.
Also for Sony, Cloudy with a Chance of Meatballs 2 and Captain Phillips stand at $19.4m (£11.9m) and $25.8m (£15.7m), respectively.
ENTERTAINMENT
Falling 42% in its fourth weekend, Entertainment's Lee Daniels' The Butler has so far served up $5.6m (£3.5m) after adding $410,000 (£251,000) this weekend.
PARAMOUNT
Released in 122 sites through Paramount, Nebraska posted a $246,000 (£150,000) UK debut.
That marks one of the lowest UK bows for director Alexander Payne, ahead of Election's $107,000 (£65,113) from 30 sites, but behind Sideways ($573,000/£349,642 from 72), About Schmidt ($1.2m/£757,325 from 220) and The Descendants ($2.9m/£1.8m from 403).
Given its older-skewing audience, Nebraska is likely to play stronger midweek.
Also for Paramount, Jackass Presents: Bad Grandpa is up to $10.7m (£6.5m).
FOX
Having passed the £10m mark last week, Fox's Philomena added $222,000 (£135,751) to stand at $16.8m (£10.2m) in the UK.
Released in 105 sites through Fox, Black Nativity posted a UK debut of just $100,000 (£61,324) and may struggle to still be in many UK cinemas come Christmas.
UNIVERSAL
Having taken just $2m in the US so far, Oldboy didn't fare much better on UK shores. Spike Lee's remake posted a $154,000 (£94,000) debut at a meek average of $614 (£375).
It now faces a challenge to match the original's $513,000 (£312,866) UK run which opened with $104,000 (£63,221) from just 20 sites.
ARTIFICIAL EYE
Palme d'Or winner Blue is the Warmest Colour (which also won best international independent film at last night's BIFAs) is up to $710,000 (£433,402) in the UK, following a non-final $69,400 (£42,369) third weekend through Artificial Eye.
VERTIGO
MJ Delaney's feature debut Powder Room failed to make an impact on its UK bow, taking $11,900 (£7,286) from its 47 sites through Vertigo at an average of $254 (£155).
METRODOME
In its exclusive run at the Prince Charles Cinema in London, Metrodome's Israeli horror Big Bad Wolves grossed $2,600 (£1,610) from its three screenings over the weekend. The genre festival hit plays at the PCC until Thursday [Nov 12].
UPCOMING RELEASES
This week's only saturation release comes in the form of Warner Bros' fantasy sequel The Hobbit: The Desolation of Smaug.
Pinewood's The Christmas Candle, Artificial Eye's Fill the Void and Arrow's re-release of Cinema Paradiso are among the films receiving a limited release.