UPDATED APRIL 20: Fast & Furious 7 generated an extraordinary $166.9m confirmed weekend haul to soar to $857.9m internationally and reach the highest global mark in the studio's 103-year history.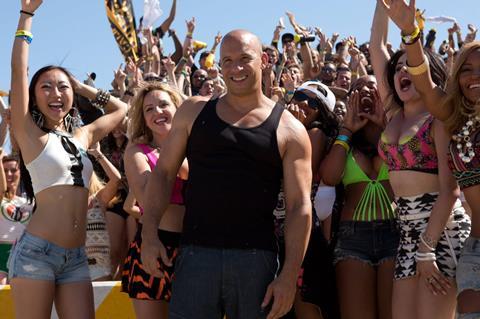 UNIVERSAL PICTURES INTERNATIONAL
UPDATE: China once again served noticed of its status as a colossal tentpole driver as a further $88.7m boosted the tally to $245.9m in eight days – accounting for approximately 21% of the film's $1.152bn worldwide running total thus far.
Fast & Furious 7 became the fastest release to cross 1 billion RMB – five days – and ranks as the second biggest earner in history behind Transformers: Age Of Extinction's $320m. That record now looks shaky.
On Friday, Universal confirmed Fast & Furious 7 had crossed $1bn worldwide in an industry record 17 days. The current score includes $294.5m from North America, where the action smash known as Furious 7 retained pole position for the third consecutive weekend.
Fast & Furious 7 roared into Japan on $6m in 309 venues for a record franchise debut. This was the final of 67 markets to open.
Elsewhere the film continued to power ahead. The UK has generated $47m, Mexico $46m, Brazil $33m, Germany $32m, Australia $29m, Russia $27m, France $26m and India $23m.
Taiwan has generated $23m, South Korea $22m, Argentina $21m, Venezuela $19m, Italy $18m and the Middle East $18m.
Fast & Furious 7 ranks as the highest grossing film of all time in Indonesia, Malaysia, UAE and Vietnam.
It is Universal's highest grossing film of all time in 29 territories including China, Mexico, Russia and Argentina.
Aardman's Shaun The Sheep opened at number two in Spain on $749,000 from 300 venues and stands at $54m including non-Universal markets.
The Water Diviner has reached $13.9m from Universal markets.
German comedy Half Brothers (Halbe Brueder), which Universal distributes in German-speaking markets, stands at $1.5m after two sessions.
FOX INTERNATIONAL
UPDATE: DreamWorks Animation's Home grossed $11.4m from 72 markets to climb to $129.9m and opened third in France on $1.6m from 653 screens heading into school holidays that run through May 3.
Fox International Production's (FIP) Dragonball Z: Resurrection F took $8m from 656 Japanese screens to open top in the market and exceed the original's debut. FIP's Mr. X took $3.2m from seven markets and debuted at number one in India on $2.9m from 2,100 screens.
The Longest Ride added $2.1m from 36 for an early $6.2m, while Kingsman: The Secret Service has reached $271.9m and Birdman stands at $60.9m.
WALT DISNEY STUDIOS MOTION PICTURES INTERNATIONAL
Cinderella crossed $450m worldwide. The film added $7.5m for $271.4m internationally and a $457.7m global haul.
SONY PICTURES RELEASING INTERNATIONAL
UPDATE: Paul Blart: Mall Cop 2 added $7.3m from 35 territories for an early $10.3m running total. Chappie has reached $52.1m and opens in its final market of Japan on May 23.
WARNER BROS PICTURES INTERNATIONAL
UPDATE: Liam Neeson thriller Run All Night added $6m from 52 markets for $28.3m. German production Der Nanny stands at $12.7m from German-speaking Europe and $11.4m in Germany alone. Focus and Get Hard have reached $97.5m and $15.7m, respectively.
LIONSGATE INTERNATIONAL
UPDATE: Insurgent reached $142.3m following a $4.3m weekend from 80 markets. Soviet-era thriller Child 44 opened in 25 markets and deliveded $2.1m.
PARAMOUNT PICTURES INTERNATIONAL
The SpongeBob Movie: Sponge Out Of Water added $2.2m from 34 territories for $147.4m.