The prospect of Brad Pitt in a tank proved irresistible to North American audiences as the Second World War tale rolled into action through Sony, while Birdman delivered the result of the weekend with a massive limited launch via Fox Searchlight.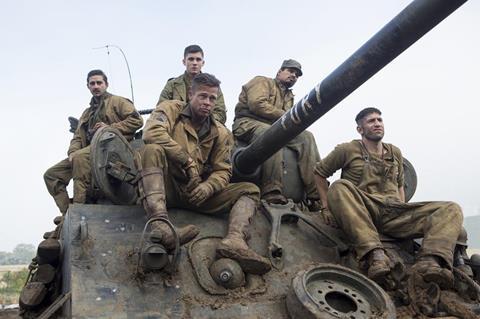 David Ayer wrote and directed Fury, which scored $23.5m from 3,173 theatres and also stars Logan Lerman, Shia LaBeouf, Michael Pena and Jon Bernthal.
Fox's mystery Gone Girl crossed $100m in its third weekend as $17.8m was good enough for second place, marginally ahead of Fox's new arrival The Book Of Life on $17m.
Animation The Book of Life features the voice cast of Zoe Saldana, Channing Tatum and Diego Luna, among others, and marks the feature directorial debut of Emmy winning animator Jorge Gutierrez. Guillermo del Toro produces.
Family title Alexander And The Terrible, Horrible, No Good, Very Bad Day fell one place to number four on $12m through Buena Vista for $36.9m in the second session.
Relativity Media's romance The Best Of Me starring Michelle Monaghan and James Marsden debuted at number five on $10.2m.
Birdman starring Michael Keaton, Ed Norton, Emma Stone and Naomi Watts and directed by Alejandro González Iñárritu opened in four venues on $415,000 for a $103,750 per-site average.
Roadside Attractions opened Dear White People on $344,000 from 11 theatres.
GKids debuted its animation The Tale Of The Princess Kaguya on a promising $51,700 from three sites.
Overall box office for the top 12 fell 14.4% against last weekend and gained approximately 20% on the same session of 2013.
This week's wide releases are the Keanu Reeves action film John Wick through Lionsgate; Universal; horror film Ouija; and sports drama 23 Blast through Ocean Avenue Entertainment.
Estimated Top 10 North America Oct 17-19, 2014
Film (Dist) / Est wkd gross / Est total to date
1 (-) Fury (Sony Pictures) QED International $23.5m –
2 (1) Gone Girl (Fox) Fox International $17.8m $107.1m
3 (-) The Book Of Life (Fox) Fox International $17m –
4 (3) Alexander And The Terrible, Horrible, No Good, Very Bad Day (Buena Vista) WDSMPI $12m $36.9m
5 (-) The Best Of Me (Relativity Media) Relativity International $10.2m –
6 (2) Dracula Untold (Universal) UPI $9.9m $40.7m
7 (5) The Judge (Warner Bros) WBPI $7.9m $26.8m
8 (4) Annabelle (Warner Bros-New Line) WBPI $7.9m $74.1m
9 (6) The Equalizer (Sony) SPRI/Village Roadshow $5.5m $89.2m
10 (8) The Maze Runner (Fox) Fox International $4.5m $90.8m