Warner Bros' sci-fi records second consecutive week at number one with a strong $7.7m (£4.8m); Fox's The Counsellor is the week's highest new entry with $1.3m (£815,051).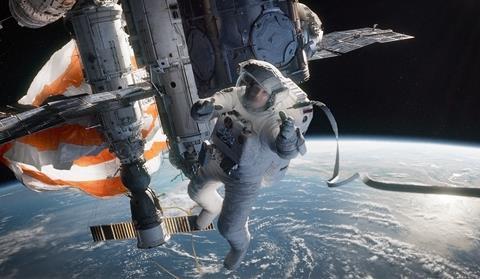 Achieving what the likes of Star Trek Into Darkness, Oblivion and Elysium couldn't, Gravity enjoyed a sensational second weekend to retain the top spot at the UK box office.
Warner Bros' sci-fi dropped just 14% (excluding previews) on its strong opening to take $7.7m (£4.8m) for a terrific 11-day total of $23.7m (£14.7m). 3D performance was again strong, with a 90% share.
To put the performance into context, Gravity is outpacing the likes of Inception ($22.9m/£14.2m) and Thor: The Dark World ($22.4m/£13.97m) at the same stage in their runs. Inception went on to gross $57.7m (£35.81m).
The arrival of The Hunger Games: Catching Fire this week means that Gravity is unlikely to record a third straight week at number one. However, given its performance so far, it has every chance of posting another strong hold and crossing £20m by the end of next weekend.
Also for Warner Bros, Don Jon was released in 262 sites for a $553,000 (£343,000) debut. Joseph Gordon-Levitt's directorial debut achieved a $2,110 (£1,309) average, a solid performance given the 18 certificate and the subject matter.
Meanwhile, Woody Allen's Blue Jasmine has crossed the £5m mark in the UK and currently stands at $8.1m (£5.05m).
ADMISSIONS
According to latest figures from DCM, October admissions totalled 11,865,573 this year, a 29.5% drop compared to last October. This was to be expected given the record-breaking performance of Skyfall that started on Oct 26 with a mighty $32.4m (£20.1m) debut.
Currently, admissions in 2013 total 136,164,296 which is 3.1% down on 2012. The final two months of 2012 had not only Skyfall taking over £100m, but also strong showings from the concluding Twilight chapter and Life of Pi.
This year is likely to end down on last year, but how far down will depend on how the likes of The Hunger Games: Catching Fire, Frozen and The Hobbit: The Desolation of Smaug perform.
DISNEY
Adding an additional $2.9m (£1.78m) this weekend, Disney's Thor: The Dark World is up to $27.6m (£17.1m) in the UK after three weeks in play.
Having passed Thor's $22.4m (£14.04m) UK result last week, The Dark World is currently the fifth best Marvel performer in the UK, but will surpass Iron Man's $27.9m (£17.4m) tally in the coming days to become the fourth-best.
FOX
Holding firm in third, Fox's Philomena enjoyed another sturdy hold, dropping just 30% to add $1.6m (£1m) from its 561 sites.
Stephen Frears' comedy-drama is now up to a strong $11.8m (£7.3m) and is proving to be savvy counter-programming from Fox, having grossed $4m (£2.5m) over the past seven days.
Also for Fox, Ridley Scott's The Counsellor was opened in 437 sites for a $1.3m (£815,051) to chart as the week's highest new entry in fourth.
However, the debut is some way down on Scott's previous 18-rated outing in the UK, American Gangster, which shot its way to $4.1m (£2.6m) from 410 sites.
Compared to Cormac McCarthy adaptations at the UK box office, The Counsellor is ahead of The Road ($1m/£627,147 from fewer sites at 147), but behind No Country for Old Men ($2m/£1.3m from 164).
Now in its fifth week, animation Turbo stands at $17.6m (£10.9m) following a $675,000 (£419,116) weekend, a drop of just 21%.
SONY
With an excellent hold in its fourth weekend to drop just 20%, Cloudy with a Chance of Meatballs 2 took a further $1.2m (£745,000).
Sony's animated sequel now stands at $17.9m (£11.1m) and in terms of 2013 animations in the UK, Cloudy 2 has overtaken Turbo.
Also for Sony, Captain Phillips will cross the £15m mark in the coming days.
Paul Greengrass' thriller has sailed to $23.8m (£14.75m) following a $1.1m (£681,000) fifth weekend, a respectable 36% drop week-on-week.
Landing in 155 sites, dance film Battle of the Year recorded a soft $56,000 (£35,000) debut at an average of $361 (£226).
ENTERTAINMENT
Rounding off this week's top five, Entertainment's Lee Daniels' The Butler served up a $1.3m (£790,000) debut from its 286 sites based on confirmed weekend figures from The Weinstein Company.
Given the US-centric nature of the film, it's a healthy start and marks director Lee Daniels' best-ever UK bow, topping the $421,000 (£260,921) recorded by Precious albeit from significantly less sites at 47.
PARAMOUNT
As expected, Jackass Presents: Bad Grandpa is now the best UK performer of the Jackass franchise, having surpassed Jackass 3D's $9.1m (£5.64m).
Bad Grandpa added a further $617,000 (£382,000) this weekend through to Paramount to stand at an excellent $9.8m (£6.06m) to date.
LIONSGATE
Debuting in 123 sites, Dom Hemingway recorded a $158,000 (£98,232) opening through Lionsgate. The Matador, director Richard Shepard's only other UK outing to date, managed a $540,000 (£335,017) debut from 221 sites back in 2006.
EONE
Justin and the Knights of Valour has now crossed the £3m mark at the UK box office, following a $94,000 (£58,267) weekend for $4.9m (£3.01m) to date through eOne.
Also for eOne, Ender's Game and Escape Plan have amassed $4.8m (£2.96m) and $4.5m (£2.8m), respectively.
STUDIOCANAL
Well-received British horror In Fear failed to scare up audiences after debuting with $67,000 (£41,335), including previews, from its 56 sites through StudioCanal.
UPCOMING RELEASES
This week sees saturation releases for Lionsgate's highly anticipated sequel The Hunger Games: Catching Fire (opens Nov 21) and Koch Media's Parkland.
eOne's The Family and Artificial Eye's Palme d'Or winner Blue is the Warmest Colour both receive wide releases, while Eureka's Computer Chess and Anchor Bay's Vendetta are among the films receiving a limited release.