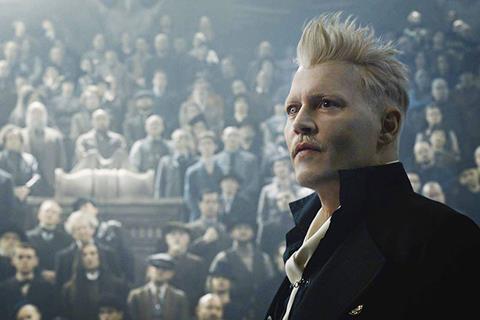 NOVEMBER 17 UPDATE: Fantastic Beasts: The Crimes Of Grindelwald has raced to $100m worldwide in three days and reached $74.3m internationally after opening in a further 24 markets on Friday.
The fantasy earned $43m internationally on Friday through Warner Bros Pictures International and now ranks as the top US title – in most cases the top title – in 79 markets.
China has delivered $28.1m (RMB 195.9m) from its first two days as Grindelwald's $12.3m (RMB 86m) on Friday scored the biggest opening day in the Wizarding World series and followed that up with $15.8m (RMB 110m) on Saturday.
The Harry Potter spin-off debuted in the UK on $4.5m (£3.5m) for 66% share of the top five releases to claim Warner Bros' biggest opening day of the year to date. Including previews the UK tally stands at $4.9m (£3.8m).
In Mexico $1.9m (Ps 38.8m) secured 72% share, while Spain produced $1.5m (€1.3m ($1.5m) for 68% share. Results were 4% ahead and on par with opening day of Fantastic Beasts And Where To Find Them, respectively.
Holdovers generated $2.6m (€2.3m) for $5.3m (€4.7m) in Germany, $2.1m (RUR 145m) for $4.2m (RUR 285m) in Russia, $1.8m (KRW 2.1bn) for $5.4m (KRW 6.2bn) in South Korea, $1.7m (€1.5m) for $5.2m (€4.6m) in France, $1.4m (A$1.9m) for $3m ($4.2m) in Australia, $1.3m (Rs 4.7m) for $4.1m (Rs 15.4m) in Brazil, and $1.1m (€1m) for $2.4m (€2.1m) in Italy.
NOVEMBER 16 REPORT: Fantastic Beasts: The Crimes Of Grindelwald expanded into 45 new markets on Thursday (15) and added $18.1m as the early running total surged to $31m after two days, and the fantasy sequel ranked number one in 54 out of 55 markets.
Warner Bros Pictures International (WBPI) executives said on Friday morning (16) that early results from China indicated a $12.8m (RMB 89m) Friday launch including previews on approximately 22,545 screens that tracked 15% ahead of Fantastic Beasts And Where To Find Them by the same stage, and delivered the biggest debut in the Wizarding World films.
Grindelwald debuted in Russia on $2.1m for 87% share of the top five films and scored the biggest launch in the Wizarding World series and WBPI's second biggest opening day.
Brazil delivered $2m ($2.9m including previews) for 60% share and the biggest Wizarding World debut, the biggest opening day for the studio so far this year, and its third biggest opening day.
Germany produced $1.4m for 73% share and stands at $2.7m including Wednesday previews. Australia generated $1m ($1.7m including previews) for 60% share in the studio's biggest opening of the year-to-date, while Italy delivered $882,000 ($1.3m including previews) for 82% share.
In second day highlights, South Korea added $1.6m for 41% box office share to reach $3.6m, France added $909,000 and 53% share for $3.6m, and Scandinavia has reached $2.1m after two days in four markets. Grindelwald debuts in a further 24 markets on Friday led by China, the UK, Mexico and Spain.
Sony Pictures Releasing International's Venom added $12.3m in China on Friday to reach $153.7m and boost the internatonal and worldwide running totals to $514.2m, and $722.3m, respectively.
The Girl In The Spider's Web starring Claire Foy has taken an early $10.2m and will get a boost this weekend with a new debut in France. Next weekend brings debuts in the UK and Germany, followed by South Korea on November 28. Goosebumps 2: Haunted Halloween has grossed $44m.
Disney's love-action fantasy Nutcracker And The Four Realms has taken $65.1m from the early stages of release although there are no new territories this weekend. Incredibles 2 stands at $631.2m via Walt Disney Studios Motion Pictures International, while Christopher Robin has grossed $97.6m.
Steve McQueen's heist thriller Widows on $3.8m opens in Italy, Sweden, Portugal, Poland and a slew of smaller markets. Bohemian Rhapsody stands at $201.5m and arrives in Egypt and India.
For Universal Pictures International, The Grinch voiced by a cast including Benedict Cumberbatch has reached an early $15.4m, while horror reboot Halloween stands at $90.2m, Damien Chazelle's First Man $50.7m, gay conversion therapy drama Boy Erased $500,000, Tiffany Haddish comedy Night School $21.8m, and Rowan Atkinson comedy vehicle Johnny English Strikes Again $123.7m.
The World War Two horror film Overlord produced by J.J. Abram stands at $12m through Paramount Pictures International.