Marvel Studios release benefits from Anzac holiday in Australia, New Zealand.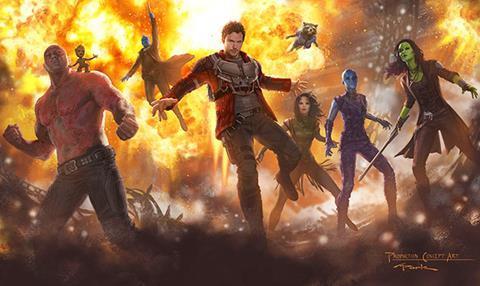 Guardians Of The Galaxy Vol. 2 grossed $6.6m from its Tuesday debuts in Australia, Italy and New Zealand.
The Marvel Studios tentpole took $4.5m including previews in Australia, $1.5m in Italy, and $700,000 including previews in New Zealand.
The Australian debut occurred on the Anzac holiday and generated $2.9m for the second biggest opening day for a Marvel Cinematic Universe release behind The Avengers.
Disney sources said this was three times greater than the 2014 opening day of the original film and that of 2016 release Doctor Strange, neither of which were released on a holiday. Including Monday night previews the tally stands at $4.5m.
New Zealand delivered $400,000 for the biggest opening day so far of 2017 and the third highest opening day of the Marvel Cinematic Universe. The total climbs to $700,000 including Monday night previews.
Guardians Of The Galaxy Vol. 2 opens on Wednesday in France, among others, followed by Germany and Brazil on Thursday, and the UK, Mexico and Spain on Friday.
By Sunday it will be active in 58% of the international market. The North American release is set for May 5.