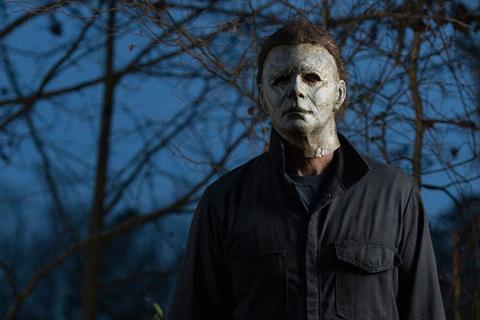 OCTOBER 29 UPDATE: Universal's Halloween usurped Venom atop the global and international box office charts as it climbed to $172.7m, while Sony's comic-book adaptation crossed $500m worldwide.
Bohemian Rhapsody scored a superb $12.2m UK debut, while A Star Is Born crossed $100m through Warner Bros Pictures International.
UNIVERSAL PICTURES INTERNATIONAL
UPDATE: Halloween grew in power at the international box office, adding a confirmed $26m from 62 territories over the session to reach an early $46m and climb to $172.7m after two weekends.
Universal, Blumhouse and Miramax's horror starring Jamie Lee Curtis was the number one film over the weekend and arrived in 39 new territories led by Germany on $3.4m for number one and Blumhouse's best ever launch.
In France the film debuted at number five on $2.4m, while it opened in Australia in second place on $1.9m, number one in Italy on $1.4m, and $1.3m for top spot in both Spain and Brazil.
Mexico led holdovers with a $2.3m number one result after a 55% drop that propelled the running total to $9.4m, followed by the UK in third place with a 36% drop on $2.2m for $7.2m. Halloween added $819,000 for $3.2m in Russia after two sessions, and $451,000 for $2.1m in Indonesia, also after two.
Johnny English Strikes Again grossed $7.8m from 57 active territories as the comedy reached $108.6m, and an early $110.2m global tally. The Rowan Atkinson vehicle crossed $100m last week and the top two holdovers were the UK on $1.9m for $18.2m after four sessions, and Germany on $1.8m for $4.5m after two.
Damien Chazelle's Neil Armstrong drama First Man starring Ryan Gosling brought in a further $6.6m from 51 active territories as the running total climbed to $37.4m, and $74.3m worldwide. The drama added $1.4m in France for $3.9m after two weekends, and stands at $5.1m in South Korea after two, and $8.5m in the UK after three. Australia has generated $3.6m after three, and Brazil $1.2m after two.
Amblin Partners' The House With A Clock In Its Walls generated $1.9m from 15 active territories as the running total grew to $22.8m, and $115.3m worldwide. The fantast debutedd in Mexico at number two on $1m. The comedy Night School has reached $19m internationally and $90.5m worldwide.
FOX INTERNATIONAL
China breathed life into The Predator with an estimated $20m number one debut that pushed the running total to $98.3m, while police shooting drama The Hate U Give opened at number seven in the UK on $1.2m.
Bohemian Rhapsody scored a superb $12.2m number one UK debut on 1,250 screens as the drama about the late Queen frontman Freddie Mercury resonated with audiences in the late performer's home turf. According to comps released by the studio, the debut was twice as big as those of A Star Is Born and The Greatest Showman. Bad Times At The El Royale added $1.6m from 49 markets for $10.5m.
WARNER BROS PICTURES INTERNATIONAL
UPDATE: Bradley Cooper's A Star Is Born remake surged past $100m at international box office and $250m worldwide thanks to a $18.8m session from 75 markets that elevated the running total to $106m and worldwide to $254.7m.
Australia delivered $3.6m number one hold in the second session following a terrific 17% drop for $10m after two weekends, and top market the UK generated $2.8m following a 25% dip for second place and $25.1m, after four. France produced $1.7m in the fourth session after a remarkable even hold to push the tally to $9.1m, while Italy and Germany each added $1.1m for $5.9m after three weekends, and $6.9m after four, respectively.
Smallfoot brought in a further $18.5m from 78 territories as the running total surged to $94.9m. One impressive debut and a volley of strong holds powered the session as the animation debuted at number one in Russia on $3.7m including previews. China led holdover business on $3.4m for fourth place following a 12% drop for $7.9m after two, while France delivered $3.1m for number two and $5.8m after two, the UK $2.1m for number four on $10.1m after three, and Germany on $745,000 for $2.6m after three.
Crazy Rich Asians added $1.2m from 29 markets and stands at $61.1m. It debuted in South Korea on $841,000, and has generated the most gross revenue in Australia on $17.4m, then the UK on $7.6m, Indonesia on $5.5m, and Singapore on $5.3m.
SONY PICTURES RELEASING WORLDWIDE
UPDATE: Sony, Marvel and Pascal Entertainment's Venom crossed $500m worldwide to reach $509m by Sunday, powered by a $17.9m international session from 65 markets that propelled the international running total to $321.9m. The final two markets to go are Japan and China in early November.
By territory, Russia leads the way on $30.3m, then South Korea on $29.9m, the UK on $24.1m, Mexico on $22.9m, and Brazil on $17.1m. France has generated $15.4m, Australia $14.4m, Germany $14.1m, Spain $9.7m, and Italy $9.4m.
Goosebumps 2: Haunted Halloween added $10.7m from 14 markets as the early tally climbed to $24.6m. France and Australia led the way on $1.5m and $1.4m debuts respectively (including previews), and the family sequel arrived in Spain in second place on $780,403. The UK delivered $1.8m in its second weekend following a 1% gain to reach $6.4m.